Chances are, you've played Breakout before, or at least one of the hundreds of replicas it has spawned over the years.
Atari's Breakout first came to life way back in 1976, making it one of the earliest home video games. A very simple concept, it sees players controlling a paddle at the bottom of the screen as they move it from side to side in order to keep a ball bouncing. The ball needs to hit blocks above to break them, and only when all the blocks have been broken does the level end. Breakout: Recharged, available now on PC and consoles, takes that original format and adds a few bells and whistles, bringing it into the 21st century. The bones of the game, though? They're exactly the same as it was back in 1976, and it's all the better for it.
The great thing about Breakout: Recharged is that there are multiple ways to play. You can jump into a standard game if you like, simply seeing how long you can last before you drop the ball. It's the perfect game to chase scores and continually try to improve your skill. But if high score chasing isn't your thing, there's also a challenge mode with 50 levels to play through, tasking you with breaking X amount of blocks, surviving for a certain amount of time, and more.
You can opt for a classic game experience if you'd rather, but Breakout: Recharged sets itself apart by adding in a range of power-ups. You might find yourself having three balls on the go for a period of time, for example, a bigger paddle, or blocks that explode on impact. In the challenge levels, these power-ups are doled out purposefully, heightening the challenge. In the main survival mode, they'll appear randomly (unless you choose to turn them off, of course).
No matter what mode you choose to play on though, Breakout: Recharged is tricky. It isn't designed to be a walk in the park – after all, early video games were unforgiving and encouraged practice in order to master their challenges. This is no different; unless you're already a Breakout wizard, you'll likely see your ball fall off the screen within seconds the first two or three times you play. But with the press of a button you're right back into the action, eager to perfect your game and set a new high score.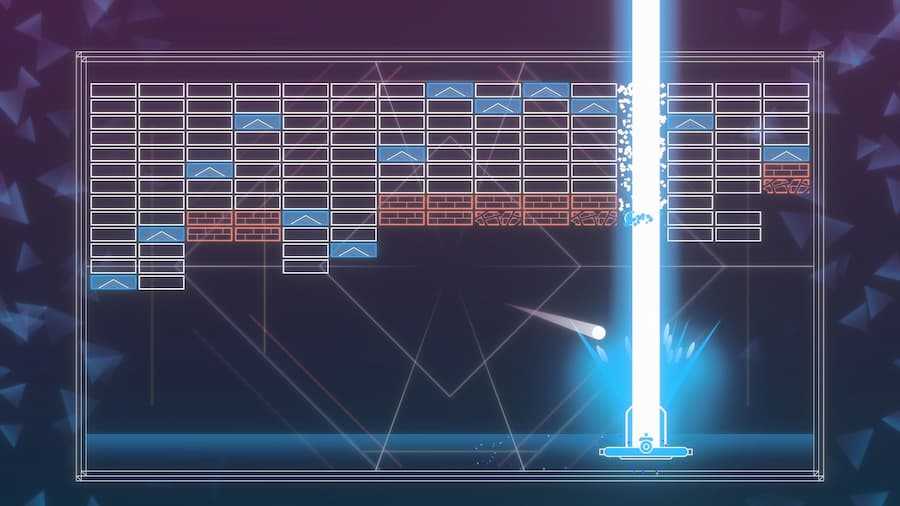 If you're a fan of classic Breakout and games of its ilk, you'll feel right at home here. Of course, Breakout: Recharged has had a fresh lick of paint, but it maintains some of its retro charm. It sports a simple, clean design with primarily blue and purple hues; I've been playing on the Switch OLED model and it looks absolutely sublime on the console's beautiful little screen. The soundtrack is suitably excellent too, composed by Megan McDuffee, whose work you'll have also heard on River City Girls' soundtrack.
Breakout: Recharged is a simple affair, but it's a wonderful recreation of a classic game. A great job has been done in modernising Breakout, and the new challenge mode makes it a worthwhile investment. It may be available on PC, PlayStation and Xbox too, but it feels particularly at home on Switch, where the handheld format makes it perfect to pick up and play in short bursts.
---
Breakout: Recharged Review – GameSpew's Score

This review of Breakout: Recharged is based on the Nintendo Switch version, via a code provided by the publisher. It's available on PS4, PS5, Xbox One, Xbox Series X/S, Switch and PC.