February is here, and with it comes an absolute cavalcade of games. Many of which we anticipate to be very good indeed.
There's pretty much something for everybody this February. We have a fighting game, a racing game, some action RPGs, a challenging roguelike, and more. The problem is: just how are you going to afford them?
We hope you're made of money, because honestly, there are so many games to watch out for this February. Take a look below to see what our top picks of the month are.
Dying Light 2 Stay Human
Release date: 4th February
Formats: PS4, PS5, Xbox One, Xbox Series X/S, PC
Are you ready to go free-running across a huge city filled with zombie-like infected humans? Of course you are. This long-awaited sequel to Dying Light has been delayed a few times, but it's finally here. Promising a gripping story about warring factions, you'll spend your time exploring a sprawling, varied environment, engaging in combat, sneaking around and, of course, traversing the world using fast and flowing parkour. We can't wait.
Sifu
Release date: 8th February
Formats: PS4, PS5, PC
Sifu is from the same team that brought us Absolver, so you already know it's going to be something quite special. It casts you in the role of a kung fu student on a path of revenge, but this isn't your typical fighting game. Every time you die, you'll age up. Die too many times, and old age will put an end to your journey. And so, over time you need to master your skill, taking down your enemies effectively. It's a super-stylish kick-ass game that promises to be a lot of fun.
Lost Ark
Release date: 11th February
Formats: PC
Lost Ark has been out a long time in other parts of the world, but it's finally making its way to the west. This huge free-to-play RPG places you in a world filled with monsters and other threats, and it's up to you to shape your character and prepare them for the epic fight that lies ahead. If you enjoy huge adventures and deep RPGs, this is one worth watch out for.
King of Fighters XV
Release date: 14th February
Formats: PS4, PS5, Xbox One, Xbox Series X/S, PC
The fifteenth (!) instalment of the popular King of Fighters franchise is almost here. It's six years since we saw the last title in the series, and developer SNK Corporation promises King of Fighters XV to be the best yet. With all-new graphics, gameplay systems and a new online experience, it's one to watch if you enjoy fighting games. And with a whopping 39 playable characters at launch, it's certainly not short on content, either.
Dynasty Warriors 9 Empires
Release date: 15th February
Formats: PS4, PS5, Xbox One, Xbox Series X/S, Switch, PC
If you're a fan of the Dynasty Warriors series, you're probably already excited for Dynasty Warriors 9 Empires. As usual, you can expect to single-handedly slay armies of hundreds of men as you capture castles and settlements. The ultimate power fantasy.
Horizon Forbidden West
Release date: 18th February
Formats: PS4, PS5
Aloy's next adventure is almost upon us, and we couldn't be more excited. PlayStation exclusive Horizon Forbidden West is a follow-up to 2017's Horizon Zero Dawn, and so you can expect similar exploration, adventure, and a mixture of stealth and combat as you come up against a range of mechanical beasts. This promises to be bigger and better than its predecessor in every way though, as Aloy visits new areas, encounters new enemies and befriends new tribes.
Martha is Dead
Release date: 24th February
Formats: PS4, PS5, Xbox One, Xbox Series X/S, PC
We know relatively little about Martha is Dead, but since this horror game is coming from Italian studio LKA – the same team that brought us the excellent The Town of Light – we know to expect great things. Set in 1944, Martha is Dead promises to "blur the lines between reality, superstition and the tragedy of war". And from what we've seen of it so far, it's going to be extremely creepy. Hype.
Elden Ring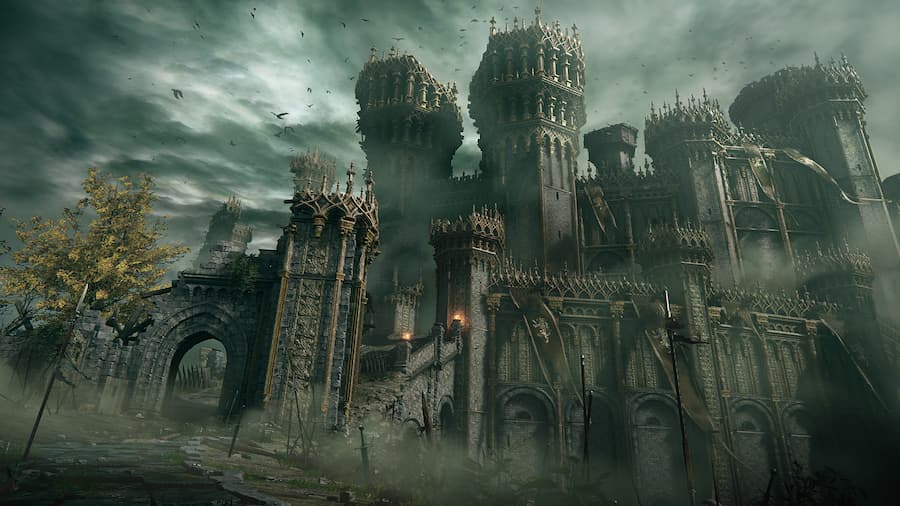 Release date: 25th February
Formats: PS4, PS5, Xbox One, Xbox Series X/S, PC
For fans of Dark Souls and Bloodborne, Elden Ring is quite possibly set to be the gaming event of the year. The latest game from FromSoftware takes players to a gothic-inspired world filled with terrifying creatures, all itching for a fight. You best be up to the challenge, because like FromSoftware's other games, Elden Ring isn't going to go easy on you. It looks beautiful, and suitably epic – and we can't wait to get our hands on it. You can read our initial thoughts by checking out our preview here.
Atelier Sophie 2: The Alchemist of the Mysterious Dream
Release date: 25th February
Formats: PS4, Switch, PC
For fans of the long-running Atelier series, Atelier Sophie 2 is sure to be an exciting prospect. Seemingly following in the footsteps of the successful Atelier Ryza 2 from last year, Sophie is getting her own sequel too, following on from the events of the previous game. You'll join Sophie as she adventures away from her home town, taking on new enemies, new challenges and mixing up new alchemy creations.
GRID Legends
Release date: 25th February
Formats: PS4, PS5, Xbox One, Xbox Series X/S, PC
From what we've played of GRID Legends so far, it's shaping up to be a rather exciting prospect for any racing game fan. Not only does it look fantastic, it's packed with various gameplay modes, including a fully-featured story made with real FMV cutscenes. You can simply jump into races if you want, or you can follow a career as you try to make your way to the top. There's a wealth of tracks to race around, tonnes of cars and some truly nail-biting on-the-road action.