Who says you need to take a trip to the bowling alley to knock down some pins?
Bowling games might not be as popular as they once were, but there are still a number of them out there. In fact, there are a few good ones available to play on PS4. And in case you're wondering just what they might be, we've rounded them up for you right here.
Some of the best bowling games, however, aren't standalone bowling games. They are part of a larger minigame collection. But we all know that bowling is usually the star attraction. Lining up a shot, powering up your throw and knocking down pins is a thrill – even if you don't get a strike every time. Of course, getting a strike makes the fun all that much sweeter.
So: round up your family and friends (or line up some CPU competitors) and grab one of the games off our list. If you're looking for the best bowling games on PS4, you've come to the right place.
PBA Pro Bowling 2021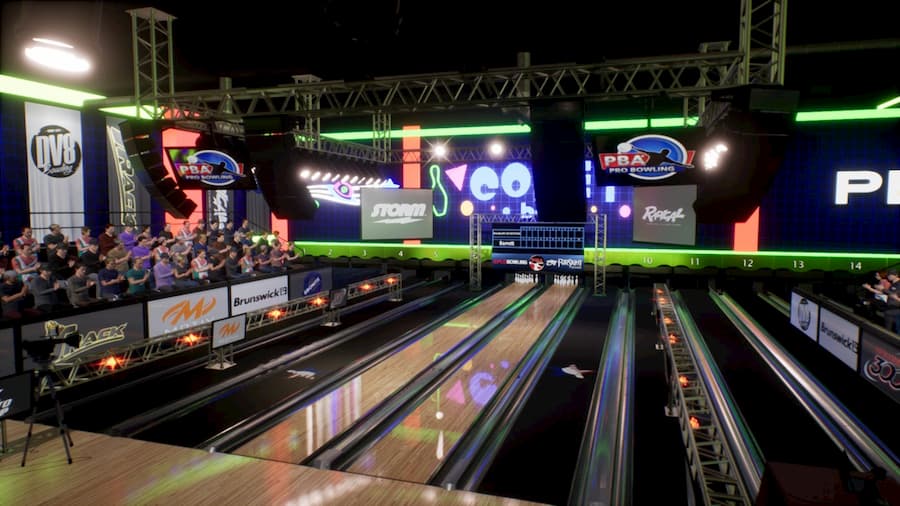 PBA Pro Bowling 2021 is a bowling game that ties to take itself seriously. Officially licensed by the Professional Bowlers Association, it's a realistic bowling simulation that sees you compete in tournaments, jump in for one quick game, or practice your skill. It's beautifully presented; the game's bowling alleys look realistic, and you even have a crowd cheering you on as you play!
The game even features real-life pros from the bowling league, and the career mode has dozens of venues to play in and over 100 tournaments. Player animations have been motion-captured for added realism, and there's even professional commentary over your games. If you like a realistic experience, this is without a doubt one of the best bowling games on PS4.
Crazy Strike Bowling EX
As if the name doesn't give it away already, Crazy Strike Bowling EX is rather different to PBA Pro Bowling. It replaces serious league bowling with an anime spin – but that just makes the whole experience more fun. So, don't expect a great deal of depth and realism from Crazy Strike Bowling EX, but you can expect an entertaining and zany game. Cue over-the-top characters in weird and wonderful costumes, and a wealth of power-ups to make the experience as madcap as possible.
In the game's 'Crazy Exhibition' mode, you can lay down obstacles in your opponents' lane, boost your own abilities with power-ups, and make use of each character's unique special move. There's a lot of fun to be had here. If you're looking for a true test of skill, this isn't it, but if fun is what you're after, Crazy Strike Bowling EX is one of the best bowling games on PS4.
Read our review of Crazy Strike Bowling EX
Carnival Games
Carnival Games doesn't just focus on bowling; this is a game made up of multiple minigames that are, unsurprisingly, all carnival-themed. There are 20 games in total, such as basketball, hockey and target shooting, but it's Carnival Games' bowling game that we're interested in. Honestly, Cosmic Bowling is one of the best bowling games on PS4, despite not being the title attraction. Of all the games on this list, it's the most cartoony, and perhaps the most fun.
The clue's in the name: Cosmic Bowling means everything is soaked in neon, with bold, bright strobe lighting illuminating the bowling alley. But its cartoony style doesn't mean you don't have to take it seriously; Carnival Games' bowling still requires you to carefully line up your shots, set your power and aim for the strike. Competing against friends is a heck of a lot of fun; the other 19 games in the collection are purely a bonus!
Tekken 7: Ultimate Tekken Bowl
Tekken 7 is one of the best bowling games on PS4? Surely we've made an error here somewhere! No, honestly; it's true! As weird as it sounds, Tekken 7's Ultimate Tekken Bowl expansion turns the fighting game into, well, a bowling game.
It's actually a pretty good bowling game, too. You'll not find the complexities of some of the more realistic games here, but if seeing Heihachi throw a spare is a particular flex of yours, this is the only place you're going to get it. Heck, you can even have Heihachi-shaped pins if you like, because why not? You can play by yourself against a computer-controller opponent, or play in local multiplayer. Of course, you need Tekken 7 and the DLC to play, so it's not the cheapest way to play a game of bowling on PS4. But if you already have Tekken 7, it's a valid option.