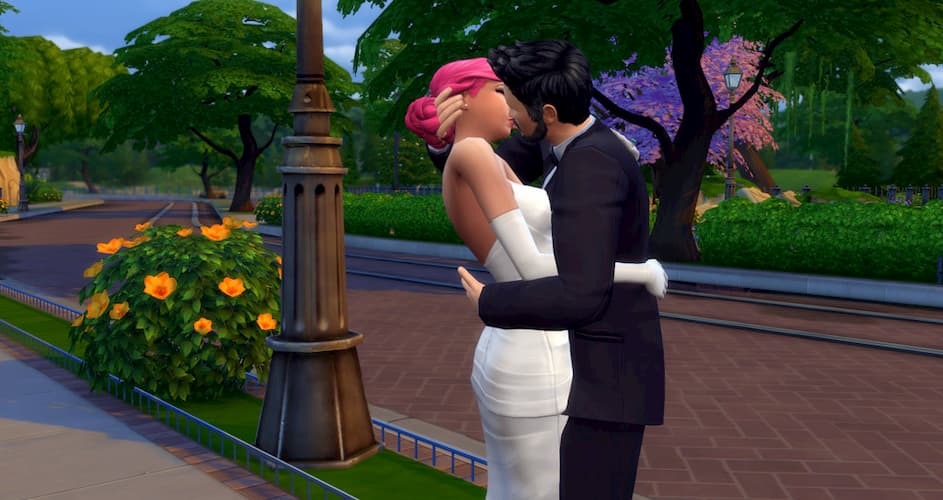 It's Valentine's Day, and so if you're in a relationship, that means turning up the romance factor for a day.
Typically, that means ditching your games console, taking off your headset, stepping away from cussing at your fellow Fortnite players and actually talking to your significant other. Y'know, face to face conversation, like they used to do in the old days. Maybe you'll even go out for a meal together and leave your mobile phones safely in your pockets. Maybe things might get steamy later on, if you play your cards right. Nudge, nudge, wink, wink.
Alas, this is the modern age, and that means we're not so keen on the idea of unplugging from our technology. Being romantic doesn't have to mean ditching your precious videogames after all; they can be part of your romantic night together – as long as you choose the right games.
We've put together a list of romantic video games, and co-op games that are best enjoyed with your loved one. So if you're looking for something to play together this Valentine's Day, look no further.
It Takes Two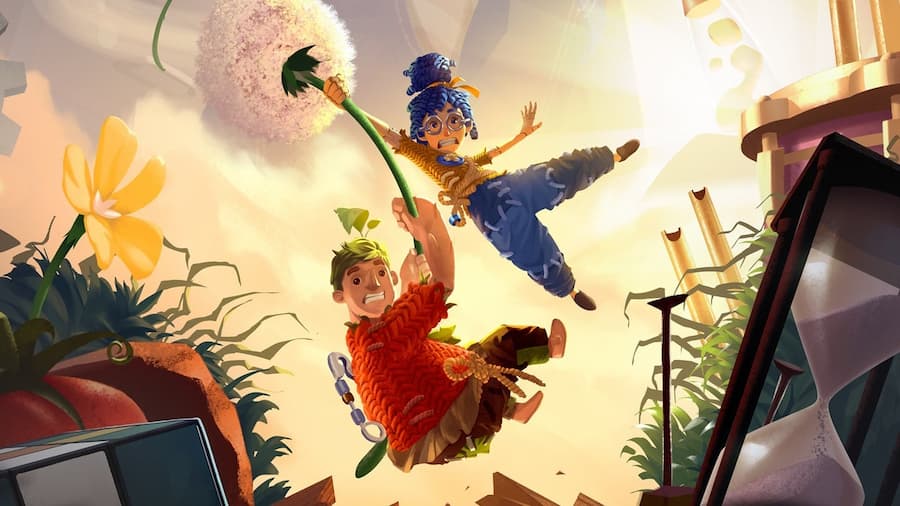 Available on PC, PlayStation and Xbox
We've included It Takes Two in just about every co-op game round-up we've written since the game launched last year, but there's a good reason for that: it's just so darn good. This co-op only adventure feels like a Pixar movie that you're personally starring in, filled with gorgeous visuals, moments of joy, a wonderful story and some very inventive gameplay sections. We just can't get enough. And when it comes to romantic video games to play on Valentine's Day, they don't get much better than this.
What makes It Takes Two so perfect is that the two protagonists, Cody and May, are in fact a married couple. Things aren't going so well for them, however; when their young daughter overhears that they're considering a divorce, she wishes for them to stay together. The result? They're somehow transformed into tiny dolls. And with only each other – and a talking book – to help them get back to their human forms, they need to overcome their problems and learn to work together. Aww. Yes, it's a little cheesy, but you'll be having far too much fun to care.
Stardew Valley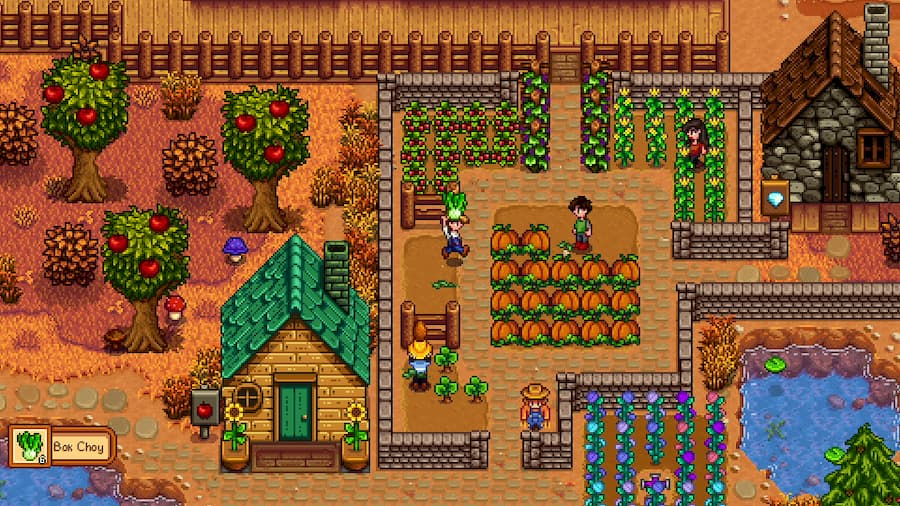 Available on PC, PlayStation, Xbox and Switch
Stardew Valley isn't just a farming simulator. It's basically a life simulator set in a small village. Alongside planting your crops, you can also go out exploring, mining, shopping and, most importantly, romancing.
Yep: Stardew Valley lets you attempt to win over most of the villager NPCs in the game, but to do so you'll have to be pretty persuasive. That means taking them gifts, talking to them about the things they like, and eventually building up to going on a date. If you play your cards right, you can eventually get married and move in together. You've got to be in it for the long haul though, so if you and your partner are playing together on Valentine's Day, don't expect to be able to woo and marry a villager in one sitting.
If you've both got your own devices, you and your partner can even play Stardew Valley together. Just don't get too jealous of the other villagers they've been flirting with.
Table Manners
Available on PC
While we didn't score Table Manners very highly in our review, that isn't to say the game doesn't have merits. Especially when it comes to romantic video games to play with your partner. Table Manners is all about going on dates, and even though it's a single-player experience, we think it's more fun if you and your partner take it in turns.
If you've ever played Surgeon Simulator, you'll know what to expect: in control of a floating hand, you need to reckon with dodgy controls in order to perform various first-date tasks. Pour the wine, for example, or ram a chocolate brownie into your date's mouth-hole. It results in some hilarious situations, and navigating the game's Tinder-like dating app together is a lot of fun.
Catherine
Available on PC, PlayStation and Xbox
If you and your partner haven't been together very long, then playing Catherine together might be a little bit awkward. Part puzzle game, part visual novel, it tells the story of Vincent who finds himself torn between his long-term girlfriend Katherine and the alluring newcomer Catherine. Play the Full Body version on PS4 and a third, Qatherine (or 'Rin') is thrown into the mix, too.
While cheating on his girlfriend might not sound very romantic, seeing the story play out as a couple can be fun, as well as discussing Vincent's options and what he should do. The game's puzzles, tricky as they are, are also fun to play together, as is answering the 'morality' questions that the game occasionally throws your way.
Unravel Two
Available on PC, PlayStation, Xbox and Switch
Just the sheer cuteness of Unravel Two is enough to make it one of our favourite romantic video games. Beautiful locations! Pretty colours! Adorable woolly characters! Swoon. But the real draw of Unravel's sequel is that it's been designed to be played in co-op. And unlike other games where player two is simply being dragged along for the ride, both players are intrinsic to the game. To solve puzzles and reach new locations, you and your partner must work together and help each other. Aww.
In that regard, it's probably not the best choice of game if you and your bae aren't the best at teamwork, or have a habit of losing your patience quickly. But if you get a kick out of working together, then Unravel Two is a fine choice for a game to play together this Valentine's Day.
Life is Strange: Before the Storm
Available on PC, PlayStation and Xbox 
Life is Strange: Before the Storm deals with lots of subjects, some of them very difficult. Romance remains the underlying theme of the game, though. A prequel to Life is Strange, Before the Storm focuses on Chloe and her relationship with Rachel Amber. Though the pair start out as unlikely companions, their friendship soon blossoms into something more – but it's never straightforward.
Though heartbreaking and gut-wrenching at times thanks to the truckloads of emotions shoved into the game's three chapters, Life is Strange: Before the Storm is a great game to play as a couple. It's a single player game, but is heavily story-driven. And with dialogue options and choice to make, it's a nice one to work together on.
Degrees of Separation
Available on PC, PlayStation, Xbox and Switch
Like Unravel Two, Degrees of Separation is a co-op puzzle platform game that requires both parties to work together in order to progress. Set amongst beautiful scenery, characters Ember and Rime are in love – but they're separated by an otherworldly force. Ember can control fire, while Rime can manipulate cold and ice. The opposing elements need to work in unison to allow Rime and Ember to come together.
Be warned though: Degrees of Separation gets very tricky. Its puzzles are challenging, so you and your SO need to have patience and put your thinking caps on in order to get through it. It's worth the struggle though, as it's a touching adventure and its underlying theme of wanting to be together despite all the odds gets us right in the feels. Romantic video games don't get much more heart-warming than this.
The Sims 4
Available on PC, PlayStation and Xbox
Life simulator The Sims 4 can be as romantic as you want it to be, basically. You can recreate yourself and your partner, and play God with your virtual selves, living vicariously through them. Want to go on a date but can't be arsed to leave the house IRL? It's fine, load up The Sims 4 and send your Sim-selves out together instead. You can romance each other, flirt, even get down to the act of 'woo-hoo' under the bedsheets… you know, the stuff you're probably too tired to do after a day at work and would rather sit around in your food-stained pyjamas in front of the TV than try to be romantic.
But if that's you, don't worry. Your Sims can keep the magic alive. You can even marry you and your partner's Sim, move in together, and pop out a kid or two. Just to see what it would be like.
Diablo III
Available on PC, PlayStation, Xbox and Switch
How on earth is venturing through heaven and hell to slay beasts and demons in any way romantic, I hear you scream. Well, hear me out. While the settings and actions of Diablo III might not obviously scream L-O-V-E, many elements of its gameplay do.
For one, Diablo III allows you to play seamlessly in couch co-op. You and your partner being able to enjoy a game together is paramount to a romantic game, and even better when you can both play at the same time. And sure, while sticking your sword through hundreds of demons (not a euphemism) isn't in any way romantic, getting your SO involved makes it another matter. You're travelling through hell together. You're slaying monsters together. When you find loot, you can share it with one another, and you can even send gifts to each other. Ahh, now that is sweet.
Look, I'm 99% sure that playing Diablo III is exactly how I'm going to be spending my Valentine's night so at least humour me here.