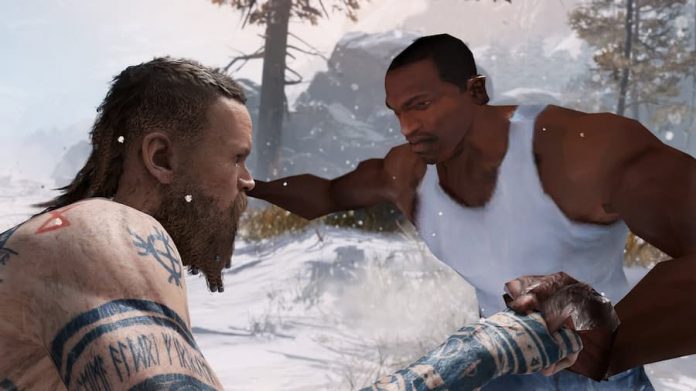 Who needs Kratos? This new God of War PC mod pits Grand Theft Auto: San Andreas's CJ against Baldur and he's doing just fine.
Admittedly, CJ (already the subject of a few memes) still sounds like Kratos, since the mod just switches out God of War's protagonist for San Andreas's and keeps his voice. But it's still a lot of fun to watch. Yes, it's not the first time CJ-in-God of War has been doing the rounds but the static image that hit Twitter was photoshopped.
This, however, is an actual mod, crafted by YouTuber and modder Omega Fantasy, who's uploaded a video of it in action. Omega Fantasy, whose YouTube channel can be found here, has also created several other God of War PC mods including one which restores Kratos's original PlayStation 2/PlayStation 3-era appearance to the game.
So how do you get your hands on these mods? You'll need a copy of God of War for the PC, naturally (check out our review here)  and you'll also have to sign up to Omega Fantasy's Patreon. That's if you want "Early Access" to the mod – Omega Fantasy should be releasing the mod for free at a later date.
Now, if only someone enterprising individual could turn Atreus in a tiny, tiny Big Smoke…