If you're into racing sims, chances are you're familiar with Assetto Corsa Competizione, the official GT World Challenge video game.
Launched into Early Access on PC in 2019, Assetto Corsa Competizione has since been ported to PS4 and Xbox One, providing serious racing for those seeking it. And now it's made its way to PS5 and Xbox Series X/S, allowing for sharper visuals, smoother frame rates and some other very welcome extras. Needless to say, there's never been a better time to jump into it.
There are some caveats though, as we've found going hands-on with the PS5 version. The visuals have indeed been spruced up, but they're not not quite as good as you'd expect on next-gen consoles. They're sharper, but lacking that certain something needed to impress. What is very welcome, however, is the frame rate bump. High frame rates really are beneficial to racing games, and the jump from 30 to 60 frames per second makes the action all the more responsive and enjoyable.
On PS5 specifically, there's also the addition of DualSense support. Of course, the best way to play Assetto Corsa Competizione is with a steering wheel, but thanks to haptic feedback playing with a controller is better than ever. There's simply much more feedback given to you, immersing you in the action, such as one side of the controller rumbling when wheels mount chevrons. When it comes to adaptive trigger support, however, it's either not there, or it has simply failed to be particularly noticeable to us.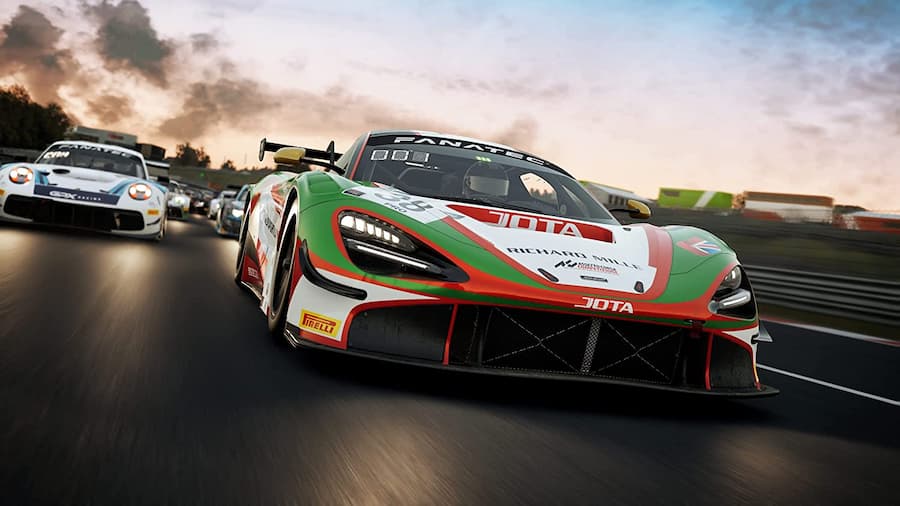 Needless to say, with these upgrades, Assetto Corsa Competizione is simply a much more enjoyable game on next-gen consoles. It's just a shame that there appears to be some teething issues, at least on PS5. Players have reported a wide range of issues, from stats and progress not being carried over correctly to steering wheel issues, and we ourselves have suffered numerous crashes upon attempting to start events. It puts a bit of a dark cloud over your time with the game, though 505 Games is actively working to put things right.
It has to be said though, that even when Assetto Corsa Competizione is firing on all cylinders, it's somewhat an acquired taste. It certainly doesn't have the widespread appeal of recent releases such as GRID Legends or Gran Turismo 7, for example. Being the official game of the GT World Challenge, it has a limited range of real-world cars and tracks that have have all been wonderfully recreated, but not much else. As long as you know what you're getting into though, you'll have a good time.
It's a little rough around the edges, but get on the track and everything is soon forgotten. You don't even need any competition – we enjoy opening up a track in Hot Lap mode and trying to perform consistent laps, pushing our track mastery as high as it can go. But with a range of other modes on offer, including championship and career, how you spend your time with Assetto Corsa Competizione is up to you. You might even just want to exclusively race online.
You can read our original review of Assetto Corsa Competizione right here, which still pretty much sums up our opinion of the core experience of the game. But if you have a PS5 or Xbox Series X/S, know that it's just that little bit better. Assetto Corsa Competizione is well and truly committed to being a sim, and in numerous ways that's at the expense of widespread appeal. But for those seeking authentic, no-frills racing action, there's plenty to like.
Assetto Corsa Competizone is available now on PS4, PS5, Xbox One, Xbox Series X/S and PC.