Tee off with the best golf games on PS4.
Golf. It's not the hippest sport in the world. Let's face it; it's more associated with old men in business suits than it is with us young and trendy folk. We may not be likely to be spotted down on the local green on the weekend, but when it comes to golf games on our consoles, it's a different matter altogether. And the good news is, there are plenty of golf games available on PS4.
However boring the real game may seem, playing golf on our PS4s is way more exciting. There's no having to worry about fetching your ball from sand pits and ponds. You don't have to lug around a caddy filled with clubs. It's just you, your controller, and the will to hit your ball as far as it will go with a swing of your stick. It's therapeutic, challenging, and somewhat fun.
So, if golf games are your thing and you have a PS4, you might be wondering which ones you should play? Hopefully we can help. We've assembled a short list of the best golf games on PS4 for your convenience. We've played all of these and can confirm that they provide either an authentic recreation of the sport, or simply a jolly good time.
And remember, while these are all PS4 games, they're also playable on PS5 if you have one thanks to backwards compatibility. Chances are they'll look and play better, too.
Want to support GameSpew? If you decide to buy any of the games on this list, please consider using our affiliate links, included below each entry. It won't cost you anything extra, but we'll get a small slice of the purchase. Thank you.
PGA Tour 2K21
In 2020 2K Games acquired the PGA Tour licence, and so PGA Tour 2K21 is the first entry in what we expect to be a new franchise. It's been developed by HB Studios, the team that worked on The Golf Club series. And while The Golf Club was good, PGA Tour 2K21 is a heck of a lot better.
As you'd expect, there are lots of different modes to engage with. You can take part in a sizeable career, for example, play some holes in quickplay, or even take the action online. Whatever you do, however, you'll have to do as your own custom created character. In career mode, you'll take them from zero to hero as you climb the ranks by playing tournaments and claiming victory.
With in-depth mechanics and lofty tutorials to show you the ropes, PGA Tour 2K21 is undoubtedly one of the best golf games on PS4. In fact it's the best if you want an authentic golfing experience.
Read our review of PGA Tour 2K21
Everybody's Golf
A classic PlayStation franchise that was rebooted in 2017, Everybody's Golf is definitely one of the best golf games on PS4. We love it, partly because it doesn't take itself too seriously.
Sure, underneath it all it's a solid game of golf with plenty of courses to play through. But its cartoon style veneer makes it much more accessible than some of the other games you'll find on this list. It's filled with humour that'll appeal to most age groups, for one. And its control scheme is fairly easy to get to grips with, while still being complex enough to pull off the fanciest of shots.
Like most golf games, it's all about practice. But when a game's this fun to play, you won't mind spending several hours perfecting your swing. So, if you love golf – and having fun – consider this an essential purchase.
Read our review of Everybody's Golf
Golf Club: Wasteland
Imagine a world where human life has been pretty much eradicated. And, having fled Earth, those who do remain are mostly the ultra-rich. What do they do for a bit of fun? Return to Earth, of course, and use it for what is essentially crazy golf.
As you can imagine, with that premise, Golf Club: Wasteland isn't a realistic depiction of the sport. Still, mechanically this is golf. You aim, set your power, then swing a club to hit your ball ever closer to a hole. On Golf Club: Wasteland's easiest settings it's quite a stress-free affair that you can take at your own pace. Bump the difficulty up, however, and you'll have to complete each hole in a certain number of shots.
With the tricky nature of its holes, Golf Club: Wasteland is almost like a puzzle game. Sometimes you'll need to hit switches with your ball, for example, or precisely aim it into pipes. And unlike most sport games, it has a narrative that plays out via a radio station as you play. So, if you're after a golf game that's a little bit different, be sure to give Golf Club: Wasteland a try.
Read our review of Golf Club: Wasteland
Dangerous Golf
Three Fields Entertainment's Dangerous Golf is the least "golfy" of the golf games on PS4 – but it's one of our favourites.
Remember the Burnout series? Well, Three Fields Entertainment is made up of veterans from Criterion, the team that brought us Burnout. And Dangerous Golf is essentially Burnout. But instead of crashing a car into more cars, you're smashing a golf ball into all kinds of expensive things. If that sounds like ridiculous amounts of fun, that's because it is.
There's a healthy selection of levels to play through across a variety of environments. Every level has its own target, with your success being measured based on the cost of the damage you've created. Playable in single player or in multiplayer, Dangerous Golf is a hell of a lot of fun. You might not get to perfect your real-world putting skills, but you'll get to cause utter chaos.
Read our review of Dangerous Golf
The Golf Club 2019
Following on from The Golf Club and The Golf Club 2, The Golf Club 2019 aims to expand on what the developers have already created – this one has official PGA Tour licensing, too. It may have been replaced by PGA Tour 2K21, but we think The Golf Club 2019 is still a worthwhile outing if you're looking for the best golf games on PS4.
The game features a fully-fledged licensed career mode, allowing you to play through official PGA Tour events. There's also a wealth of other modes too, including multiplayer. If you're wanting a more authentic golf game on PS4, then The Golf Club 2019 is worth checking out.
Read our review of The Golf Club 2019
Golf With Your Friends
If you love crazy golf, Golf With Your Friends will be an absolute delight. Those looking for a serious golfing session won't enjoy it, mind.
Golf With Your Friends allows you to enjoy a round of crazy golf on a varied range of courses. There's a haunted house, a world made of candy, and even a Worms-themed course. Playing offline you'll pass a controller around, with each player taking their turn. Play online, however, and everyone will play at once, creating absolute chaos.
Perhaps the best thing about Golf With Your Friends though, is the ability to totally change how the game plays. You can play with hockey pucks instead of balls, for example, with holes being replaced with nets and cardboard goalies. Or you can activate party mode which allows the use of power ups.
It really is daft, but Golf With Your Friends is a must-have if you're after a more fun approach to the best golf games on PS4 .
Read our review of Golf With Your Friends
ACA NeoGeo Neo Turf Masters
Prefer your videogames a little more… classic? Neo Turf Masters originally released in 1996, but as part of Hamster Corporation's resurgence of Neo Geo games, it's now available on PS4.
Despite its age, its 2D visuals are pretty charming and it's packed with colour and personality. There are six golfers to choose between, and whoever you choose will accompany you on a golfing tour around the world.
There are difficulty settings so you can adjust the game to suit you (we won't judge if you prefer an easy win), and, like the best golf games on PS4 should have, Neo Turf Masters has multiplayer options. You can either battle it out with players around the world for a high score, or get a friend to join you locally for a two-played battle.
It might not look quite as realistic as some of its more modern counterparts, but Neo Turf Masters has a whole lot of charm all the same.
Rory McIlroy PGA Tour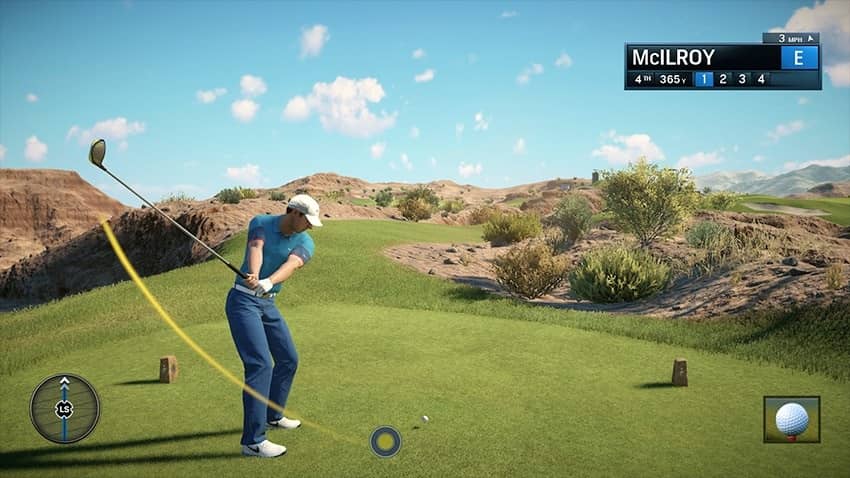 Rory McIlroy PGA Tour is the only EA Sports golf game to be released since the days of PS3. It's a shame, because EA's yearly iterations of PGA Tour games used to be pretty good. Rory McIlroy PGA Tour holds up pretty well though, despite its ageing years.
The game blends together a collection of real-world golf courses and environments made especially for the game. There's a range of handling options available, so beginners can opt for a simpler arcade-style control input and experts can choose to fine-tune their swings for maximum effect. It's not all serious golf though. Rory McIlroy PGA Tour introduces a "Night Club" mode that offers up arcade-style challenges. Fire your golf ball into neon targets, or land your putt on a specific marker to achieve a high score.
Read our review of Rory McIlroy PGA Tour
Infinite Minigolf
For those who prefer their golfing games much less serious, Infinite Minigolf is for you. A series of minigolf (or crazy golf, depending where you live) courses, it's all about making precise putts and having a lot of fun in the process.
Infinite Minigolf contains a number of themed courses. There's a spooky Halloween set, and my personal favourite, a giant-sized bedroom. What makes it stand out, though, is that like the title suggests, it pretty much is infinite. The game lets you create your own courses using the assets provided, and you can download other people's creations too. There are thousands of them, and it means you never need to play the same hole twice.
It can be played alone, but Infinite Minigolf is at its best when you're competing against friends. With full local co-op support, you'll score points for putting your ball in the fewest shots as well as hitting various collectibles that are darted around every course. It's not the most serious golf game on PS4, but it sure is a lot of fun.
Read our review of Infinite Minigolf
100ft Robot Golf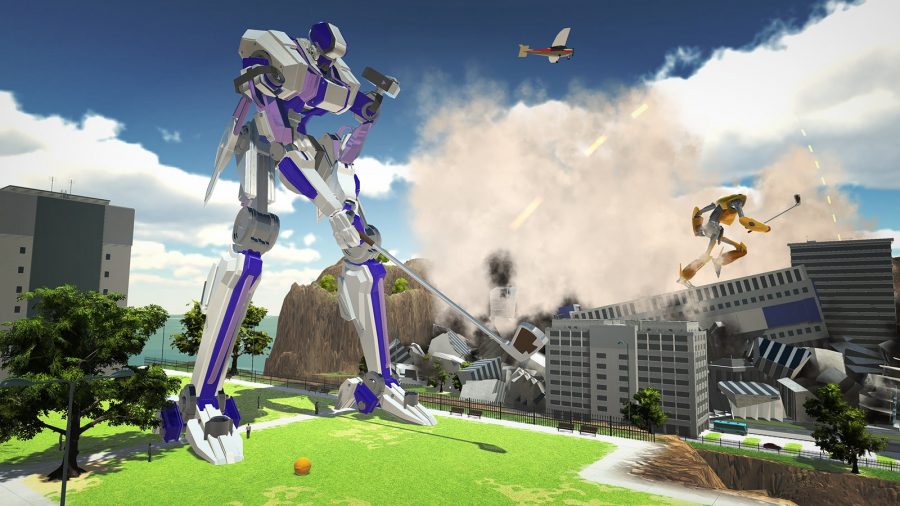 We'd love to have been privy to the conversation that happened when the idea for 100ft Robot Golf was conceived. What could make golf more interesting? I know – robots. But not just any robots. Giant, 100ft tall robots. I mean, what more could you want from a PS4 golf game?
While it is a ludicrous idea, 100ft Robot Golf is just as fun as you probably imagine it to be. It's a fairly short game – it doesn't offer the range of modes and courses that other golf games do – but what is there is solidly entertaining. Its characters are quirky and fun, and hitting a golf ball while in control of a super-tall robot is endlessly satisfying. If you prefer more traditional golf games on PS4, this is definitely not the game for you, but for a bit of fun, you can't get much better.
It's also compatible with PSVR if you'd rather get more up close and personal with your giant robot golfing buddies.