Kaiju, a Japanese word that literally translates to 'Strange Beast', is also a popular genre of films, games, and more, that feature giant monsters.
It's not just popular in Japan though. Icons such as Godzilla and King Kong have made kaiju nearly just as popular in the west, with movies based on both oversized creatures doing big numbers. But what about if you want to play kaiju games? What are the best kaiju games available that let you battle as or against giant monsters?
Hopefully we can help you with that. We've assembled a short list of the best kaiju games you can play right now. Pretty much every format is covered – PS4, PS5, Xbox One, Xbox Series X/S, Switch and PC. Some of them are brilliant, others are just average, but these are undoubtedly the best that are currently available.
Dawn of the Monsters
Available on: PS4, PS5, Xbox One, Xbox Series X/S, Switch, PC
A side-scrolling beat 'em up, we think that Dawn of the Monsters is not just one of the best kaiju games you can play right now, but the best.
Two kaiju are available for you to take control of, as well as a man who can turn into a giant, and a piloted mech. It looks glorious thanks to its comic-book styled visuals, and there are many missions for you to complete across numerous parts of the world. The combat is the best thing about it though; it opens up bit by bit until you eventually have a wealth of options available. And you can tweak your stats and abilities with DNA augments. If you love kaiju, you simply need to play this.
Read our Dawn of the Monsters review
Buy on PlayStation | Xbox | Switch | PC
Daikaiju Daikessen: Versus
Want to play an enjoyable kaiju game but don't have any spare cash? Daikaiju Daikessen: Versus says Hi!
A free-to-play game currently in Early Access, Daikaiju Daikessen: Versus is inspired by arcade style-brawlers of old. It has charming 2D visuals, a massive roster of fighters, and a wide selection of modes, making it fantastic for the price of… free. As it's still in Early Access it's set to grow even further and become more polished, too. It's just a shame that it's only on Steam. But still, if you're a PC gamer and are looking for the best kaiju games to play, be sure to give this a download.
Buy on PC
Excidio The Kaiju Game
For many, the idea of levelling an entire city as a kaiju is an exciting one. And that's exactly what Excidio The Kaiju Game lets you do.
Another game only available on Steam and via Early Access, Excidio The Kaiju Game still has lots of content and polish to be added. It doesn't cost much though, and at the time of writing there are a few city environments to destroy as a colossal beast. Although that's not all you can do; there are also other kaiju to fight as well as smaller units such as the army. Excidio The Kaiju Game still has a long way to go, yet it offers a lot of fun if you jump in right now.
Buy on PC
Kaiju Khaos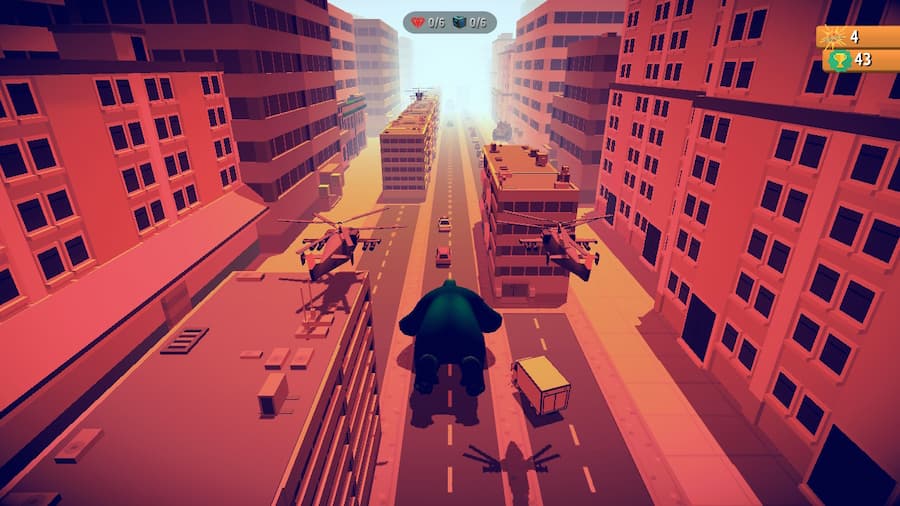 Only available on Switch, Kaiju Khaos is for those who want quick bouts of kaiju-based action.
An endless runner, it allows you to unlock numerous kaijus and see how far you can get with them in the face of ever-increasing odds. Though as you play with each kaiju you'll steadily grow them, evening the odds. Kaiju Khaos isn't going to blow you away. It's not going to wow you. But costing what is essentially pocket change, it's going to entertain you at least for a little while. And so that's why it's earned a spot on our list of the best kaiju games you can play right now.
Buy on Switch
Kaiju Wars
Available on: PC (demo), releasing soon on consoles and PC
Okay, so we're cheating a bit with this one. You see, Kaiju Wars isn't actually available yet. A demo is though, and it suggest the game is going to be very good indeed.
A 2D turn-based strategy game inspired by the likes of Advance Wars, Kaiju Wars tasks you with constructing buildings and managing a wide variety of units to defend against waves of devastating kaiju attacks. In its campaign, you'll have to develop technologically-advanced weapons and upgrade your units to deal the the threat, but with the kaiju also mutating to be more menacing, you'll have your work cut out for you. What's really neat about Kaiju Wars though, is that it's also set to feature a local versus mode. So, it will let you face off against a friend or family member if you like. Needless to say, if you have a PC, you should give the demo a download. The full game launches in April on both PC and consoles.
Buy on PC