A new month is upon us already! And that means we have a new schedule of games to get excited for.
March is a little quieter than February, which was surprisingly packed for so early in the year. But there are still a couple of big hitters out this month, along with several smaller titles that are still worth getting excited about.
Let's get straight to it, shall we? Here are the best games coming out this March 2022.
Gran Turismo 7
Available on: PS4, PS5
4th March 2022
If you're a racing aficionado, then there's no doubt that Gran Turismo 7 will be high on your most anticipated games of the month. Heck, even the year. Or the generation! Gran Turismo 7 has been a long time coming; it's been almost 9 years since Gran Turismo 6 released, after all. It won't be long until we find out if it's been worth the wait, but we've got our engines raring to go.
Triangle Strategy
Available on: Switch
4th March 2022
From Square Enix, Triangle Strategy is a tactical RPG presented in "HD-2D", a term coined by Square Enix to describe its unique art style first seen in the likes of Octopath Traveler. This time around, you'll follow protagonist Serenoa Wolffort and friends through the land of Norzelia, where you'll follow a deep and branching story. Fight monsters, make moral-based decisions, and shape the fate of the world around you.
Buy Triangle Strategy on Amazon
Chocobo GP
Available on: Switch
10th March 2022
No, that's not Chocobo General Practitioner; this isn't a game about a bumbling Chocobo trying to make it as a doctor. It's Chocobo Grand Prix, a game about racing chocobos. It's basically a kart racing game with a Final Fantasy theme, and we're totally here for it. (Although a game about a Chocobo who is a GP would also be something we're interested in…)
Young Souls
Available on: PS4, Xbox One, Switch, PC
10th March 2022
If you like gorgeous animation, tense, fast-paced brawls and stories that get their claws in you, then Young Souls is one to watch. Originally a Stadia exclusive, Young Souls' PC and console release was delayed from last year, but it's almost here. And if our hands-on preview is anything to go by, it's going to be a lot of fun.
Monster Energy Supercross – The Official Videogame 5
Available on: PS4, PS5, Xbox One, Xbox Series X/S, PC
14th March 2022
You'll know what to expect from Monster Energy Supercross 5 if you've played any of the four games that came before it. This is high-octane dirt bike racing, complete with all the thrills and spills you'd expect from the sport. We went hands-on with the game last week, and judging by the time we spent with it, it may just be the best in the series yet. Definitely one to watch if you're a fan of motorbike racing.
Buy Monster Energy Supercross 5 on Amazon
Stranger of Paradise: Final Fantasy Origin
Available on: PS4, PS5, Xbox One, Xbox Series X/S, PC
15th March 2022
We don't know a whole lot about Stranger of Paradise: Final Fantasy Origin, beyond that it's a high-paced action RPG made by Team Ninja and Square Enix. Still, what we've seen and played of it up to now leads us to believe that it's going to be challenging RPG with plenty of drama. That's all we really need to know to be sold on the concept, really.
Buy Stranger of Paradise on Amazon
Tunic
Available on: Xbox One, Xbox Series X/S, PC
16th March 2022
Tunic has been a long time coming, but this adorable indie action game about a sword-wielding fox is highly anticipated. Starting out on a beach with no inventory to your name, Tunic will see you travel through a gorgeous world as you tackle great beasts, find important items and uncover secrets. Basically, it looks like Zelda, if Link was a fox. We're sold.
Who Pressed Mute on Uncle Marcus?
Available on: PS4, Xbox One, Switch, PC
18th March 2022
Here's one for the fans of FMV games. Wales Interactive and Good Gate Media are back again with another zany live-action adventure game for us. Good Gate Media has previously brought us Five Dates and The Complex, two titles that we really got a kick out of. This time, there's a murder mystery afoot: during the yearly family quiz, Uncle Marcus has been poisoned. It's up to you to figure out who did it before it's too late.
Ghostwire: Tokyo
Available on: PS5, PC
22nd March 2022
We're really excited to get our hands on Ghostwire: Tokyo even though the game still remains somewhat of a mystery to us. A State of Play presentation last month gave us a better look at what to expect, and although it whet our appetite, we still have many questions. Still, we'll have answers soon when we jump into this supernatural adventure later this month. Ghostwire: Tokyo tasks you with facing off against the occult in an imaginative take on Tokyo. Famous landmarks such as Shibuya Crossing and Tokyo Tower don't look quite the same when they're teeming with Yokai…
Buy Ghostwire: Tokyo on Amazon
Tiny Tina's Wonderlands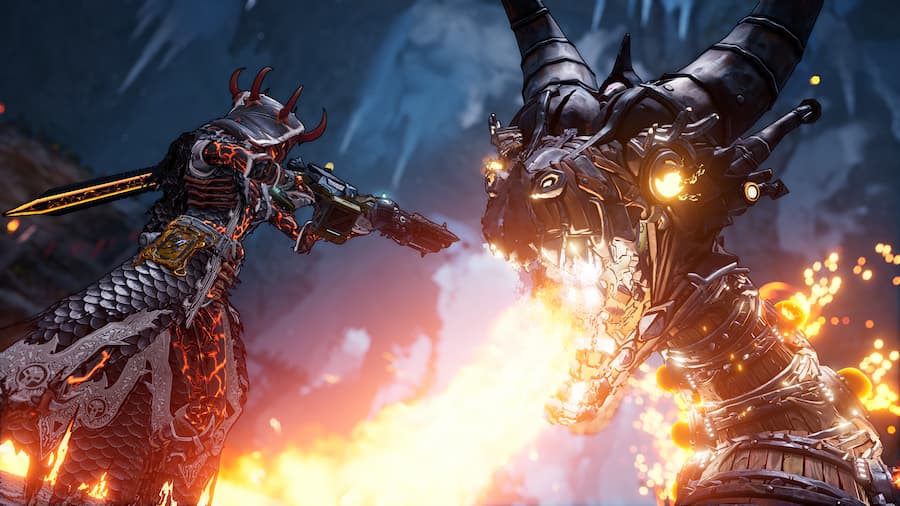 Available on: PS4, PS5, Xbox One, Xbox Series X/S, PC
25th March 2022
If you're a fan of the Borderlands series, you're going to love Tiny Tina's Wonderlands. This is a Borderlands game in everything but name. Heck, it even features Claptrap. But rather than playing as a Vault Hunter, you're instead… existing inside Tiny Tina's head? Like the Assault on Dragon Keep Borderlands 2 DLC before it, Tiny Tina's Wonderlands is essentially a tabletop RPG game being played by Tina and her friends. Expect dragons, mayhem and lots of guns. You can read our preview here to learn more.
Buy Tiny Tina's Wonderlands on Amazon
Kirby and the Forgotten Land
Available on: Switch
25th March 2022
Last but certainly not least on our list of games to look out for this March is Kirby and the Forgotten Land. Everyone's favourite pink puffball is back in an all-new adventure – and this time he's in an… apocalyptic world? As usual, you'll be able to copy enemy abilities by inhaling them, and use your new skills to progress through the game. Explore abandoned shopping malls, visit friends in Waddle Dee Town, and, er, inhale cars.