As gamers we constantly find ourselves fighting aliens, terrorists or invading armies, but less often do we fight the real enemy of the people: crime.
Maybe it's less exciting, what with all the paperwork and regulations to consider, but sometimes, stepping on the right side of the thin blue line can be a lot of fun.
Here we have nine examples of games where crime doesn't pay. Where the bad guys must face justice for their actions. And, in one case, where you'll pickaxe deposits of gold so you can buy new townsfolk to play with. But let's not get ahead of ourselves. Read on for our pick of the best games where you play as a cop.
Lego City Undercover
Available on PlayStation, Xbox, Switch, Wii U, PC
LEGO games have long been a familiar sight on many storefronts, shop shelves and gamer's backlogs. More commonly, they're officially licensed affairs, seeing plastic projections of popular protagonists rooting around famous scenes from their various movies. All the while collecting those lovely studs, red bricks and minikit pieces.
In LEGO City Undercover, developer TT Games threw out the instruction booklet and played around with those LEGO pieces to create LEGO City cop Chase McCain (and his nemesis, the criminal mastermind Rex Fury). LEGO City makes a perfect and fitting backdrop for the action to take place. LEGO fans can see familiar pieces in action and newcomers can enjoy the pop culture references, from Shawshank to Schwarzenegger, and all will enjoy the bright and breezy humour, gameplay and action the game contains.
Imaginative and inventive levels, areas and objectives keep things fresh as you extinguish BBQs and catapult pigs across farmer's fields. It might not be the most realistic representation of being a cop in a video game, then, but it's fun. If we could all live in Chase McCain's world, it'd be a better place.
Buy LEGO City Undercover on Amazon
Toy Story 3: The Video Game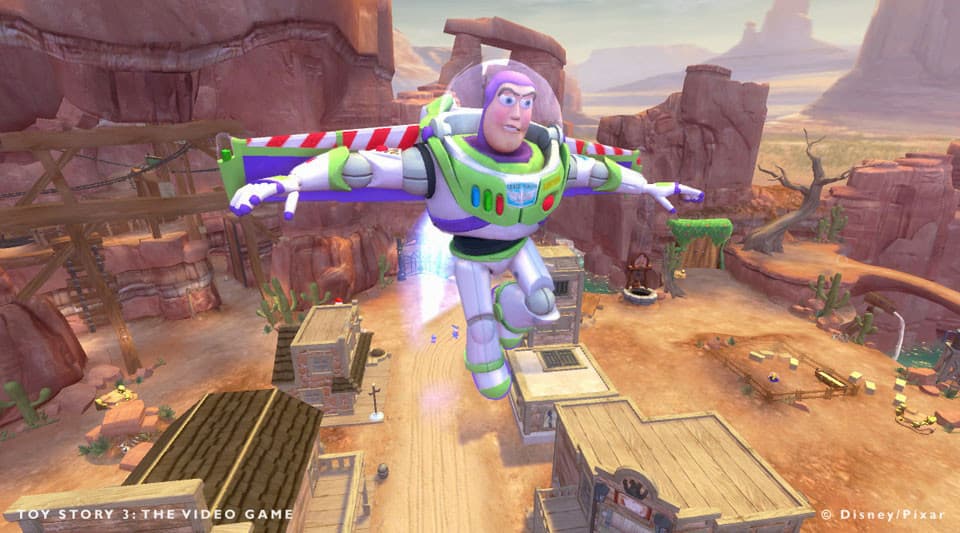 Available on PS3, Xbox 360, PC
Now just hear us out. There are two things to be made clear right at the start, here. Number one: Toy Story 3: The Video Game is an unexpectedly fantastic game. It really has no right to be as good as it is but, damn, it's great. Number two: you play as Woody, who is, of course, a Sheriff and therefore a cop. We'll come to this later with Red Dead Redemption 2.
There's a straightforward enough story element to Toy Story 3, which is still pretty enjoyable. It puts you in various familiar settings, including the Buzz Lightyear game shown off in Toy Story 2, and lets you play as several iconic characters. So you may well play through the story and think that's that. But no: the real stuffing in this bear is the Toy Box mode. Finish the story and you'll find a free roam element where Woody can patrol the Wild West and meet and interact with other toys, including many of your favourites, to help with their assortment of dilemmas. And it's just joyous.
It's surprisingly big, too. With new areas unlocked once you complete certain objectives and collect enough coins to invite new townsfolk, you'll find hours of fun running about the place and discovering all of its hidden objectives.
It's a shame that Toy Story 3: The Video Game hasn't made its way to modern consoles – but the Xbox 360 version is playable on Xbox One and Series X/S, and you can pick it up on Steam. It may be a bit long in the tooth now, but it's worth jumping into for some good, old-fashioned fun. Games where you play as a cop really don't get more enjoyable than this.
LA Noire
Available on PlayStation, Xbox, Switch PC
In a now famous (or infamous) departure from normal service, publisher Rockstar, best known for its very-much-not-police-based GTA series, found itself developing LA Noire, an action thriller that puts you in the shoes of 1930s police officer, Cole Phelps.
A relatively likeable if unremarkable chap, Cole starts off as a patrol cop before working his way up the detective ladder. Although it becomes clear his career is more akin to a particularly rough round of snakes and ladders. Either way, LA Noire gives you plenty of variety; you'll be investigating traffic, vice, arson and homicide cases, all while sporting a particularly spiffy suit. Speaking of the suit, being set in the late 1940s, LA Noire is like the law-abiding equivalent of Mafia. It's absolutely dripping in atmosphere, and many of its missions are based on real events, too. You can even take a punt at the mysterious Black Dahlia murder.
The unique selling point of LA Noire is undoubtedly the ability to review evidence, interview suspects and solve crimes. While its mechanics may have become the stuff of memes (Press X to doubt), the game itself reviewed pretty favourably. Cole's career path might not quite align with a modern-day police officer's, but it's still one of the best games that lets you play as a cop.
Red Dead Redemption 2
Available on PlayStation, Xbox, PC
Arthur Morgan may not have the cleanest of consciences, but once you take charge, you may find you transform him from conniving criminal to likeable lawman. Simply pop into the local jail and the town sheriff will likely have a bounty available. Alright, so technically this makes you a bounty hunter rather than a cop, but add to that breaking up bar fights and capturing convicts and soon you'll find yourself a dependable deputy.
We all know Red Dead Redemption 2 is full of next-level details, from the rolling clouds and realistic lunar cycles above, right down to the dirt accumulating under your fingernails. One such detail means you can hogtie those less-desirable characters, pretty much anyone you see acting out of line, and dole out justice as you see fit. Hand them in at the jail, drag them through town or leave them for the wolves. As a self-appointed sheriff, it's your choice.
Of course that's not to say you have to choose a simple "good" or "bad" path for Arthur. Found yourself out of favour with the locals? Skip town and hop on over to the next for a friendlier greeting and a fresh start. Tired of stitching up your fellow ne'er do wells? Get straight back off the horse by robbing a train and its passengers or, even better, take the whole steel horse and ride it on back to anonymity.
The western frontier has never been so well realised, and if you're looking for a game that gives you the freedom to be a cop however you like, you'll find it here. You can grab the Red Dead Online element as a standalone now, too, for some fun with your posse at an even lower price.
Buy Red Dead Redemption 2 at Amazon
The Deus Ex Series
Deus Ex Mankind Divided is available on PlayStation, Xbox and PC
The original Deus Ex sees you as UNATCO agent J.C Denton, and its sequels Human Revolution and Mankind Divided puts you in the augmented shoes of ex-cop – sorry, ex-SWAT officer – Adam Jensen. Both men are fighting for truth and justice, whether against shadowy secret societies or their own agencies or governments.
Each title takes place across several continents and sees such diverse environments. The very first game takes you from a dystopian, bleak New York City, to a bustling Hong Kong, to the eerie catacombs of Paris, to Area 51 – complete with little grey men. In Human Revolution, you'll explore similar locales, but with a different, but fantastically realised, Blade Runner-inspired aesthetic.
With conspiracy theories, myth and urban legends at the heart of the story, it's great fun to play through as a cop, pulling at each loose thread you find, hanging from a much larger tapestry of story.
Unfortunately, due to a bizarre, and cynically greedy pre-order and DLC system, along with a shorter story and less freedom than the Deus Ex series is known for, Mankind Divided underperformed against its targets and the franchise appears to have been mothballed. However, given it was almost a decade between Deus Ex: Invisible War and Human Revolution, all hope is not lost for another revival.
Buy Deus Ex: Mankind Divided on Amazon
Need for Speed: Hot Pursuit Remastered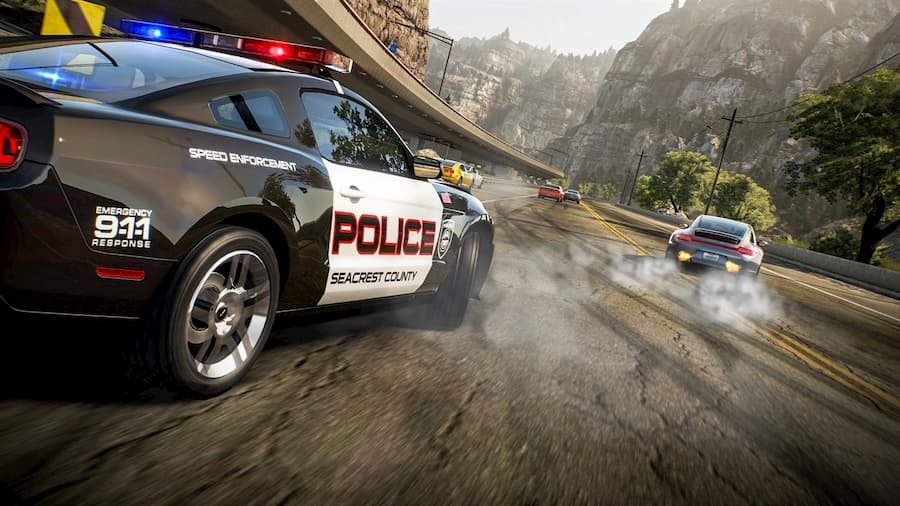 Available on PlayStation, Xbox, Switch PC
There's nothing like the thrill of a car chase. Action movies love to throw one in as soon as the pacing drops a bit and done well, they really get your pulse racing. Need for Speed: Hot Pursuit takes that feeling and ramps it up to 111mph.
Pick your favourite super-sleek supercar from one of the dozens of licensed models, slap some police livery on it and away you go. You'll race, chase and crash your way through Seacrest County's huge and diverse cityscapes, sea fronts, forests, deserts and canyons. Whilst doing so, you've got tonnes of exciting weapons at your disposal, from semi-realistic spike strips to more outlandish, targeted EMP blasts.
Developer Criterion, most famous for the Burnout series, knows how to make an exhilarating racer and this is no exception. It may be a little older, having originally launched in 2010, but this remaster drags it into a new era with a new lick of paint and not much more required to improve it.
This one is included in EA Play, so if you can afford the subscription, Need for Speed: Hot Pursuit Remastered pays for it on its own.
Buy Need for Speed: Hot Pursuit Remastered on Amazon
This is the Police
Available on PlayStation, Xbox, Switch, PC
This is the Police marks a notable difference in protagonist from other, more mainstream games. Usually, you'll play as a fresh-faced rookie on their first day of the job, or maybe as a veteran at the top of their game. Not here. Here we find washed-up commissioner Jack Boyd (voiced by Duke Nukem himself, Jon St. Jon) as he shotguns pills and booze just to make it through the day. Boyd is being pushed out by the mayor and sets himself a retirement goal of making a cool half a million bucks within the next six months. How he does that is up to you.
Each day, you start with a roster of officers to dispatch to various crimes. It's all straightforward enough to begin with, with shoplifters, robbers and car thieves and a full roster of keen and capable officers at your disposal. As things progress, however, more complex jobs (including case files which require both detectives and your direct supervision to solve) and a whole myriad of personal issues for your team make the whole game tougher. Officers start showing up to work drunk or overtired from double-shifts covering for lazy colleagues. Send one of these officers and they might crash their car or shoot someone by mistake, only adding to Boyd's woes. It's a great story with tough but rewarding gameplay.
An interesting take on a resource management sim, This is the Police also occasionally sends you into the field to oversee your officers in turn-based strategy gameplay. Each officer you take with you is from your regular roster, so it's best to get to know who is most dependable and who's a liability. It gets dark at times, particularly depending how you play it, but This is the Police is undoubtedly one of the best games that lets you play as a cop.
Buy This is the Police on Amazon
911 Operator
Available on PlayStation, Xbox, Switch, PC
911 Operator is somewhat similar to This is the Police, but without the crippling depression and constant mob threats. Starting each day with an allocation of police officers, paramedics and firefighters, you must manage your resources to cover your assigned city for all its emergencies.
As a 911 operator, you'll be both picking up other people's calls and answering calls yourself. The calls you take are then for you to treat as you see fit, from dumpster fires to car crashes.
How you crew and equip your teams is up to you, too. A cop on a motorcycle is more likely to be able to catch a speeding car, but less likely to hold their own if the driver pulls a gun, so may need back-up nearby. Two paramedics in an ambulance should be able to handle a woman giving birth, but who do you send them to when there's a heart attack at the same time? Firefighters can, of course, put out a fire, but if it was arson and the suspect is still there, they'll be in serious trouble. 911 Operator isn't afraid to put you in tricky situations.
As you progress, you'll earn cash to pay for more teams and to equip them with a variety of kit. One of the neatest features in 911 Operator, though, is the ability to dispatch for your own city. There's a huge database of towns and cities included, from all over the world, so you might find yourself dispatching crews to a local landmark, or even your own address!
911 Operator might not have the most incredible story or intense action, but it hits all the right notes for a strategy-puzzle game.
Sleeping Dogs
Available on PlayStation, Xbox, PC
Sleeping Dogs is a love letter to the best action and martial arts movies of the 80s and 90s. It captures their atmosphere so well and with it, soaks a beautifully rendered vision of Hong Kong in the true spirit of films like Police Story.
Playing as Wei Shen, an undercover cop on the trail of the infamous Triads, you'll have free reign over the city's various districts, each of which has shops and vendors and individuals you can interact with. There's a very involved story here, too, which we won't spoilt just in case you haven't played it yet. It's one with plenty of depth, heart and interesting characters.
Considering it was originally released way back in 2012, Sleeping Dogs' visuals hold up pretty well today. It sports sleek-looking supercars, bustling streets and very impressive weather effects. Hong Kong is as vibrant and detailed as you could hope, with things to see around every corner. The world feels full and alive, with plenty of side-missions and activities to keep you entertained between shoot-outs and car chases.
Unfortunately, despite critical and commercial success, Sleeping Dogs never received its planned sequel. Additionally, its online-only spin-off, Triad Wars, was closed down before it even got out of beta. Perhaps there's hope for the long-planned movie, although this too seems unlikely by now. Anyway, there's rarely a sale where you can't pick up Sleeping Dogs for more than a few pence. When you get the chance, jump in. Games that let you play as a cop don't come much better than this.