Available on all Apple devices with iOS 13 or later, Apple Arcade is here to revolutionise the way we see mobile gaming.
Forget about match-three puzzlers and mindless clicker games; Apple Arcade is jam-packed with quality video game experiences. From RPGs to point and click games, racing games to puzzle games and everything in between, Apple Arcade has something for everyone. It really does change the way we think about mobile gaming. But what are the best games on Apple Arcade?
With such a big selection of games to choose from – and one that grows every few weeks – how are you supposed to know which games are worth your time? Worry not; we've done the hard work for you. Keep reading to see our picks of the best Apple Arcade games you can play.
Assemble With Care
A beautifully-presented story interspersed with puzzles, Assemble With Care is a laid-back experience that's a delight to play. You take on the role of Maria, a young woman who has followed in her parents' footsteps to work in object restoration. She's handy with a screwdriver and there's not much she can't fix.
As the game starts, you arrive in the small town of Bellariva. Through beautifully-delivered story segments, you'll learn about the town's residents, each with their own story to tell. Maria provides a listening ear, but most importantly she's able to fix their treasured possessions. You'll get hands-on with Maria's tools in order to take apart and reassemble various objects from antique cameras to neon signs. It's incredibly therapeutic, and one of the best, most unique, games on Apple Arcade.
Tangle Tower
A point and click game that puts you in the shoes of a detective, Tangle Tower oozes charm from the moment you load it up. A wonderful cartoon art style awaits you, and an enchanting world to explore. Your characters are on the trial of a murder: the young Freya Fellow has been found dead in the titular Tangle Tower. She died while painting a portrait – and the subject of her portrait just happens to be holding a bloody red knife. Hmm.
By exploring the expansive and mysterious Tangle Tower, it's your job to piece together what happened to Flora. There's nothing finer than a good old-fashioned murder mystery, especially when it's as well presented as this. Characters are fully-voiced, so you'll want to make sure you have your volume up or headphones in to fully get immersed.
LEGO Builder's Journey
If you're a fan of LEGO, and enjoy solving a good puzzle, then LEGO Builder's Journey is undoubtedly one of the best Apple Arcade games for you. This stunning game from LEGO's own Lightbrick Studios presents you with small scenes built out of LEGO. You'll need to use bricks to create pathways to reunite two LEGO figures.
Few games look at sunning as LEGO Builder's Journey. There's a minimalist vibe to it, but one that works incredible well. LEGO bricks look real, and models look as if you could have built them right on the table in front of you. Some of the puzzles are a little taxing, but if you've got your thinking cap on, there's a great time to be had here.
Read our review of LEGO Builder's Journey
Beyond Blue
Made in conjunction with BBC Studios (creators of beloved underwater documentary series Blue Planet II), Beyond Blue is both a videogame and an education tool. In it, you play as Mirai, a scientist working deep underwater to study ocean life. As Mirai, you'll need to track fish and aquatic mammals, tracking their behaviour, as well as searching for other forms of life under the waves.
It's a beautiful and relaxing adventure, and the fact that it's built on scientific fact and discovery makes it even better. The narrative it tells alongside the adventure is just a bonus. It's a game you can get lost in for hours at a time. Particularly if you're a fan of sealife, Beyond Blue is one of the best games you can play on Apple Arcade.
Read our review of Beyond Blue
Mutazione
A touching story-driven adventure, Mutazione sees you travel to a mystical land filled with beautiful flora and fauna and… mutants? They're not the scary type of mutants though; the residents of Mutazione used to be human, but a meteor strike a century ago caused the people to mutate and be cut off from the rest of civilisation.
As Kai, a human outsider to Mutazione, you'll travel to the island to help your sick grandfather. Along the way, you'll get to know the residents, hear their stories, explore this fascinating land and help restore it to what it once was. Mutazione isn't exclusive to Apple Arcade, but it's still one of the best games on the service.
Oceanhorn 2
A prequel to the first Oceanhorn game, set 1,000 years before its events, Oceanhorn 2 is a stunning adventure RPG, designed in the same vein as the likes of Zelda. Taking control of a young hero, you'll be adventuring across the world of Gaia, fighting enemies, solving quests and levelling up to become even stronger.
It's an absolutely stunning game, with a vast 3D world to explore. From open forests to dark caves, there's plenty to see, and plenty of secrets hidden in the game's nooks and crannies for you to explore. It seems like quite a step up in terms of production from 2016's Oceanhorn, so if you're a fan of Zelda-like adventures, this is one of the best Apple Arcade games you can play.
Roundguard
Cross Peggle with an RPG, and you've got Roundguard. It's a delightfully easy-to-play arcade game where your hero becomes the ball that you fire out of a cannon. Your aim is to attack monsters with each shot of your cannon, collecting gold, potions and treasure along the way.
It's a rogue-like of sorts, so once your health depletes in Roundguard, it's game over. But it's the sort of thing you'll be eager to jump straight back into, to try and beat your best score. It's a lot of fun, and the ideal game for picking up for 30 minutes at a time.
Sayonara Wild Hearts
Sayonara Wild Hearts is best described as an interactive music concept album. It's definitely more about the audio and the visuals than anything else. But don't let that put you off: the audiovisual design on display here is absolutely phenomenal. It's like one long, trippy music video put out by your favourite electro-pop group.
Considering it has been developed by a very small team, Sayonara Wild Hearts is a rather impressive undertaking. It's not very long – you'll have played it from start to finish in about an hour; coincidentally about the length of a music album. Playing along to the music will have you moving from left to right and hitting buttons in time, racing through various landscapes, collecting hearts as you go. You'll be awarded a score for your efforts, so there are high scores to chase if you want – but Sayonara Wild Hearts is much more about the experience than your performance.
Read our review of Sayonara Wild Hearts
Cat Quest II
If you've played the delightful Cat Quest, you'll already know exactly what to expect from its sequel, Cat Quest II. Just like the first game, it's a beautifully-designed top-down RPG with a gorgeous cartoon art style. However, there's one key difference this time around: your cat hero is accompanied by… a dog.
You'll adventure across the game's map, killing enemies and completing missions along the way. As you play, you'll come across new pieces of equipment and new magical spells, enabling your feline and canine heroes to become better set for the challenges ahead. The foes you face will gradually get stronger – but so will you. It's a fun RPG that won't take up too much of your time, but is well worth a download from Apple Arcade.
Read our review of Cat Quest II
The Bradwell Conspiracy
You're at a fundraising event, when all of a sudden there's an explosion. When you come to, nobody else is around – and you're trapped. What do you do?
That's the plot of The Bradwell Conspiracy in a nutshell. But the narrative that unfolds as you progress through the game proves to be much more intricate. Combining first person puzzles, exploration and an intriguing storyline, it's an excellent game for fans of the likes of Portal – oh, and Jonathan Ross, since he cameos as the narrator of the game's induction. There's a lot to love here, and it's without a doubt one of the best games on Apple Arcade.
Read our review of The Bradwell Conspiracy
Exit the Gungeon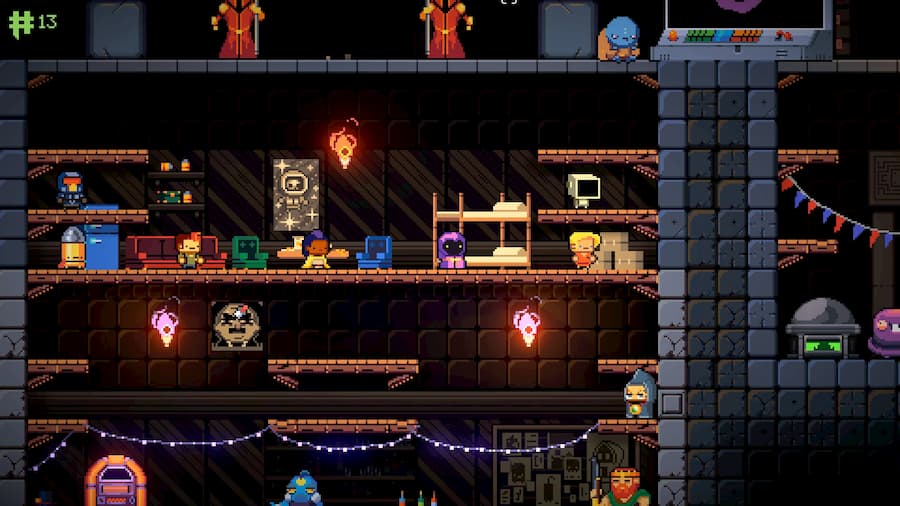 Exit the Gungeon is a sequel of sorts to the popular Enter the Gungeon. Except, well, this time you're trying to get out. And unlike the first game which had you exploring the Gungeon any which way from a top-down perspective, here you're climbing up.
It's a vertical adventure which will see you jumping from ledge to ledge in order to reach the exit, high up above your head. And just like its predecessor, Exit the Gungeon is a rogue-like, so take too much damage and you'll die, having to start from the beginning all over again. Jump and dodge like a pro in order to avoid being hit by an onslaught of bullets. It's tough, but once you master it you'll feel like a true ninja. And that's enough for us to put this on the list of best Apple Arcade games.
Read our review of Exit the Gungeon
Mini Motorways
Remember Mini Metro, the low-key game that had you designing your own rail transport systems? Well, Mini Motorways is a follow-up to that – except this time, you're designing road networks.
Unlike the train tracks of Mini Metro, which could only run from A to B, your roads can go anywhere – and vehicles of any colour can travel on them. Your goal is to get cars from a coloured garage to the workplace of the same colour. Have too much congestion on the road and cars will take too long to get there, and it'll be game over. Build a successful system using highways and traffic lights, however, and you'll have a bustling metropolis in no time.