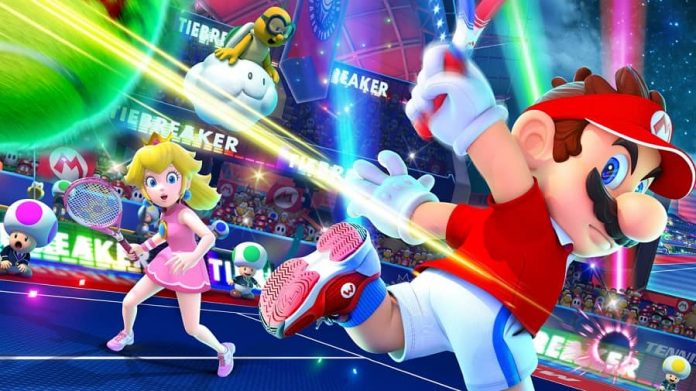 Forget gold coins, Mario is after the true gold in these sporting classics.
Mario is an everyman: a simple plumber with a heart of gold. But outside of just rescuing Princess Peach, Mario is also quite the sporting idol. He's starred in countless Mario sports games over the years, and we're here to talk about the best of them.
He's been legendary golfer, a tennis pro, a football player and a basketball superstar – amongst other things. He might not have the physique for it, but don't let that fool you: he's basically your stereotypical sporting jock. But more lovable. And with more moustache.
There are so many Mario sports games out there, but we've pulled out the best of the best to compile a list of the best Mario sports games we've ever played. These are the Premiere League of Mario-themed sporting games, if you like, from basketball to golf and just about everything in between.
And so, read on to see our picks of the best Mario sports games ever released, ranked from 10 to 1.
10. Mario Slam Basketball
Released in 2006 for the Nintendo DS, Mario Slam Basketball (or Mario Hoops 3-on-3 as it was known in North America) took Mario to the basketball courts for some three-against-three action. Interestingly, it was developed by Square Enix – the only Mario game to have been developed by the company since 1996's Super Mario RPG. Not only did Mario Slam Basketball feature all the usual characters from the Mario franchise, but it also included an array of characters from the Final Fantasy series too.
Mario Slam Basketball features a range of tournaments where the player competes to be awarded bronze, silver or gold. Unlike most Mario sports games, the final (and best) team doesn't feature the likes of Peach and Mario, but Final Fantasy characters instead.
9. Mario Superstar Baseball
Released in 2005 for Nintendo GameCube and developed by Namco, Mario Superstar Baseball allows the player to take on a variety of Mario characters in a set of tournaments. A fun feature to Mario Superstar Baseball is the ability to recruit a player from the team just defeated, meaning that a true superstar team can be created in preparation for the final in Bowser's Castle.
The actual match gameplay is enjoyable, with the addition of 'Super Swings' to add extra power to a hit. But it's the Challenge Mode is where the fun truly is, which sees you creating your own to battle against Bowser's team.
8. Mario Golf: Super Rush
There have been several Mario Golf games over the years. And the newest is not necessarily the best. Mario Golf: Super Rush came to Switch in 2021 – and while it's still worthy of a place amongst the best Mario sports games of all time, it's not the best golfing game there is.
Why? Well, as fun as Super Rush is, it doesn't have the most content. There's a great deal of fun to be had in the Battle Golf mode, and being able to use motion controls to swing a club is great. But for those looking for straightforward golf, you're better off looking towards one of Mario's older golfing games. Sometimes, the classics can't be beaten.
Buy Mario Golf: Super Rush on Amazon
7. Mario Tennis Aces
Like Mario Golf: Super Rush, the 2018 release of Mario Tennis Aces doesn't do a great deal for those looking for straightforward game of tennis starring their favourite videogame plumber. It does, however, offer an excellent tennis-themed adventure thanks to its meaty Adventure Mode.
Adventure Mode feels more like a Mario RPG than a tennis game. Is that a problem? We don't think so. As you play, you'll make your way around an overworld, moving from level to level. There's a story to follow through if you're interested, but chances are you just want to jump into the tennis matches. You'll gain experience as you go too, levelling up your speed and agility. It's a lot of fun. It might not be quite the traditional sporting title, but it's still one of the best Mario sports games we've ever played.
Read our review of Mario Tennis Aces
Buy Mario Tennis Aces on Amazon
6. Mario Tennis (Nintendo 64)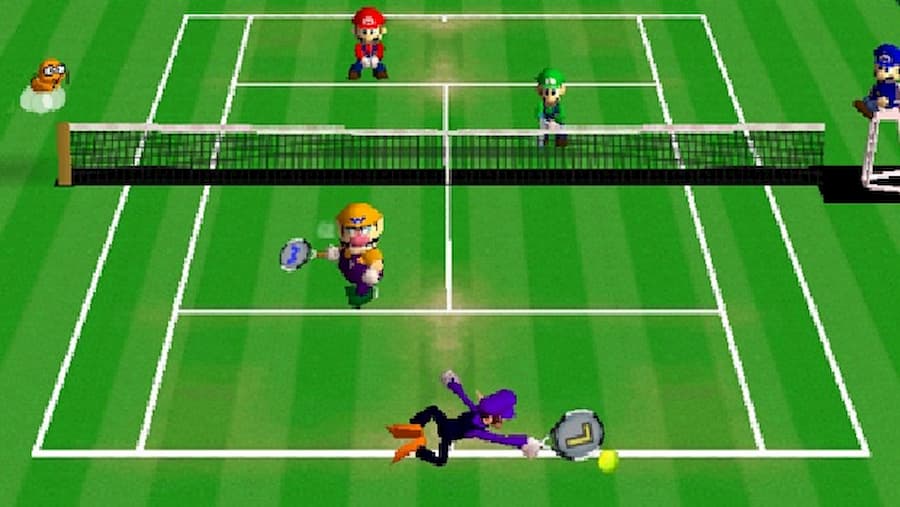 Released in 2000 for the Nintendo 64 and developed by Camelot Software Planning, Mario Tennis offers a unique twist on tennis and creates a great multiplayer experience. The gameplay is simple to learn, but specific timing is needed in order to really succeed, and that takes mastery. With the addition of unique character traits too, Mario Tennis is one of the best Mario sports games there is.
Sadly there are very few single player features, making it a fairly shallow game outside of multiplayer. Plus, to get the most out of the game and unlock new courts and characters a transfer pack is needed, along with the Gameboy version. But Mario Tennis is fondly remembered for its great multiplayer fun, and the first ever inclusion of Waluigi. Where would the world be today without him?
5. Mario Golf (Nintendo 64)
Released in 1999 for the Nintendo 64 and developed by Camelot Software Planning, Mario Golf offers a pick-up-and-play simplicity for new players, along with a sense of depth for returning players. Along with Mario and the usual faces, this game also introduced us to five new characters: Plum, Sonny, Harry, Maple and Charlie.
These new characters played alongside Mario, and offered a true sense of progression. Each character has their own skills, but those new characters can have their strengths and weaknesses shaped by the player. It's a great addition to the game that creates a sense of depth. That reason alone makes Mario Golf one of the best Mario sports games of all time. Even if it is a little long in the tooth by now, we still find ourselves returning to it.
4. Mario & Sonic at the Olympic Games Tokyo 2020
We've had various Mario & Sonic at the Olympic Games titles, dating back to a Beijing 2008 tie-in title which released on Wii and DS. But the best of them all is undoubtedly the most recent, released in 2019 to celebrate Tokyo 2020. Which ended up getting delayed until 2021, but that's irrelevant. What is relevant is just how joyful it is seeing rival heroes Mario and Sonic appear together in the same game. Something we could have only dreamed of back in the 90s.
Mario & Sonic at the Olympic Games sees both characters and a host of their friends compete in numerous Olympic challenges. There's sprinting, swimming, gymnastics, karate, skateboarding and more. And Mario's down to try his hand at them all. Even better, you can play in local multiplayer, competing against your friends directly. There's a lot to love here, and it's undoubtedly one of the best Mario sports games of all time. Let's just see what Paris 2024 has in store…
Read our Mario & Sonic at the Olympic Games Tokyo 2020 review
Buy Mario & Sonic at the Olympic Games on Amazon
3. Mario Golf: Advance Tour
Released in 2004 for the Game Boy Advance and developed by Camelot Software Planning, Mario Golf: Advance Tour features a simple to learn but hard to master gameplay, with an addition of brilliant RPG mechanics. The Exhibition mode shows off the gameplay style – one that is very similar to the Nintendo 64 version. That's quite a feat considering this is a Game Boy Advance title.
But where Mario Golf: Advance Tour really stands out is its story mode. You'll take control of your own character, and with them you'll move through four different clubs, training at each one. Every time you beat a club, you'll level up, learning new skills. Eventually, you'll be skilled enough to take on the true champion: none other than Mario! The addition of the RPG style makes Mario Golf: Advance Tour not only one of the best Mario sports games, but one of the best golfing games ever released.
2. Mario Strikers Charged Football
Released in 2007 for the Wii and developed by Next Level Games, Mario Strikers Charged Football sees Mario and friends take to the pitch for a crazy game of football, and it's undoubtedly deserving of a place on this list of best Mario sports games. It offers silky smooth gameplay – and it's a heck of a lot of fun to boot. Mario has never been better than when wearing a football kit.
It's just a shame that outside of the Road to the Strikers Cup mode, there's little to be experienced in the game. But Mario Strikers Charged Football has enough about it to keep the player returning due to how engaging the actual matches are. From realistic tactics, to completely out there Mario skills, Mario Strikers Charged Football is what Fifa Street wishes it was.
Let's just see if it's going to be beat by Mario Strikers: Battle League when it releases later this year.
1. Mario Tennis (Game Boy Color)
Released in 2000 and developed by Camelot, Mario Tennis made its way to Game Boy Color system Nintendo 64. But this handheld version of the title defeats its N64 counterpart in a three set knockout in almost every way. The controls are similar and the characters are fairly comparable, but the single player experience is far beyond what the N64 version could dream of.
Mario Tennis features of brilliant story mode: an RPG-style addition where you take control of a new student at the Royal Tennis Academy and leads them to glory. Starting at the Juniors, you'll work your way through the Seniors, the Varsity team, and eventually win the Open. But the greatest challenge awaits you at the end: defeating all-time tennis champion Roger Feder– er, sorry, Mario. Mario Tennis' story mode can also be played in Doubles, with the same format. Plus, with the addition of training and levelling up, it's a completely immersive experience.
Mario Tennis' gameplay may not be unique to the Gameboy Color version, but the story mode is. To us, the journey through the Royal Tennis Academy stands out as perhaps the best experience in any Mario sports game to date.