We really liked last year's MotoGP 21.
Our only real complaint with it was that there wasn't really much to do outside of its career mode. And so here is MotoGP 22 to correct that. It has everything that made MotoGP 21 a success, further tuned to impress even further. But then it also piles on a new documentary-style mode that's really worth sinking your time into.
Like any game that's part of a yearly release schedule, MotoGP 22 has many incremental improvements. The visuals are a bit more appealing for one, with character models in particular looking better than ever before. More importantly, the handling and physics feel a little bit tighter, and there's now more help when braking. When you get into the flow, controlling your bike in MotoGP 22 feels wonderful, leading to a great track experience.
There are some new additions, too, like the new Ride Height Device that allows you to adjust your suspension on the fly to lower your centre of gravity and increase acceleration. Along with the other settings you can adjust during play, you feel more in control of your bike than ever, and that leads to a greater sense of achievement when you do emerge victorious.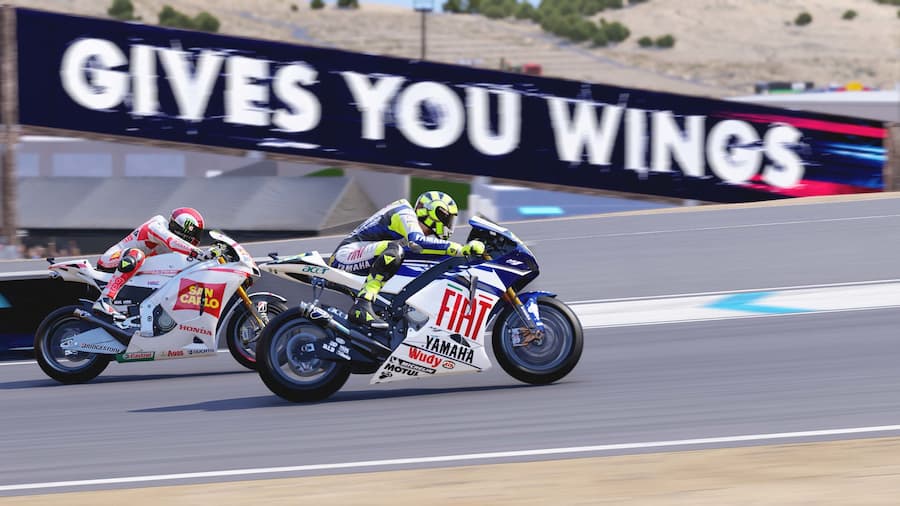 It's the introduction of the new Nine Season 2009 that should excite MotoGP fans the most, though. It puts players in control of MotoGP legends such as Valentino Rossi, Jorge Lorenzo and more, as they compete in the MotoGP 2009 season. But it's the way that it splices real footage narrated by Mark Neale with gameplay that's really impressive.
Spread across 17 chapters, one for each Grand Prix of the 2009 Season, you'll compete in numerous challenges. You might need to win by a certain distance, for example, or simply claw back a couple of spaces within a certain number of laps. Each challenge has a primary and secondary objective for you to complete, and if you succeed, you'll unlock worthwhile rewards.
Making your way through all the challenges available in Nine Season 2009 will take a considerable amount of time. Completing all the secondary objectives along the way will add even more mileage to the clock. And this is in addition to the modes returning from last year's MotoGP 21. Of course, Career remains the biggest draw, allowing you to jump in at either Moto3, Moto2 or MotoGP levels. And once you're in Moto2 or MotoGP, you can create a Junior team to manage.
Truth be told, outside of Nine Season 2009, you might struggle to see what's new in MotoGP 22 beyond the updated teams. But there are improvements, and plenty of content and features nonetheless. All of the assists and difficulty options are available once again, making MotoGP 22 accessible to a wide range of skill levels. And there's a large amount of customisation available. You can design your own helmets and suits, and even change the liveries of the bikes.
But there are some areas where MotoGP 22 fails to improve over its predecessor, which is disappointing. The option to have to recover your bike after a fall, for example, is still hampered by the fact your competitors simply respawn, putting you at a disadvantage. And there's still no dynamic weather. These are things that Milestone really needs to address in the inevitable MotoGP 23.
All in all, MotoGP 22 is undoubtedly the best MotoGP game yet, but there's still room for improvement. Numerous tweaks and additions result in a game that looks and plays better then ever, but it's the introduction of the documentary-styled Nine Season 2009 that makes this a must for MotoGP fans, even if they own last year's release.
---
MotoGP 22 Review – GameSpew's Score

This review of MotoGP 22 is based on the PS5 version, with a code provided by the game's publisher. It's available on PS4, PS5, Xbox One, Xbox Series X/S, Switch and PC.