We loved Arcade Spirits when it released back in 2019. Now, three years later, there's a sequel for us to love, too.
Well, we say "sequel". Arcade Spirits: The New Challengers may be a follow-up to the original visual novel, but it's not exactly a sequel. It features new characters, new locations, and an entirely separate story. Its themes are familiar, and there's a smattering of returning characters, but for the most part you can jump into The New Challengers without having played Arcade Spirits.
If you loved the first game as much as we did, however, you'll likely hit the ground running here. The writing remains as engaging as ever, and its video game-centred tale will likely get its hooks in you. Like before, the story revolves around a character you've created, where you're able to decide their gender and their appearance. Whoever you create, they're a young adult absolutely obsessed with an online fighting game: Fist of Destruction II.
The premise of Arcade Spirits: The New Challengers, then, revolves around this game (fictional, in case there was any doubt). Your character doesn't simply want to play it for fun; they want it to be their job, their livelihood. And so begins a quest to find a willing esports team and rise to the top.
The first familiar face you'll meet in The New Challengers is your AI assistant, Iris. Just like the first time round, she's the cog that sets all of the narrative wheels in motion. It's Iris that pushes you to find a Fist of Destruction II team, and it's her who guides many of your decisions.
And, just like in Arcade Spirits, Iris also tracks your relationships and choices throughout the game. For each main character, she'll keep tabs on how your relationship is progressing. She'll also monitor your prominent personality traits, shaped by the decisions you make.
Related: The Best Visual Novels on PS4
Because the choices you make in Arcade Spirits: The New Challengers do matter. This isn't a linear tale; it can be shaped by your decisions. On a granular level, that means choosing who you want to be friends – or even romantic partners – with. In the larger picture, it means choosing a sponsor for your team: do you fully sell out to the gods of commercialism in return for bigger sums of money, or do you choose a smaller, more wholesome sponsor? Hell, you can even choose whether you win or lose matches of Fist of Destruction.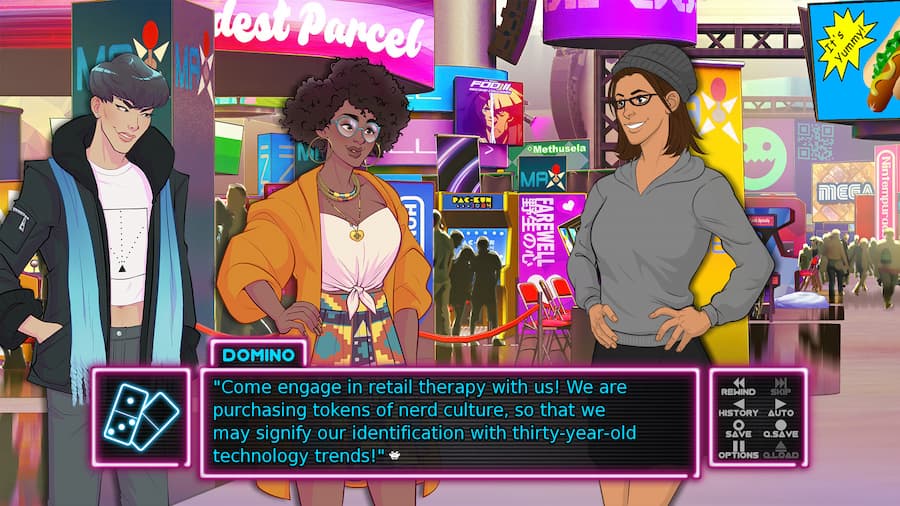 There are multiple endings to The New Challengers, then, but ultimately it's the journey that gets you there that's most important. Even if things don't turn out quite like you hoped, you'll have a great time getting there. Truthfully, we didn't warm to the characters quite as quickly as we did with the original cast, but this wacky bunch of competitive gamers did grow on us. Eventually, you'll come to care for them all, leading you to think carefully about every decision you make. After all, you'll likely want to do your best not to hurt or upset anyone.
There are some sci-fi strands running through Arcade Spirits: The New Challengers. The urban legend of Polybius rears its head – as it did in the first game – providing a thread of supernatural intrigue. And, of course, the overpowered AI of Iris is fixed entirely in the realm of science fiction. Despite that, the story feels incredibly grounded; the characters you meet are dealing with relatable problems and are written in such a careful, sympathetic way that they easily feel believable.
The same bugbear from Arcade Spirits persists in The New Challengers, however. It's partially voiced, with characters occasionally speaking full lines of dialogue. The lines that are spoken feel completely random and out of nowhere; it's a little jarring when you're used to reading and all of a sudden a voice blasts out the dialogue. For the most part the voice acting is decent, but there's an obvious disparity in recording quality between some characters. There's also the odd sound bite that doesn't quite match up with the text on-screen. Ultimately, when it comes to voicing, we feel like all or nothing is better. The odd spoken line really doesn't add much to the experience.
Overall, though, the good far outweighs the bad. Arcade Spirits: The New Challengers does a great job of living up to its predecessor, offering a story and cast of characters almost as engaging and lovable. Whether or not you've played the first game, this is a worthwhile visual novel for anyone who loves the arcade scene and wants to get engrossed in a narrative enriched with gaming culture.
---
Arcade Spirits: The New Challengers Review – GameSpew's Score
This review of Arcade Spirits: The New Challengers is based on the PS5 version of the game, via a code provided by the publisher. It's available on PS4, PS5, Xbox One, Xbox Series X/S, Switch and PC.