There's nothing quite as engrossing as an open world game.
With their sprawling maps and large number of missions and activities, you can absorb yourself in an open world game for tens of hours. In some cases even hundreds. And many of the best open world games you can play right now are available on Xbox.
As video game technology continually advances, these open worlds are getting bigger and more detailed than ever. Games like the Assassin's Creed series have continually pushed boundaries to make the cities you explore as faithful and historically accurate as possible. And other games, like Grand Theft Auto 5, take artistic liberties with real world cities, making them believable yet as fun and frenetic as they possibly can.
There are a lot to choose from, but we've selected what we believe to be the best open world games on Xbox One and Xbox Series X/S. If you're a fan of the open world adventure genre, these are the games you need to add to your collection.
Want to support GameSpew? If you decide to buy any of the games on this list, please consider using our Amazon affiliate links, included below each entry. It won't cost you anything extra, but we'll get a small slice of the purchase.
1. Dying Light 2: Stay Human
Optimized for Xbox Series X/S
If you like your open world games with a slightly horror-ish tinge, may we suggest Dying Light 2? A rather excellent follow-up to an already great game, Dying Light 2 casts you as Aiden as you try to survive in a hostile world overrun by zombies.
There's a story to follow through, of course, and over the course of the game you'll move between several locations, meeting new characters along the way. But like any great open world game, you're also free to go wherever you please, picking up side quests and engaging in various activities. Wherever you go, though, you'll need to do so with caution; the world of Dying Light 2 is deadly and dangerous, especially if you go off wandering at night time…
Read our review of Dying Light 2
Check latest price for Dying Light 2
2. Forza Horizon 5
Optimized for Xbox Series X/S
Is it surprising that one of the best open world games on Xbox One and Xbox Series X/S doesn't involve violence or shooting? It shouldn't be, because everyone should know that Forza Horizon 5 really is as good as open world gaming gets.
Previous Forza Horizon games have been great, but Forza Horizon 5 goes one step beyond. Its visuals will make your jaw drop, its map is vast, and its handling is perfect. It's the best open world racing game ever made, and that's not an exaggeration.
There's always a reason to go back to Forza Horizon 5, too. New content is added on a regular basis, along with weekly and monthly challenges to take part in. You'll be adding more cars to your garage and taking on new challenges well into the future if you pick it up.
Read our review of Forza Horizon 5
Check latest price for Forza Horizon 5
3. Elden Ring
Optimized for Xbox Series X/S
When it was revealed that FromSoftware's latest title would take place in an open world, players were excited. And the good news is that Elden Ring didn't disappoint. Combining the tense, challenging combat that the developer is known for with a rich world that begs to be explored, Elden Ring is not only one of the best open world games on Xbox One and Xbox Series X/S, but also one of the best games of all time.
After creating your character you're let loose in a harsh, dangerous world. Where you go from there is largely up to you. Granted you're guided by the light provided by Sites of Grace, but you're largely free to chart your own course if you wish. In any case, you'll need to commit to a playstyle, effectively develop your character and hone your skills if you want to live long enough to make a name for yourself.
And while you can move directly from one major location in the game to the next, it genuinely pays to go off the beaten track and explore. In fact, we'd say that that's the most magical thing about Elden Ring – the sense of discovery.
Check latest price for Elden Ring
4. Assassin's Creed Valhalla
Optimized for Xbox Series X/S
The latest game to the Assassin's Creed series is also undoubtedly one of the best. Assassin's Creed Valhalla casts you in the shoes of Eivor. Along with their band of fellow vikings, they've sailed to England in search of a new life. You'll work towards building up your new village while creating partnerships – and rivalries – with nearby towns.
The world of Assassin's Creed Valhalla is huge and beautiful. It's England like you've never seen it before; stark, picturesque, and often violent. But that's no problem for Eivor – equipped with weaponry and armour, they're ready to take on anything this world can throw at them.
It's a huge game with an endless amount of side activities to take on. Even after 100 hours, you'll still be finding new places to explore. It's not just its sheer size that makes Assassin's Creed Valhalla one of the best open world games on Xbox, it's everything; its story, its setting, its characters. We love it all.
Read our review of Assassin's Creed Valhalla
Check latest price for Assassin's Creed Valhalla
5. Immortals Fenyx Rising
Optimized for Xbox Series X/S
Taking clear inspiration from The Legend of Zelda: Breath of the Wild, Immortals Fenyx Rising builds on Ubisoft's traditional open world formula to deliver a game quite unlike any other.
Jump into Immortals Fenyx Rising and you'll discover a beautiful and colourful world steeped in Greek history and mythology. Playing as the titular Fenyx, you'll race to take down the nefarious Typhon who threatens the land. To do so, you'll have to conquer countless puzzles, vanquish powerful foes and negotiate hostile environments. Wrapping it all up is a narrative told by Zeus and Perseus which ramps up the humour found in the game.
If you want to play something that will consume tens of hours of your life, test your grey matter and give you a chuckle along the way, Immortals Fenyx Rising is one of the best open world games on Xbox One and Xbox Series X/S you can pick up.
Read our review of Immortals Fenyx Rising
Check latest price for Immortals Fenyx Rising
6. Red Dead Redemption 2
Playing Red Dead Redemption 2 is like stepping into an alternate reality. Never before has an open world felt so cohesive, immersive and real.
While there's an in-game map available with important quests marked with icons, all of Red Dead Redemption 2's side content plays out naturally. You might come across someone sifting for gold, for example, and hanging around might present you with an opportunity. Or you might find two escaped convicts at the side of the road, and it's up to you whether to free them or not. You feel like you have a real choice in how you act in the world, making you feel like you belong there rather than just visiting.
The real draw of Red Dead Redemption 2, however, is its epic story that will take you around fifty hours to unravel. Needless to say, if you've got an Xbox console and love open world games, Red Dead Redemption 2 is absolutely essential. Open world games on Xbox don't come much better than this.
Read our review of Red Dead Redemption 2
Check latest price for Red Dead Redemption 2
7. Watch Dogs Legion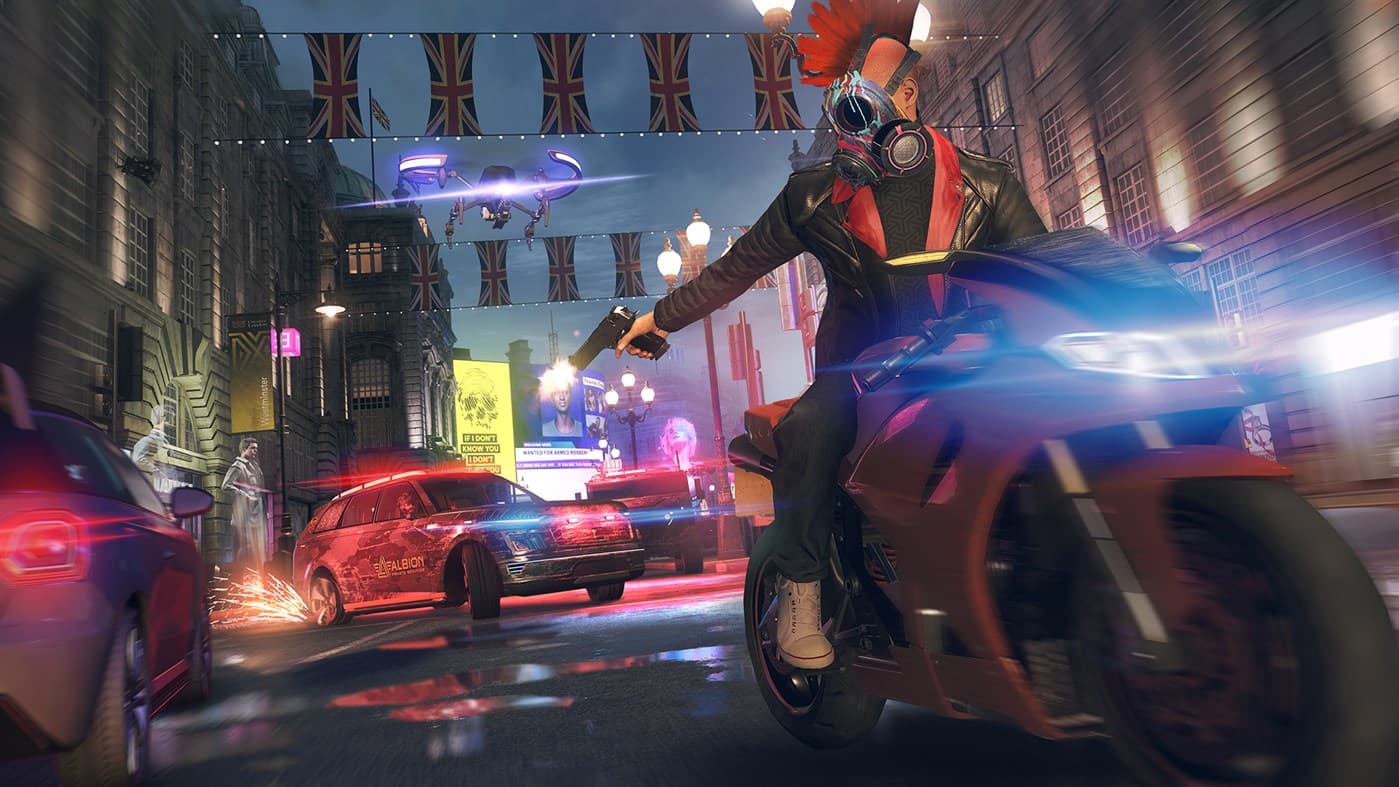 Optimized for Xbox Series X/S
Watch Dogs Legion takes you to the streets of London, giving you a hyper-realistic version of the city to play around in. But unlike other games on this list of best open world games on Xbox One and Xbox Series X/S, Watch Dogs Legion doesn't have a central protagonist. Essentially, you can play as anyone you meet on the street.
It's a very cool gimmick, and one that allows more freedom than ever to tackle the game as you see fit. You see, everyone has their own unique skills and abilities. Want to infiltrate your enemy from the inside? You can recruit a disgruntled employee. Or maybe you need someone with their own drone. There's plenty of drone experts around. The freedom is unparalleled, and the game's vision of London is simply breathtaking.
Read our review of Watch Dogs Legion
Check latest price for Watch Dogs Legion
8. Kingdom Come: Deliverance
Have you ever wondered what it would be like living in medieval times? Well, wonder no more. Pick up Kingdom Come: Deliverance and you'll be transported to the medieval Kingdom of Bohemia.
You're not a hero in Kingdom Come: Deliverance. You're no one special. The son of a blacksmith, you're just an unremarkable young man who's found himself in the middle of conflict. But you want revenge for your parents and have some spunk. Therefore, tragedy is just the start of your adventure.
With its unique combat system and realistic open world, there's nothing else quite like Kingdom Come: Deliverance available right now. It is undoubtedly one of the best open world games on Xbox, so make sure you add it to your library.
Read our review of Kingdom Come Deliverance
Check latest price for Kingdom Come: Deliverance
9. Saints Row: The Third Remastered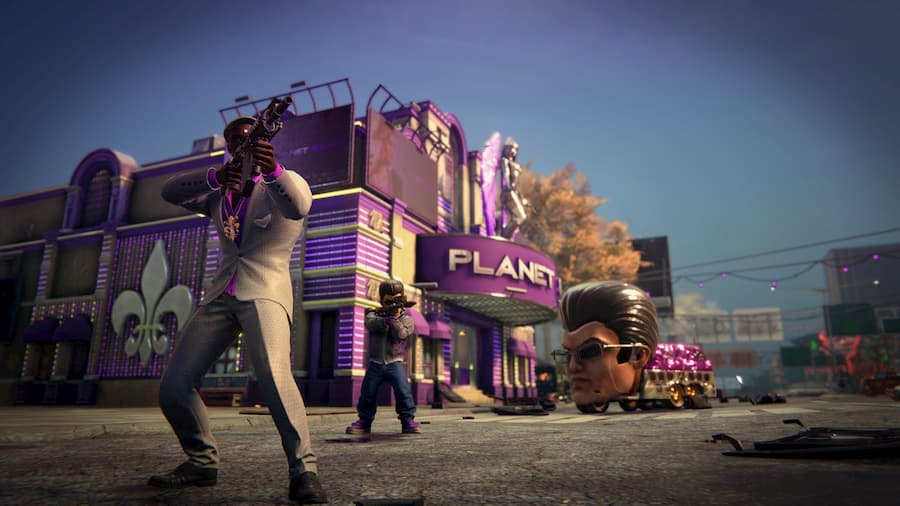 The best Saints Row game has been given a major makeover. In fact, in many ways, Saints Row: The Third Remastered feels more like a remake. And while we wait for the Saints Row reboot to land, it remains one of the best open world games on Xbox and Xbox Series X/S. Particularly if you like things a little… zany.
The visuals have been massively overhauled, making the city of Steelport prettier than ever. It's one of the most polished remasters that we've seen in recent years. But it's not the visuals that draw us to Saints Row: The Third, no matter how nice it looks. No, it's the gameplay. The Saints Row series started life as a competitor to GTA, but it evolved into something quite different. It's filled with humour, over the top action and crazy weapons, and that's what makes it such a joy to play.
Sticking to the game's main campaign, you'll find around 20 hours of excellent action to sink your teeth into. But if you want to make the most of everything that Steelport has to offer, you'll find yourself engrossed for many more.
Read our review of Saints Row: The Third Remastered
Check latest price for Saints Row: The Third Remastered
10. The Division 2
Optimized for Xbox Series X/S
We loved Ubisoft's The Division when it launched back in 2016. And The Division 2 is pretty much better in every way. It's still a military-themed third-person shooter, but the gameplay has been tweaked to make the action more exciting, and the world you explore is bigger and more varied. There's so much more to do as well, with endgame content that will keep you playing long after you've wrapped up the game's story.
But it's the loot that will really keep you going back to The Division 2. If you're like us, you'll want to make your Division agent the best, and so you'll search every nook and cranny to get the gear that makes them unstoppable. When a game is this much fun to play though, it's not really an issue.
Read our review of The Division 2
Check latest price for The Division 2
11. LEGO City Undercover
While a LEGO game may seem an odd choice to put on this list, LEGO City Undercover is one of our favourite open world games on Xbox. It's a game that's been dubbed "GTA with LEGO" many times, and it's a pretty accurate description. Minus all the sex, drugs and violence, of course.
Playing as minifig cop-slash-everyday hero Chase McCain, there's a whole lot of crime breaking out all over LEGO City and it's up to you to bring peace back to the colourful brick-built world. If you've ever played a Traveller's Tales LEGO game, Undercover will feel instantly familiar to you. It's the traditional LEGO game gameplay we all know and love, but in a fully open world environment.
There's a story to follow, spread across 15 chapters. But outside of that, there's a good 40-60 hours' worth of extra content to sink your teeth into; whether it's taking part in races, finding hidden golden bricks or completing master builds across the city.
It may be a bit 'childish' compared to some of the other entries on this list, but just because your six year old can enjoy playing it with you doesn't make it any less fun. In fact, the family-friendly element only makes it more enjoyable – and it's packed with plenty of humour that even the most fully grown of fully grown adults will get a chuckle out of.
Read our review of LEGO City Undercover
Check latest price for LEGO City Undercover 
12. GreedFall
If adventure is your thing, you probably ought to check out GreedFall, a brilliant open world action RPG developed by Spiders.
An illness called Malichor is eating at the heart of Teer Fradee, and of course, you're the one who has to find a cure for it. Cue a dangerous journey full of monsters, traps and plenty of loot to make it all worthwhile.
Adventuring isn't the only thing you have to concern yourself with in GreedFall though, you also have to manage relations with various tribes and factions, aligning with them as you see fit. There are various companions you can recruit, too, who also might assist with your diplomatic endeavours. At the end of the day though, GreedFall mainly has you exploring beautiful environments and hacking away at enemies with a variety of weaponry. And there's nothing wrong with that.
Needless to say, if you're after the best open world games on Xbox, GreedFall is one of them. A sequel has just been announced, too, so it's a great time to jump in.
Check latest price for GreedFall 
13. The Outer Worlds
Optimized for Xbox Series X/S
Take Fallout, Mass Effect and Borderlands, put them in a pot, mix them up, and you have The Outer Worlds.
Rather than having one massive open world, The Outer Worlds has multiple smaller ones. It still feels very expansive though. Using your ship, you can hop between them at your leisure providing you have the clearance to do so, and each one has plenty of quests for you to discover and complete.
The Outer Worlds is quite a funny game, content with making you chuckle just as much as  it is pumping you up for combat or leaving you slack-jawed with its sumptuous visuals. You'll get a kick out of recruiting and bringing along a couple of companions along for the ride, too. They'll help you in combat, and if they have something useful to say they'll helpfully chime in. Though they're also vocal if you do something they don't like as well.
Whether or not The Outer Worlds is truly an open world game or not is up for discussion, but it sure as hell feels like one. And if you pick it up, you're sure to have many enjoyable hours with it.
Read our review of The Outer Worlds
Check latest price for The Outer Worlds
14. The Elder Scrolls V: Skyrim Anniversary Edition
Optimized for Xbox Series X/S
The Elder Scrolls games have always provided players with a huge fantasy world to explore, but none have been as varied or cohesive as Skyrim's.
Sure, it's been around the block a few times and it's available on just about every format going. Chances are most gamers have already played it numerous times. But do we ever really get tired of exploring its rich and varied lands?
Abandoning the class system used by previous entries in the series, Skyrim enables players to develop a character as they see fit throughout the course of the game. This, along with a streamlined menu system, makes the game much more accessible to those new to the series. With a world full of mysteries and quests to solve, as well as dragons to defeat, Skyrim is still one of the best open world games for those seeking an absorbing and time consuming fantasy.
Read our review of Skyrim Special Edition
15. Grand Theft Auto V
Optimized for Xbox Series X/S
Rockstar's Grand Theft Auto titles have always been ambitious, but with the fifth main entry in the series it went above and beyond what anyone could have expected. With GTA 5, it delivered a world that is both vast yet densely populated with things to see and do.
With three playable characters, each with their own motives and missions to complete, it's up to you who to play as and how to spend your time in the city of Los Santos. Want to play the markets to make a fortune? Go for it! Fancy a round of golf to relax? Sure! Have you ever wished you could see through the eyes of a dog while, er, "doing the deed"? You can do that too! The city is literally yours for the taking, and you'll be having so much fun that you may even forget that there are story missions to do.
Oh, and let's not forget the fully featured online mode where you can team up with other like-minded individuals to create havoc on the streets or complete jobs. Grand Theft Auto V truly is the complete package when it comes to open world gaming.
Check latest price for Grand Theft Auto V
16. The Witcher 3: Wild Hunt
The Witcher 3 is a truly massive experience – and not one to embark on lightly. As far as open worlds go, The Witcher 3 takes the gold metal in terms of size and scope; it's apparently thirty times larger than the previous Witcher games. Unless you have a couple of hundred hours to spare, you won't be getting far any time soon.
The Witcher 3 follows gruff and manly Geralt, a monster hunter who sets out to find his adopted daughter who's being pursued by a group known as the 'Wild Hunt'. It's massive, it's beautiful, and it's without a doubt one of the best open world games available on Xbox One and Xbox Series X/S. Expect a lot of combat, a lot of horseriding, and a lot of sitting around in taverns trying your hand at Gwent.
Better yet, the long-awaited Xbox Series X enhanced version is on its way later this year.
Read our review of The Witcher 3: Wild Hunt
Check latest price for The Witcher 3
17. Fallout 4
Set in a post-apocalyptic wasteland, the Fallout series has always been one of the most popular RPG franchises out there. The latest mainline addition, Fallout 4, is bigger and more expansive than ever, letting you and your vault hunter make your own journey through the wasteland however you see fit.
Fallout 4 is simply massive. And since its release, Bethesda has continued to support it with additional DLC making it even bigger. For those wanting a truly immersive open world experience on Xbox, Fallout 4 is definitely one of the best options. It just might be too big for some.