A new month means new games to look forward to. And as always, we're here to round up the titles you should be watching out for.
We're not sure how it's already May, but here we are. More than a third of the way through 2022 already. After a rather quiet April, May starts off the same way. But things ramp up in the second half of the month with some fairly high profile titles to look forward to.
We've listed the best games coming out this May, and so if any of these catch you eye, make sure they're on your wishlist (or at the very least, your radar!). As always, we'll have more coverage of them to come later in the month, so be sure to keep an eye on our homepage.
Without further ado, then, here are the games to watch out for this May 2022.
Trek to Yomi
5th May
PS4, PS5, Xbox One, Xbox Series X/S, PC
A game presented like an old-fashioned samurai movie? Count us in. That's Trek to Yomi, out on PC and consoles on 5th May. It's been developed by Flying Wild Hog and Leonard Menchiari, and it's being published by Devolver Digital. We previewed it back in May, saying "think Trek to Yomi is going to be quite a treat when it launches, delivering the authentic interactive samurai movie experience many have been craving."
Eiyuden Chronicle: Rising
10th May
PS4, PS5, Xbox One, Xbox Series X/S, Switch, PC
Eiyuden Chronicle: Rising is another game we've already had our hands on, and so if you're a regular reader, chances are you've already heard of it. If so, good, because this gorgeous-looking RPG deserves to be on your radar. It's actually a prequel to the upcoming Eiyuden Chronicle: Hundred Heroes, which itself is a spiritual successor to the much-loved Suikoden series. But with a gripping story, some interesting characters and magical runes to be discovered, there seems to be enough here for Eiyuden Chronicle: Rising to stand on its own two feet.
Salt and Sacrifice
A sequel to Salt and Sanctuary, Salt and Sacrifice is one to watch if you're a fan of 2D action RPGs. We loved the first game thanks to its solid platforming, deep combat and excellent character development, and we've no doubt that the follow-up shall be just as compelling. You'll spend your time exploring the rich world, hunting down mages dotted through dungeons, villages and temples. Bring it on.
The Centennial Case: A Shijima Story
12th May
PS4, PS5, Switch, PC
Now, The Centennial Case: A Shijima Story is something of an unknown. It could be amazing. It could also be terrible. But it's a FMV game being published by Square Enix, and that's enough to get our attention. We are suckers for a good FMV, but the last one by Square – The Quiet Man – was universally panned. Hopefully The Centennial Case fares better; certainly, its promise of a murder mystery spanning an entire century has us intrigued.
Evil Dead: The Game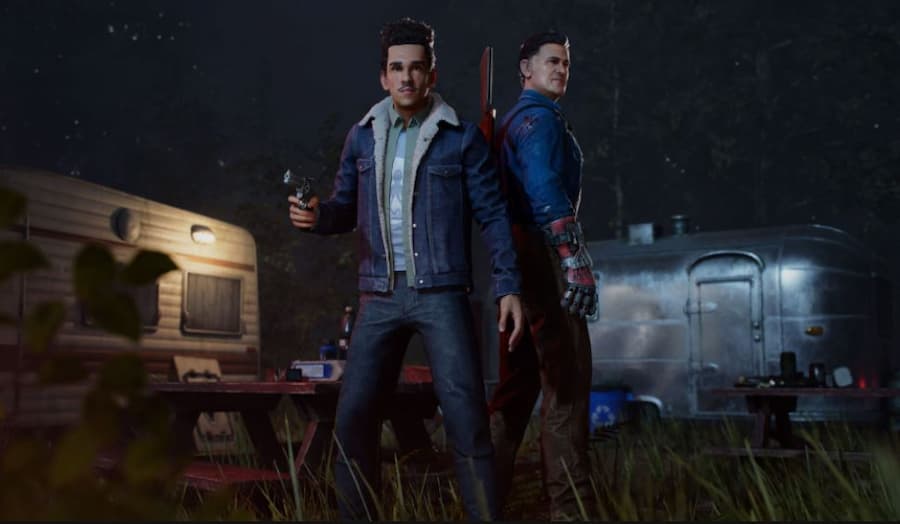 13th May
PS4, PS5, Xbox One, Xbox Series X/S, PC
After a delay, Evil Dead: The Game is finally almost here. Groovy! This co-op and PvP multiplayer game will let you step into the iconic shoes of Ash Williams as you work as a team to take down Necronomicon-level threats. A bunch of characters from the Evil Dead universe show up, and Bruce Campbell's involved in voicework, so that's enough to entice us.
Buy Evil Dead: The Game on Amazon
Eternal Threads
19th May
PC, PS4, Xbox One
We've been lucky enough to have our hands on two hours of Eternal Threads already, and so we're very confident in saying that this is one of the real highlights of May 2022. An investigative adventure of sorts, Eternal Threads puts you in the shoes of a time-travelling agent tasked with trying to save six people from a house fire. Travelling from the future back to 2015, you'll need to unravel the lives of the six people in the house, watching their interactions and carefully adjusting choices they make to try and save them all. It's thoroughly gripping stuff – you can read our preview here.
Vampire: The Masquerade – Swansong
19th May
PS4, PS5, Xbox One, Xbox Series X/S, PC
It feels like Vampire: The Masquerade – Swansong has been "coming soon" for forever. But finally, its release is almost upon us. And so for those of us looking forward to jumping into a new chapter of the world of Vampire: The Masquerade, you're in luck. Swansong is a narrative-driven RPG which centres around three main characters. Leysha, Emem and Caleb are all vampires, and the choices you make as you take control of them will allegedly determine their fate. We love vampire stories, and so have high hopes for this one.
Buy Vampire: The Masquerade – Swansong on Amazon
Dolmen
20th May
PS4, PS5, Xbox One, Xbox Series X/S, PC
If sci-fi and cosmic horror is your bag, then you'll want to keep your eye on Dolmen. The next game from Koch Media's new label, Prime Matter, Dolmen throws you into a hostile alien world. There, you'll be tasked with rescuing a crystal which is known to have unique properties. But it's not going to be easy, thanks to the hostile alien creatures that stand in your way. Cue action-packed combat, freaky enemies, cool weapons and kick-ass abilities.
Sniper Elite 5
26th May
PS4, PS5, Xbox One, Xbox Series X/S, PC
If you're a fan of the Sniper Elite series, you'll be pleased to know the next instalment is just around the corner. Sniper Elite 5 sees the return of Karl Fairburne, this time on a quest to take down Project Kraken in France, 1944. Expect exhilarating sniping action, gory kill cam head shots, and better visuals than ever.
Arcade Spirits: The New Challengers
27th May
PS4, PS5, Xbox One, Xbox Series X/S, Switch, PC
The original Arcade Spirits quickly became one of our favourite visual novels of all time, and so we're excited for its sequel, Arcade Spirits: The New Challengers. Last time, you were working in an arcade. This time, you're a visitor to an arcade on a quest to take the esports world by storm. But esports glory isn't all you're searching for: love is also on the cards. Expect to meet a wide range of interesting characters to get to know as you decide which one is the right partner for you.
Kao the Kangaroo
27th May
PS4, PS5, Xbox One, Xbox Series X/S, Switch, PC
Don't worry if you're not familiar with the original Kao the Kangaroo. This remake brings the action-platformer up to the modern day, with the same level of polish as the likes of Crash Bandicoot and Spyro the Dragon. This platformer packs a bit more punch, though – quite literally – as you play as a boxing glove-wearing kangaroo. It's bright, it's colourful, and it's a lot of fun. We previewed an early segment of the game back in February, which you can read here.
Pac-Man Museum+
Attention all Pac-Man lovers: Pac-Man Museum+ is for you. This anthology title packs in no less than 14 Pac-Man titles, all presented in one collection. Explore your own digital Pac-Man arcade and play your favourite Pac-Man games – include five titles new to home consoles. Whether you prefer the 1980 classic Pac-Man or the more modern Pac-Man 256, you'll find them all here.
27th May
PS4, Xbox One, Switch, PC