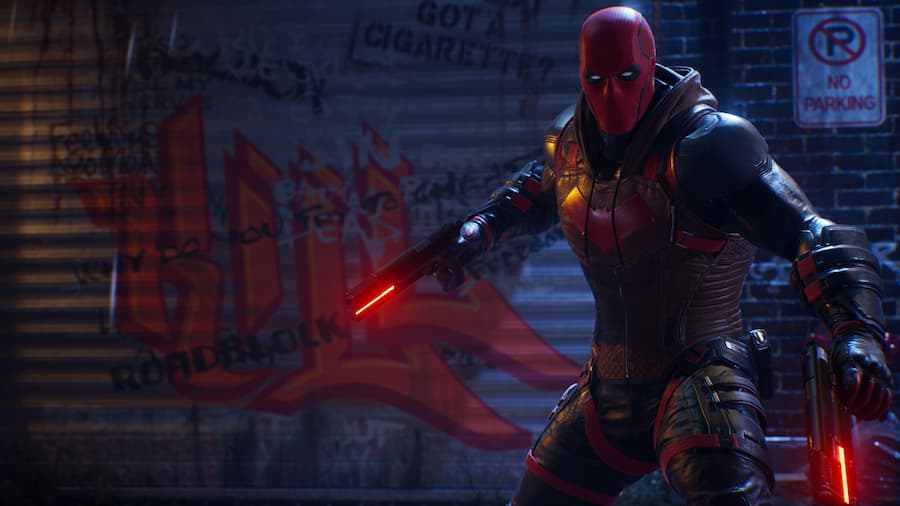 Wondering what the upcoming Gotham Knights looks like? You can see it in action thanks to a new trailer.
The latest trailer for Gotham Knights shows off 13 minutes of gameplay. It focuses on Nightwing and Red Hood, giving us a glimpse of their personal abilities along with tools that will be available to all characters in the game.
We're pretty impressed with what we've seen so far. Certainly, if you enjoyed previous open-world Batman games, this should be right up your alley – even if the Caped Crusader himself isn't in it.
Like the Arkham series, Gotham Knights is an open world action RPG. Players take on the role of the titular Gotham Knights – Batgirl, Nightwing, Red Hood and Robin. It's set in a timeline where Batman is dead, and so this group of four heroes must step up to protect Gotham, using the same tools and sensibilities as Batman himself did. It can be enjoyed as a single-player game, but it can also be played completely in online co-op; a feature we're pretty excited about.
Related: The Best Batman Games You Can Play Right Now 
The gameplay trailer, which you can watch for yourself below, gives us a good idea of what the open world of Gotham City is going to be like. As you'd expect, it's dark, moody, and huge. There's a lot to explore, from the rooftops to ground level and everything in between. And getting around looks fun, too: expect to glide from rooftops, use a Batcycle and fly through the air.
Watch the Gotham Knights gameplay trailer below:
The Gotham Knights trailer also gives us a taste of combat. Here, every character will have their own slightly different skills. We see Red Hood face off against a gang of hoodlums, where he's able to attach an electric explosive device to one of the, before detonating it to great effect. He's also got pistols, or you can opt for good, old-fashioned fisticuffs.
We also get a glimpse at the Belfry, an area that acts as the Gotham Knights' home base. Here you can pick up missions and tinker with your gear. It seems like much of the game's narrative will begin here.
Gotham Knights is coming to PS5, Xbox Series X/S and PC on 25th October. That's right: there's no PS4 or Xbox One version. Presumably, the work involved to get the game running well on older generations just isn't worth it.