Govee's DreamView P1 Light Bars make it look like your TV is leaking. And if you've ever scoured your monitor for faulty pixels, that might sound like a bad thing.
In fact, quite the opposite is true. Not unlike Ambilight, a feature built into several of Philips' big-screen televisions, Govee DreamView P1 Light Bars aim to bathe your wall in a colour that matches whatever's taking place on screen.
In practice, the effect is pretty impressive; the light bars, which sit behind or to the side of your TV, most likely won't perfectly match the colour but they'll come pretty close. That's enough to dial up the immersion factor of whatever game you're playing.
But couldn't you just buy a strip of LED lights and stick them to the back of your TV? That's the bargain basement option, certainly. But the clever bit is that, aside from positioning the bars, or sticking them to the back of your TV, you're also provided with a webcam-style device which aims to match the light colours to those shown on your TV screen more closely.
Mount the camera unobtrusively on your TV and it picks out the dominant colour. So if, for example, you're playing Subnautica and you've foolishly wandered into a volcanic trench, the wall behind your TV will be bathed in red. Step into a rainforest and your wall will turn light green.
At first, you'll find yourself gawping at your wall whenever it changes colour. When you leap into an ocean and watch your wall turn blue, you'll wonder how you ever managed without it. But the Dreamview P1 is at its best when you've got used to it; your focus will remain on the screen but you'll be aware of the shift in colour behind the TV – it's that effect that boosts the immersion of most titles.
So far, so good then. But if there's one tweak I'd make to the Dreamview P1's design it would be to add some sort of clip to the webcam. As is, you can either stick it on or balance it on the top of your TV. I eventually plumped for the former, but I'd have preferred the option to have it grip the TV.
The Dreamview P1 also doesn't include a strip light like some of Govee's higher-end TV products do, which means it's not quite as powerful. However, those strip lights require a 55 to 65-inch TV, so the Dreamview P1 is perfectly placed for smaller screens (it's recommended for 45 inches or less, though I've been using it on a 50-inch screen just fine). Don't let the lack of an additional strip light put you off – provided you draw the curtains and dim your room lights, you'll get satisfying results from the P1.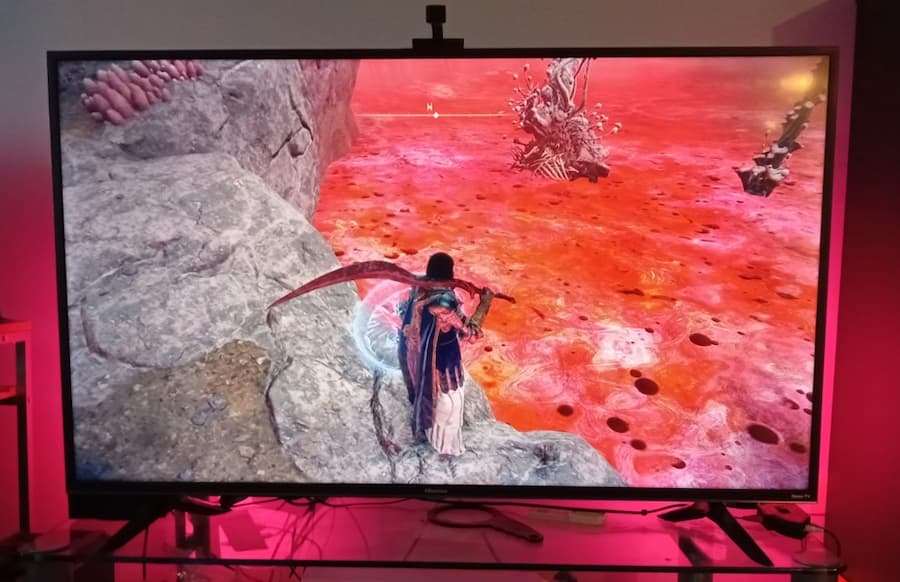 The Govee app, which you can download on your phone, also lets you set up colour patterns and so forth, just in case you really want to show off. While I had the best results with games where there were dramatic shifts in on-screen colour, this kit also works with movies. John Carpenter's The Thing became significantly more chilling, thanks to the P1 lights. Well, that and the fact I was sitting in near-darkness while I watched it. And if you're into barking voice commands, the DreamView P1 is also compatible with Amazon and Google's smart devices.
At £79.99, the Govee DreamView P1 Light Bars won't break the bank and the results are more than worth the price of admission. Elden Ring just isn't the same without Scarlet Rot spreading to my walls.
Govee's range of TV lights, including the P1 Light Bars, are available from Govee's website or from Amazon.
A sample unit was provided by Govee for the purposes of this review.