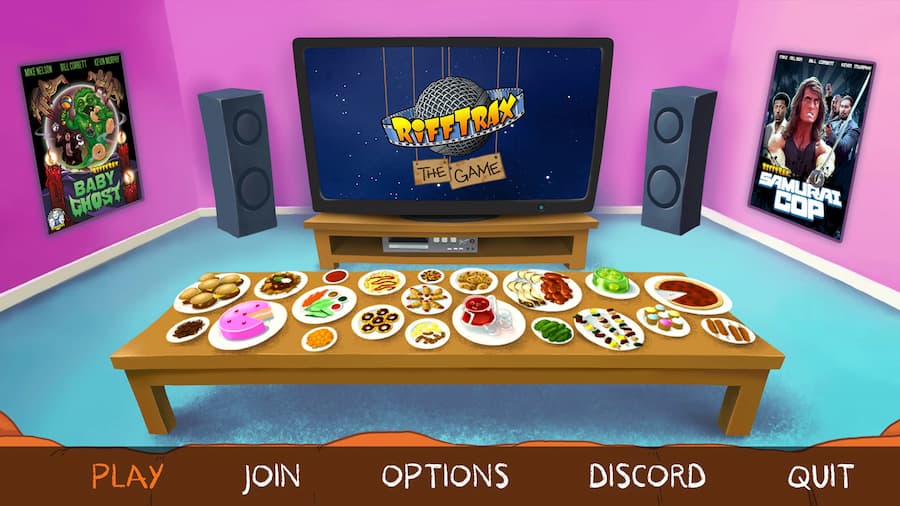 A new movie-themed party game is in town: Rifftrax: The Game.
Perhaps you've already heard of Rifftrax. Formed in 2006, it's a comedy venture formed by the former stars of Mystery Science Theater 3000. They take movies – typically public domain properties – and add their own commentaries and riffs. Rifftrax: The Game takes that idea and allows you to do it yourself. Playable with up to six people, you're shown a short movie clip, and then you're challenged to come up with your own riff over the top of it. Everyone votes for their favourite, and the funniest wins.
It's good fun, there's no doubt about it. There's only one problem: that premise might sound very familiar to you. That's because it is: What the Dub?!, which released last year, does exactly the same thing. In fact, Rifftrax: The Game has been made in conjunction with the makers of What the Dub?!, making this more of a follow-up than a copycat. But is there room for two games that are practically identical, save for their presentation? Ehh – that's debatable. Thankfully, Rifftrax: The Game just about redeems itself with the addition of an extra mode.
There are two ways to play: 'Write a Riff' and 'Pick a Riff'. Write a Riff mode is identical to What the Dub?!; you'll watch a clip, then type in your own riff, which will then be read out by a computer-generated voice. It's an excuse to get silly and, providing you're playing with a group of like-minded people, it's undoubtedly going to end in riotous laughter. If you're anything like us, your riffs are likely going to be filthy. We're not sorry.
But it's Rifftrax: The Game's Pick a Riff mode which sets it apart. Rather than writing their own riff, players pick one from a list of half a dozen. Some will fit the situation better than others, but it means everyone's on a level playing field. And even if your riffs don't necessarily match the context, there's still chance to great something delightfully obscure and funny.
Since a game of Rifftrax only takes 10 or 15 minutes to play, no matter what mode you're in, it's something you'll likely find yourself playing two or three times in a row. You'll eventually see the same clips – there's a library of around 250 in there – but it'll take a while. The selection of clips on offer – from 'classics' such as Plan 9 From Outer Space to hilariously cheesy public service videos – are varied and entertaining. Some of them will have you laughing even before you and your friends have added your riffs on top.
If you've played What the Dub?! to exhaustion, then facing more of the the same in Rifftrax: The Game might not be too appealing. After all, releasing two games that are practically identical is a weird choice. But Rifftrax's presentation is a joy, and the addition of 'Pick a Riff' mode makes it at least somewhat different. Undoubtedly, you'll have fun with Rifftrax – and considering its budget price point, you can't really go wrong.
---
Rifftrax: The Game Review – GameSpew's Score
This review of Rifftrax: The Game is based on the PS4 version, via a code provided by the publisher. It's available on PS4, Xbox One, Switch and PC.