Can you imagine a game that's a blend of twin-stick shooting, looting and rhythm? You don't have to. Its name is Soundfall.
Developed by Drastic Games and published by Noodlecake, Soundfall introduces players to Melody, a young woman who's suddenly found herself in the world of Symphonia. Her life is music, and now she's discovered she's a Guardian of Harmony. But to get back to her own world, she's going to need to travel across Symphonia, find others like her, and put an end to the nefarious Discord. Easy.
Only, Soundfall won't be easy for those who have no rhythm. This may be a looter-shooter played from a top-down perspective at its core, but it's also a rhythm game. As you make your way through each of the game's missions, which each last around the length of a song, you need to perform actions to the beat. So, if you can't feel, and act upon, the beat, chances are you'll taste defeat.
Shoot on the beat and your bullets will do maximum damage. Your sword attacks will be more powerful, too. Other than that, you've only got to worry about dashing out of harm's way, or to reach far away platforms. But if you're rhythmically challenged, thankfully help is at hand. Playing on PS5, the DualSense controller pulses with the beat, guiding your path. You can also turn on a metronome to give you visual guidance, too. And even if you don't shoot with the beat, your bullets will still do some damage. There are some guns that lower the penalty as well.
Related: The Best Music Rhythm Games on PS4
Being a looter-shooter, there are more guns than you can shake a stick at in Soundfall. They all have their own unique names, but they fall into the usual archetypes: pistol, shotgun, assault rifle, etc. You can equip two at any one time and switch between them during play with the push of a button. And so it's up to you to put a good duo together. You might pair something accurate and with good range with a shotgun-like blaster, for example. And each weapon can also have bonus effects and even an element.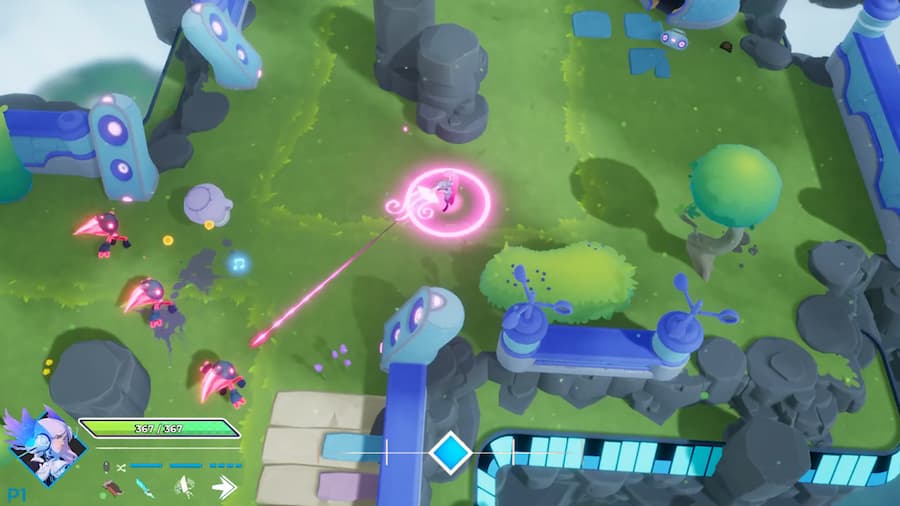 Other equippables are available as well, such as armour. And each of the characters that join your cause during Soundfall can equip their own unique special weapon and ultimate attack modifier. Loot is doled out at a nice pace via missions, but items can also be bought between missions via an in-game shop. And thanks to difficulty options, you never need to feel like you're underpowered.
Your journey to put an end to Discord will take you through many areas of Symphonia, each offering their own batch of missions. The locations here are varied but pretty cliched: a snowy area, a tropical beach, a fiery volcano, for example. And as mentioned previously, each mission is bite-sized, lasting just the length of a song. In fact, missions can be completed before a song finishes, and you'll be rewarded for it. You'll also be rewarded for finishing a mission while keeping your combo going through the entirety of it.
As you'd expect, then, the gameplay is fast paced. You need to think – and act – fast, keeping on the move while making use of your various abilities to keep your combo going. Miss the beat and your score will suffer. Soundfall isn't something you have to play alone, either. Up to four-player co-op is supported, allowing you to put together your own band of musical warriors.
There are some issues, though. One is that as you move though the missions in each area of Symphonia they begin to feel a little samey. You'll notice the same blocks being used again and again, giving you the sense of déjà vu. You might also find that the noise of your guns doesn't complement the music very well. And then there's the soundtrack itself; those who like a wide variety of styles will lap it up, but others might not warm to it.
Soundfall is one of the most unique experiences of the year so far, and that alone ought to pique the interest of gamers. But it's those who love music-rhythm games that are assuredly going to get the most out of it. And if they also like twin-stick shooters and loot games, they'll be in heaven. In any case, this eclectic mix of genres works, and whether played alone or in co-op it's largely a beat-filled blast.
---
Soundfall Review – GameSpew's Score

This review of Soundfall is based on the PS5 version, with a code provided by the game's publisher. It's available on PS4, PS5, Xbox One, Xbox Series X/S, Switch and PC.