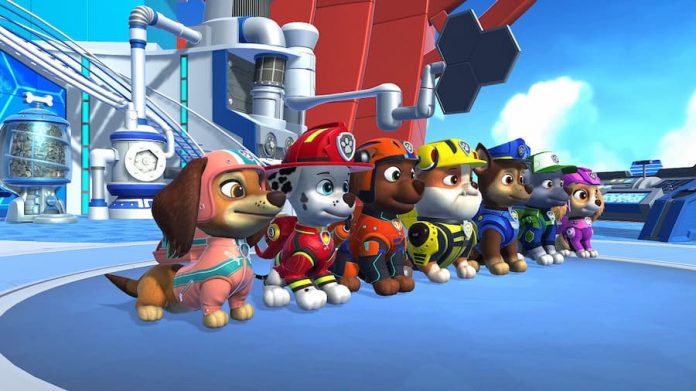 If you have a three or four year old in your family, you might be thinking about introducing them to video games.
It's a good age to start playing games with your kids, providing they've shown an interest. Even getting a youngster used to using a controller can be tricky, so it's important to choose the right game; something with simple controls and easy-to-follow instructions. And it's important that you have patience with them! Allow them to play at their own pace, and allow them to make mistakes. After all, it's how we all learn. Ultimately, it doesn't matter if they're not reaching the end of the level, or if they're not completing objectives to begin with. Simply let them have fun, and get used to taking control of their on-screen character.
Knowing what games to play with your young children, however, can be tricky. Once upon a time, video games were seen as a children's toy, but now the medium is the biggest entertainment industry in the world, with the core audience being adults. That doesn't mean there's no longer games for young children out there, though.
In fact, there are probably more children's games than ever, and many of them are suitable for 3 to 4 year olds. Not all children's games are made equal, though, so hopefully we can help you pick out some of the best. Read on to see our picks of the best PS4 games for 3 to 4 year olds.
Want to support GameSpew? If you decide to buy any of the games on this list, please consider using our affiliate links, included below each entry. It won't cost you anything extra, but we'll get a small slice of the purchase. Thank you.
1. My Friend Peppa Pig
There's a lot to love about My Friend Peppa Pig as a video game for young children. One, it's based on Peppa Pig, one of the most popular kids cartoons of our time. Two, it's very easy to play, thanks to its intuitive one-button control system. And three, it looks exactly like the TV series. Essentially, it lets children star in their own episode of Peppa Pig. First, they'll design their own character, then they'll get to go on adventures with Peppa.
It's a short and fairly small game, all things considered, but it's perfect for 3 to 4 year olds looking for their first game to play. As Peppa's new friend, players can explore familiar locations like Peppa's house, the park, Granny and Grandpa's House and the beach. Doing something simple like jumping in a muddy puddle can be so much fun. So, if your children are fans of Peppa, consider this one of the best PS4 games for 3 to 4 year olds.
Read our review of My Friend Peppa Pig
Check latest prices of My Friend Peppa Pig
2. LEGO Incredibles
Most young children are already very familiar with LEGO bricks, so a LEGO video game is the ideal starting place. There are plenty to choose from, but all have a very similar gameplay loop. Open worlds lead into linear levels, but all allow for the freedom of running around, exploring, and smashing stuff up. That's the real joy of a LEGO game, whether you're three years old or thirty years old.
We've chosen LEGO Incredibles, because it's also a franchise that's very popular with 3-4 year olds. Any Pixar franchise is, let's face it. LEGO Incredibles lets players take control of LEGO versions of the popular superhero family, and explore the world around them. It's got one of the best open worlds of any LEGO game, so your little one doesn't need to worry about meeting goals or reaching the end of a level. They can simply enjoy running around an open world, doing whatever they want to do. Because of that, this is one of the best PS4 games for 3 to 4 year olds.
Read our review of LEGO Incredibles
Check latest prices of LEGO Incredibles
3. Paw Patrol The Movie: Adventure City Calls
If you're a parent to a young child, you probably have the Paw Patrol theme tune etched into your brain forever. It's one of the most popular series for tots and young children; those adventure-seeking pups are beloved by almost every kid we know. And for good reason: the colourful visuals, adorable doggos and easy-to-follow storylines make for an award-winning combination. And it turns out it's a formula that works just as well in video game form, too.
Paw Patrol The Movie: Adventure City Calls is the third Paw Patrol video game to be released. And in our opinion, it's the best one. It's level-based, with each level taking place in a different part of Adventure City. Each level sees the player take control of a different duo of pups, and for the most part all you need to do is run around, collecting coins. Every so often you'll need to use one of the pups' special abilities, however, which means pressing a button that comes up on screen. The instructions are very clear, and inputs are very simple – it's the PS4 game to start out with for 3 and 4 year olds.
Of course, it'll be doubly popular if your little one also loves Paw Patrol. Surely being in control of the characters they've seen and loved on TV will be a real thrill for them?
Read our review of Paw Patrol the Movie: Adventure City Calls
Check latest prices of Paw Patrol the Movie: Adventure City Calls
4. Blaze and the Monster Machines: Axle City Racers
Here's another PS4 game for 3 to 4 year olds that's based on a popular TV series. This time, it's Blaze and the Monster Machines. The popular monster trucks star in their own racing game, and if your little one is a fan of the show, they'll get a kick out of taking their favourite car for a spin here.
It's not the longest game in the world, but for young children just getting used to video games, we think it's perfect. The cars are very easy to control, and for beginners, there's even the option to turn on auto drive, so all the player needs to do is steer by pressing left and right. We love the simplicity of Blaze and the Monster Machines: Axle City Racers, and the extra assists available make it an ideal game to get used to using a controller with.
Even better, the game tries to throw in a bit of STEM learning too, and so between races, loading screens have some interesting facts for children to learn.
Read our review of Blaze and the Monster Machines: Axle City Racers
Check latest prices of Axle City Racers
5. Gigantosaurus: The Game
Our final PS4 game is one that we're certain all 3 to 4 year olds will absolutely love. Gigantosaurus: The Game is based on the series of the same name. But even if your little one isn't familiar with the property, they'll undoubtedly love getting to take control of a crew of adorable dinosaurs. Who doesn't love dinosaurs?
Perhaps our favourite thing about Gigantosaurus: The Game, though, is that its levels are essentially big, open sandboxes. Yes, there are objectives to complete, stuff to collect and various activities to do. But ultimately it doesn't matter. The open-ness of the levels makes them perfect for children to explore and figure stuff out as they go. Even just getting used to pressing the run and jump buttons is a big deal, and this provides the ideal environment to do so.
Read our review of Gigantosaurus: The Game