Games don't all have to be about action and violence. We're here for the games that focus on story and narrative.
True, the vast majority of games have some sort of narrative running through them. But it's not always the main focus. We've rounded up the best story-driven games on PS4 and PS5; the games that have narrative at their core. Where story comes first.
That isn't to say that story is all these games have, of course. They're accompanied by puzzles, exploration, platforming, action, and just about everything else. But these are the games that you go to when you want to get lost in a good story. We can confirm: we've played them all and got lost in their worlds ourselves. And so read on to see 20 of the best story-driven games, all playable now on PS4 or PS5.
1. Alba: A Wildlife Adventure
Alba: A Wildlife Adventure is a beautiful, adorable game in just about every way. Playing as the titular Alba, you're spending a week on an idyllic island, holidaying with your grandparents. But after learning about plans to build a huge hotel over a nearby nature reserve, your holiday becomes less about relaxing and more about saving the island. There's far more to this game than its story, but its messages of preservation and looking after nature are incredibly powerful.
Read our Alba: A Wildlife Adventure review
2. The Artful Escape
What would you do if you woke up in the middle of the night to find an alien outside your window, waiting to take you away to another planet? That's essentially what happens in The Artful Escape, a game that combines storytelling, music and platforming to great effect. It's one of the most beautiful, psychedelic story-driven games you can play on PS4 and PS5, and we can't recommend it enough.
Read our The Artful Escape review
3. Call of the Sea
Norah's husband went travelling some months ago to a mysterious island, all in the hope of finding a cure for her disease. But he's not come home, and Norah is afraid something terrible has happened. There's only one thing she can do: follow in his footsteps and head out there herself. Call of the Sea is filled with puzzles and adventure, set across a beautiful remote island in the Pacific ocean. But it's the narrative at the heart of it – a tale of love and loss, with just a sprinkling of the supernatural – that keeps you playing. This is one of the best story-driven games you can play on PS4 and PS5.
Read our Call of the Sea review
Check latest prices of Call of the Sea
4. Catherine: Full Body
Catherine has been around since the days of the PS3, but it's still as wonderful as ever. Telling the story of Vincent and the two women he's involved with – Katherine and Catherine – this combines impeccable storytelling, wonderful animation and engaging puzzles to make a game quite unlike anything else you've ever played. We've played it several times over the years, and it never gets old.
Read our Catherine: Full Body review
Check latest prices of Catherine: Full Body
5. House of Ashes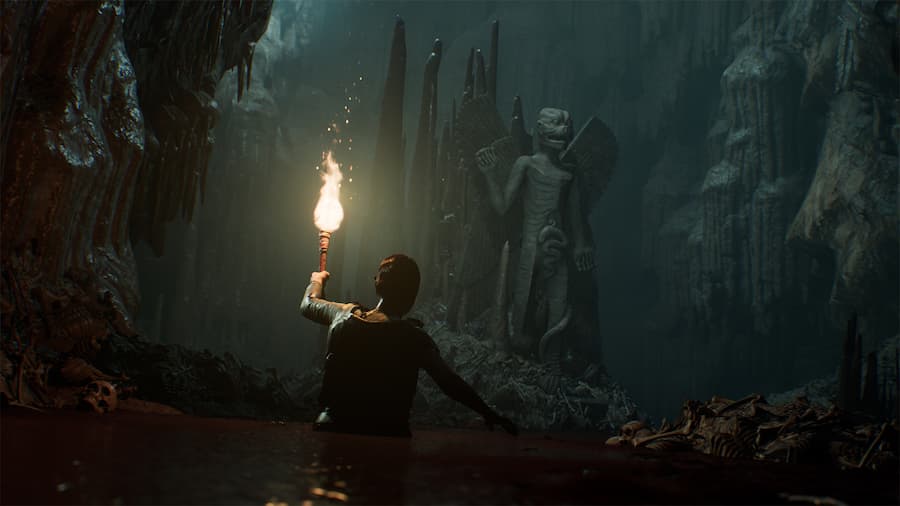 Part of the Dark Pictures Anthology series of horror games from Supermassive Games, House of Ashes might just be our favourite so far. This terrifying story-driven game tells the story of a group of American (and Iraqi) soldiers who find themselves trapped in an underground temple. But that's the least of their problems; something terribly inhuman is lurking down there with them, too. The choices and actions you make will determine who lives and who dies. No pressure at all, then.
Read our House of Ashes review
Check latest prices of House of Ashes
6. I Am Dead
Despite its rather macabre title and subject matter, I Am Dead is anything but. Sure, you're playing as Morris, an old man who has recently passed into the afterlife. But he's surprisingly upbeat about it. And the characters he meets on the quaint British island he lives on are all rather jovial, too. You'll need to solve some puzzles to help Morris be at rest once and for all, but along the way there's a wonderful narrative to unfold, and some truly wonderful people to meet.
7. Lake
Lake tells the story of Meredith, a woman who has returned to her peaceful hometown after spending 20 years in the city. She's in need of a break from her high-powered job, and is stepping into her dad's role of postal worker for a couple of weeks. Like a chilled-out version of Paperboy, you'll spend your days delivering letters and parcels around town. But the real crux is learning more about Meredith, and getting to know the people of the town. Beautiful and laid-back, Lake is one of the best story-driven games you can play on PS4 and PS5.
8. Last Stop
Telling three seemingly independent stories, Last Stop is a narrative-driven game that gets its claws into you and doesn't let go. Spread over several chapters, you won't be expecting the twists and turns that Last Stop takes you on – and it's all the better for it. When we reviewed it, we gave it a perfect 10/10, a score we don't give lightly, and for good reason. We're not going to tell you too much about this story, but it's set in London, and its cast of characters couldn't be more different from each other. Just give it a go; the less you know about it, the better.
9. Life is Strange: True Colors
In our opinion, the fourth game in the Life is Strange series, True Colors, is the best. It tells the story of Alex Chen as she arrives in a sleepy Colorado mining town, hoping to start a new life with her estranged brother. Sadly – as is always the way in video games – things don't quite go to plan, and a terrible accident sends Alex's world spiralling. This is a game all about love, friendship, finding yourself, and growing up, and its told exceptionally well. It's a benchmark for the best story-driven games on PS4 and PS5, and we can only hope the next entry into the series is even half as good.
Read our Life is Strange: True Colors review
Check latest prices of Life is Strange: True Colors
10. The Longest Road on Earth
Despite having no dialogue or text, The Longest Road on Earth still manages to be one of the best, most thought-provoking story-driven games you can play on PS4 and PS5. Each chapter is a short story all of its own, telling the story of various anthropomorphic characters as they go about their daily routines. The lack of dialogue means some of the stories are left open to your own interpretation, meaning that everyone who plays might get something slightly different out of the experience. Pretty cool, no?
Read our The Longest Road on Earth review
11. Lost Words: Beyond the Page
A game of two halves, Lost Words: Beyond the Page ties together platforming and narrative adventure in a unique and moving way. This is the story of a young girl coming to terms with the loss of her grandmother and, through the words of her diary and a story she's writing herself, you'll help her deal with the loss. It's beautifully told, and deals with a subject matter that we can all relate to. It's not very long, and its gameplay may be simple, but this is still one of the best story-driven games you can play on PS4 and PS5.
Read our Lost Words: Beyond the Page review
12. A Musical Story
From one game with no text or dialogue to another: A Musical Story is a very short, music-driven narrative adventure with a soundtrack inspired by the likes of Pink Floyd. It tells the story of a band in the 1970s with all the ups and downs that come with going on tour. The story plays out in short scenes, separated by music rhythm sections where you need to press buttons in time with the beat. It's unique, it's beautifully presented, and its soundtrack is simply sublime. Don't miss this – it's one of the most original story-driven games on PS4 and PS5.
Read our A Musical Story review
13. Paradise Lost
An exploration adventure game with a strong narrative running through it, Paradise Lost is set in an alternate, post-apocalyptic future. Playing as a youngster named Szymon, you find yourself in an abandoned Nazi bunker. There are secrets to be uncovered there, along with strange links to Slavic mythology. It's not the longest game – you'll have completed it in three or four hours – but witnessing the story unfold as you make your way through the game's beautiful, if haunting, world is a joy from start to finish.
14. The Quarry
One of the newest games on this list, The Quarry isn't for the faint-hearted. This narrative-driven horror game follows several camp counsellors as they're stuck at camp in Hackett's Quarry for one night longer than planned. And it turns out the camp they know and love so well isn't quite the safe haven they thought it would be. Another title from Supermassive Games, it tasks you with making decisions and carrying out actions to try and ensure everyone survives. It's easier said than done, however. Fantastic acting, next-level visuals and a truly riveting narrative make this one of the best story-driven games on PS4 and PS5.
Check latest prices of The Quarry
15. Road 96
Set in a fictional country being torn apart by a despotic president, Road 96 tells the story of a number of teenagers trying to flee by crossing the border. One after another, you'll take control of a youngster as they journey across the country and make the terrifying and dangerous border crossing. If you even make it that far, of course. You'll need to make choices along the way, and not getting caught by the authorities is easier said than done. Even if you do make it to the crossing point, there's no telling that you're going to make it across alive. While it deals with a serious subject matter, Road 96 has plenty of light-hearted moments, making it a very strange adventure, but one we absolutely love.
Check latest prices of Road 96
16. Spiritfarer
Calling Spiritfarer a story-driven game is to do it a bit of a disservice. Yes, that's exactly what it is, but there's also so much more to this beautiful game that deals with death. You take on the role of ferrymaster, taking people from the world of the living to the afterlife. In doing so, you'll meet a range of colourful characters, each with their own stories to tell – and unfinished business that they need your help with. There's so many facets to Spiritfarer – farming, platforming, adventuring – but the narrative that runs through it is perhaps the most beautiful part. This really is a special game.
Check latest prices of Spiritfarer
17. Time Loader
Time Loader might feel like a strange choice to put on this list of best story-driven games on PS4 and PS5. After all, it's a platform-puzzle game about controlling a robot. How much story could be involved in that?! A surprising amount, as it turns out. Sure, the main focus of the game may be on controlling a robot, but the narrative that makes up the backbone of the game is surprisingly deep and moving. It's a story we couldn't stop thinking about even after we finished the game, for sure.
18. Twelve Minutes
From one game that deals with time travel to another. Twelve Minutes is as perplexing as it is fascinating, telling the story of a man and his wife stuck in a twelve-minute long time loop. A man appears at the door, making demands. Fail to fulfil them, and you're going to wind up dead. And so, over the course of the twelve-minute loop, you've got to figure out how to ensure you and your wife survive. But it's not going to be easy. And there's some seriously disturbing revelations to learn along the way, too.
Read our Twelve Minutes review
19. When The Past Was Around
Perhaps our favourite thing about When the Past Was Around is its gorgeous animation. Its 2D hand-drawn art is simply stunning, and every frame of this game could be a work of art on its own. There are puzzles to complete as you make your way through the narrative, a touching story that deals with love, coming to terms with loss and moving on. Its storytelling is abstract, at times, but it's always beautiful and gripping. It's one of the best story-driven games on PS4, and it'll only take you a couple of hours to complete. What are you waiting for?
Read our When the Past Was Around review
20. Where the Heart Leads
Telling the story of Whit, and starting just as a sinkhole opens up in front of his house, Where the Heart Leads is a narrative-driven adventure that knows exactly how to get your attention. While some moments here do lead into the fantastical, this is largely the tale of one man's life, jumping through time to different stages of it. The decisions you make along the way can change Whit's course, and so you'll want to think carefully about every choice you make. It's an intriguing journey, if a little slow, but if you enjoy story-driven games that deal with the minutae of real life, this is one for you.
Read our Where the Heart Leads review