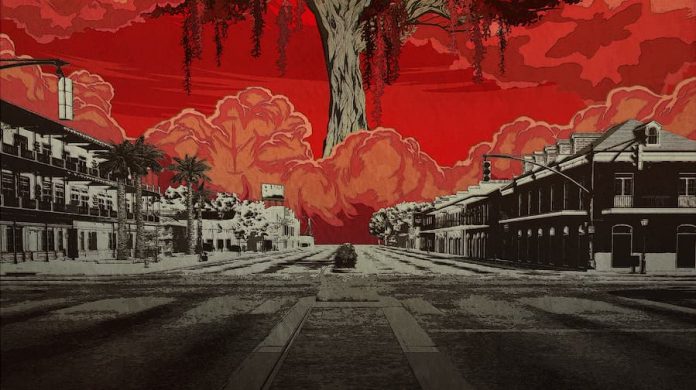 It's safe to say that Deadly Premonition 2 performed horrifically on Switch when it first launched. And even now, after some performance-boosting updates, it's still not great.
The news that Deadly Premonition 2 is now available on PC, then, will be heaven sent to many. After all, who wouldn't want to spend more time with Francis York Morgan? Once you get into the story of Deadly Premonition 2 it's pretty engrossing, too, with yet another creepy and mysterious case to unravel. It's just a shame that it takes so long to get going. Expect to spend about three hours mostly watching cutscenes before you're given total control.
Before you rush out to buy Deadly Premonition 2 on PC, however, be aware that as ports go, it's not great. There are zero graphics options. And we really mean that. Zero. You can't even change the game's resolution. It simply appears to render at a fairly low resolution and then crudely upscale to your current desktop resolution. That means there are jaggies galore, even when playing at 4K.
Nothing has been done here to make this game truly shine on PC. Textures are still low-res, shadows are basic, and when you're exploring the open world on your skateboard, you'll notice there's still a lot of pop-in. There's bad news for mouse and keyboard fans, too; you need a controller to play. It's as basic a PC port as can be. Hell, there's not even a quit game option on the main menu, requiring you to forcefully close the game when you're done.
Related: Read our review of the Switch version of Deadly Premonition 2
Ultimately though, being on PC means that you can finally play Deadly Premonition 2 at 60fps, and that will be good enough for most. Playing with a Nvidia RTX 3060 paired with a Ryzen 5 5600G CPU, we haven't experienced any performance issues whatsoever. And if you install the game on a SDD, loading times aren't too bad either. Compared to playing on Switch, it's much more enjoyable.
We have experienced one troublesome bug multiple times while playing, though. Sometimes, usually after a tooltip has popped up, Deadly Premonition 2 has simply failed to acknowledge our controller input. Thankfully simply pressing the Windows key on our keyboard and then going back into the game again has cleared the issue up for us.
If you're a huge fan of Deadly Premonition and haven't yet played this sequel, this PC port is definitely the best way to enjoy it. But that being said, it's a huge shame that more care hasn't been put into its creation. The visuals definitely won't impress you, that's for sure. And it's crazy that you can't even manually change the game's resolution. Add in other issues like not being able to reassign the controls, and you can't help but feel like Deadly Premonition 2 deserved better.
Deadly Premonition 2 is available now on Switch and PC.