It's hard to keep up with every game that comes out. Especially when there's so many of them vying for your attention.
Sorting the wheat from the chaff, so to speak, isn't always easy, particularly when it comes to indie games that you might not have heard about. Thankfully, we're here to help. The GameSpew team play a lot of games every month. Well, we have to in order to create daily content for you to read. But it also means we have a good idea of what games are worth your time.
Here's our round-up of the games from May that we feel didn't get the attention they rightly deserved. All of them have been played by us, and come highly recommended. So if some of these slipped under your radar, go ahead and fix that. Right now. You won't regret it.
Want more games you might have missed? Here's April's, March's and February's.
1. Eternal Threads
Release date: 19 May
Available on: PC
In our review of Eternal Threads, we said "you won't want to put it down, and once you've finished, you'll be thinking about it for weeks to come." We were right; it's over a month since we played and completed it, and it's still on our minds. Set in a future where time travelling is possible, you take on the role of an agent tasked with saving six people who died in a house fire. In order to do so? You're going to have to experience their week leading up to the fire, changing the minutiae of their lives in order to fix their fate.
It's essentially The Butterfly Effect, set against a dreary North England backdrop. But oh, it works so well, and getting lost in the drama of these six characters' lives is engrossing and captivating. There really is nothing else like this, and Eternal Threads is a strong GOTY contender for us – not something we say lightly. | Read our Eternal Threads review
2. Arcade Spirits: The New Challengers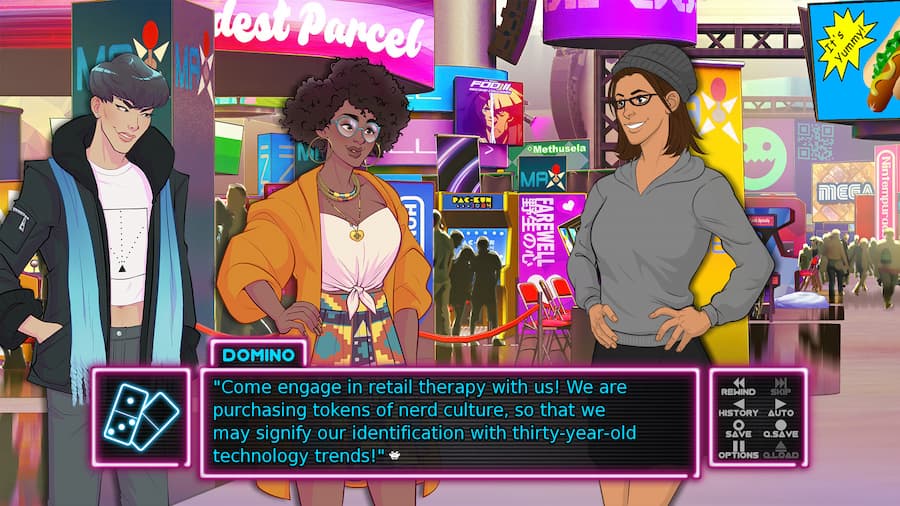 Release date: 27 May
Available on: PS4, PS5, Xbox One, Xbox Series X/S, Switch, PC
Although Arcade Spirits: The New Challengers isn't quite as good as the first game in our opinion, this is still a very strong entry into the visual novel genre. Particularly for people who don't typically enjoy visual novels, we think. The captivating art style, the well-written characters and a narrative built around video games all make this one of the easiest visual novels to pick up and enjoy.
You also get to create your own character and shape their personality along the way by making choices. And, of course, there's the option to romance someone if you want to make Arcade Spirits: The New Challengers a luurrrve story. You don't have to, though: you can focus on the main storyline of entering an esports tournament and rising to the top if you want. | Read our Arcade Spirits: The New Challengers review
3. Golf Gang
Release date: 19th May
Available on: PC
It's kind of a shame that Golf Gang is only available on PC right now, because this deserves to be played by more people. Described by the developers as Rocket League meets mini golf, it's a zany multiplayer race to the finish line which sees you hitting a customised golf ball around a series of obstacle courses. It's a very simple concept, but thanks to modifiers and courses that get harder and harder as you progress, it quickly becomes riotous fun.
Up to eight people can compete, and with so many balls on the track at any one time, it's maximum chaos. But that only makes it more fun. If you like to arrange online games nights with friends and family, Golf Gang is well worth adding to your playlist. | Read our Golf Gang review
4. Dungeons of Dreadrock
Release date: 12th May
Available on: Switch (plus iOS and PC)
Dungeons of Dreadrock has been out for a few months on iOS and PC, but it's only just arrived on Switch. It looks a little like a classic Zelda game, but it sure doesn't play like one. That's the twist: despite having the appearance of an old-school adventure RPG, it's actually a puzzle game. Make your way through over 100 dungeons, using your noggin to defeat enemies or sneak past them.
It's a simple premise, but as you progress through floors of the dungeon – each one being a new level – things get trickier. Thankfully, there's a baked-in hints system if you're not quite as puzzle-minded as some. If you have somehow missed this gorgeous and testing puzzler, make sure to add it to your Switch library. | Read our Dungeons of Dreadrock review
5. Sonority
Release date: 25th May
Available on: PC
For musically-minded gamers, Sonority is a lovely puzzle adventure that shouldn't be missed. Not only does it look absolutely gorgeous – just look at that screenshot! – but it plays beautifully too, truly testing your mettle when it comes to getting around the world. You see, your character is equipped with a musical instrument. Gradually learning new music notes, she'll need to play them in a certain order to power up stones, which activate bridges, walkways and lifts.
To make a platform rise, for example, you may need to play a scale that increases in pitch. And to make a platform lower, your musical notes need to get lower too. It's really fun to figure out – though it does get tricky, and you may struggle if you don't have a good musical area. Still, we think it's a game worth checking out. | Read more about Sonority
6. Rolling Gunner + Overpower
Release date: 17th May
Available on: PS4 (and Switch)
The Switch version of Rolling Gunner came out way back in 2019, but it wasn't until May's PlayStation 4 release when it entered our radar. And we're so glad it did: this shoot 'em up might be one of our favourites of recent years thanks to its excellent visuals and killer gameplay.
Even if you have already played it on Switch, it's worth double-dipping: the Overpower DLC that's bundled in on PS4 adds in a whole new mode with its own engaging mechanics. Honestly, we can't get enough of it. And if you enjoy shooters, we can't recommend it enough. | Read our Rolling Gunner + Overpower review
7. Soundfall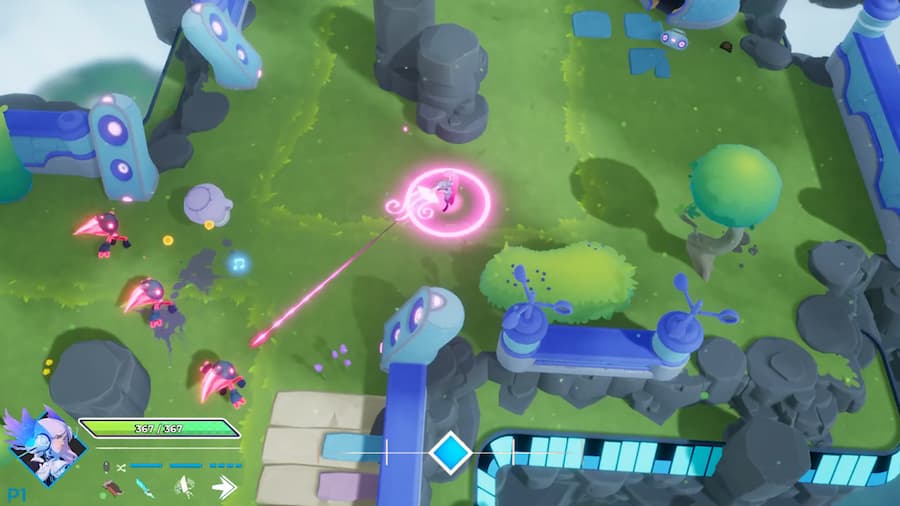 Release date: 11th May
Available on: PS4, PS5, Xbox One, Xbox Series X/S, Switch, PC
Since it had a stealth release following Nintendo's Indie World Showcase, there's a bigger chance than ever that Soundfall might have passed you by. That'd be a shame, because this rhythm-based dungeon crawler really is lovely. Yes, another music-focused game, but this is something completely different from Sonority. It's a top-down shooter, essentially. But you can't simply run and shoot willy-nilly; you need to pay attention to the rhythm of the music, and shoot in time with the beat.
If you don't have much rhythm (no judgment here), then Soundfall can be a bit tricky. But there all tools to help, such as a metronome and a visual guide of when to pull the trigger. With a very eclectic soundtrack, fun and colourful visuals, and a nice story to enjoy, there's a lot to like here. | Read our Soundfall review