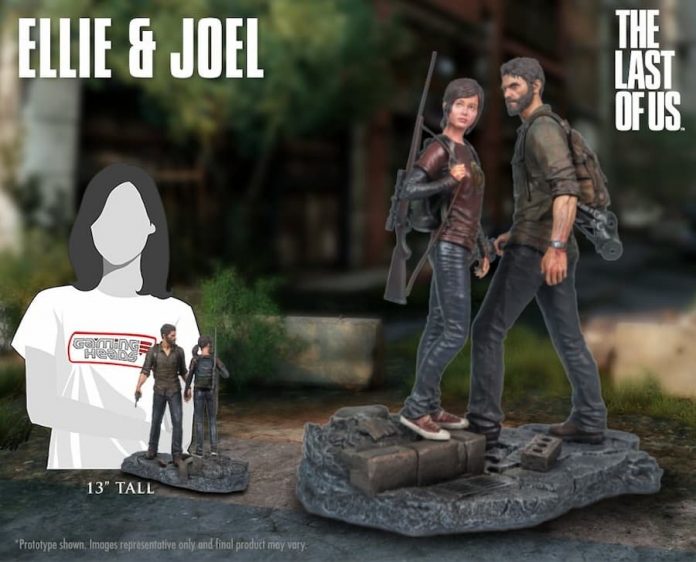 This The Last of Us: Ellie & Joel Statue looks so ridiculously cool we've spent the last half hour trying to convince ourselves that we don't need it.
Measuring a respectable 12 inches tall and made out of polystone resin, it features Joel, protagonist of the original The Last of Us, alongside Ellie, the girl he's been tasked with escorting across the post-apocalyptic wilderness. The pair look suitably gloomy, given that they've been fending off the fungus-based infected. Though, now we think about it, we'd also pay good money for a statue of the fantastic space capsule scene from The Last of Us Part II.
It's the work of Gaming Heads, who've produced more than a few game-related statues. We used to have their fantastic Left 4 Dead Tank statue, which was even taller – and heftier –  than the Ellie and Joel statue. It sat on top of a shelf, looking hugely menacing and we could absolutely kick ourselves for getting rid of it.
Like that Tank, the Ellie & Joel statue will come in two varieties. There's the standard edition, which should be readily available at various outlets, which has Ellie carrying a rifle over her shoulder. Then there's a the deluxe edition, which lets you swap Ellie's rifle out for a bow and Joel's pistol for a baseball bat or a steel pipe, thanks to some extra interchangeable parts.
The latter is available exclusively from Gaming Heads' website, but be warned, neither are exactly cheap. Excluding any shipping costs the standard edition is $499.99 and the deluxe edition is $549.99 (including a non-refundable $55 deposit). Given that you can pick up a PVC The Last of Us Part II Ellie model for $43.99, you'll have to be a hardcore The Last of Us fan to hand over your cash.
Yes, we're trying to talk ourselves out of buying this. It helps that the statue won't be released till the first quarter of 2023, so we've got a while to change our own minds. But there's a blank space on your gaming shelf and The Last of Us holds a special place in your heart, don't let us stop you.