Finished Stray and looking for something similar to play? Hopefully we can help.
Stray casts you as a cat, thrown into a futuristic dystopian world where humans are extinct. In their place, robots mill around, living an every day life, working, socialising and existing. Falling away from your litter mates, you find yourself lost in the slums, and with the help of your new robot friends, you need to find your way back out. It's a rather unique experience, but there are other games like Stray out there.
It's a fantastic game, both for its world-building and exploration, and the fact that it casts you as a cat. Stray captures the quirks of the feline species brilliantly, from their tendency to sleep in unusual places to their curiosity and love of knocking random items off ledges to the floor.
We've selected a variety of games like Stray, all for different reasons. Some of these games also cast you as a cat. Others are set in a similar world, or have similar gameplay. Either way, if you enjoy Stray we're confident you'll enjoy these games too. Give them a try.
Related: The Best Cats in Video Games
1. Catlateral Damage
Available on: PS4, PS5, Xbox One, Xbox Series X/S, Switch, PC
Played from the first-person perspective of a cat, Catlateral Damage is a simple but hilarious game about, well, being a cat. Unlike Stray, you don't have a world to explore or a story to follow. But this does a great job of capturing the chaos of cats. Enjoy knocking stuff off, destroying a home, and generally causing destruction in the way only a cat knows.
Read our Catlateral Damage review
2. Tunic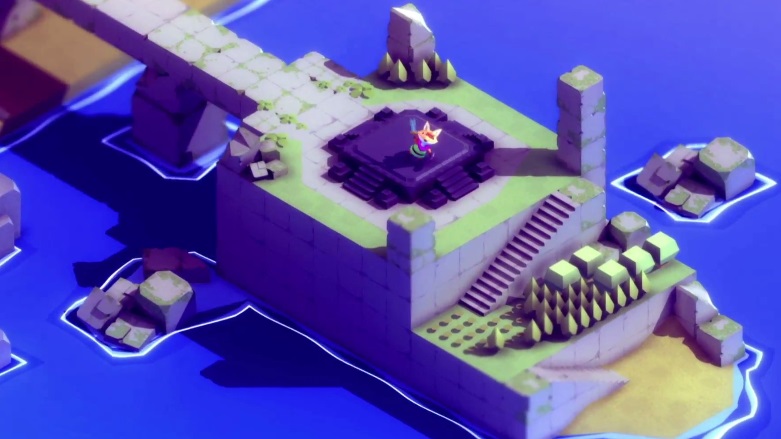 Available on: Xbox One, Xbox Series X/S, PC (coming to PS4 and PS5 soon)
Tunic has a few things in common with Stray. It's set in a strange, futuristic world for one. And two, you're playing as an adorable animal. But rather than a cat, Tunic casts you as a fox. Like Stray's protagonist, this fox is clever, savvy and has a goal to work towards. There are puzzles to solve and secrets to uncover, and there's quite a bit more combat than Stray. If you don't fancy it, turn on the game's Easy mode and simply enjoy its puzzles and world.
3. Submerged: Hidden Depths
Available on: PS4, PS5, Xbox One, Xbox Series X/S, PC
Set in a world overrun by water, Submerged: Hidden Depths puts players in control of a brother and sister, alone and isolated. Like in Stray, there's a feeling like you're lost here. And you fight for a better future by taking time to explore. Along with an interesting and picturesque world, Submerged: Hidden Depths has some platforming and puzzling. There's no combat, either, making it a stress-free affair. And so, if you love Stray, this is well worth checking out.
Read our Submerged: Hidden Depths review
4. Kitaria Fables
Available on: PS4, PS5, Xbox One, Xbox Series X/S, Switch, PC
If you enjoyed Stray because you got to play as a cat, you'll probably want to try out Kitaria Fables. This cat might not be as realistic-looking as Stray's protagonist – they walk on two legs, for one. But they're world-wise and savvy, just like Stray's fluffy ginger feline. This is an action RPG packed with plenty of exploration and adventure, with some life sim elements thrown in for good measure. Not exactly like Stray, then, but if you like cats, you're onto a winner.
Read our Kitaria Fables review
5. Biomutant
Available on PS4, Xbox One, PC (coming to PS5 and Xbox Series X/S soon)
Games like Stray don't come more similar than Biomutant. Well, sort of. An adventure game set in an apocalyptic world? Check. Puts you in control of an animal? Check. Like Stray, you're on a journey to help others and, hopefully, make the world a better place. Biomutant has a much larger world to explore, though, and there's a bigger focus on combat. It's interesting and compelling, even if you aren't quite playing as a cat.
6. Endling: Extinction is Forever
Available on PS4, Xbox One, Switch, PC
Like Stray, Endling: Extinction is Forever is another game that puts you in control of an animal in a destroyed world. Humans are still alive here, though, and they're putting animals in danger. Rather than being a cat, you're put in control of a fox mother trying to look after her four cubs. On a 2D plane, you'll explore the environment around you, primarily hunting for food to keep your family alive. Like Stray, it captures the nuances of an animal wonderfully. Although you'll want to have tissues at the ready before you play: it's quite the tear-jerker.
7. Concrete Genie
Concrete Genie is a wonderful little Sony exclusive that deserves more love. It places you in a small but wonderfully designed world where a child's imagination really comes to life. Or maybe the creatures they encounter in the various walls are actually real? In any case, there's plenty of adventuring and puzzling to be done, and a story to unravel that pulls on the heart strings. If you have a PS4 or PS5, you should really check this out. It's VR compatible, too.
Read our Concrete Genie review
8. Spirit of the North
Available on: PS4, PS5, Xbox Series X/S, Switch, PC
Video games sure like putting you in control of foxes, don't they? In Spirit of the North you'll explore a picturesque world, and attempt to save it from a rot that is spreading far and wide. Along the way you'll have to solve puzzles, overcome platforming challenges, and make use of a range of magical powers. Ultimately, it's a game that tugs on your heartstrings, pleasures your eyeballs and tests your brain cells. If you loved Stray, there are all the qualities you're probably looking for.