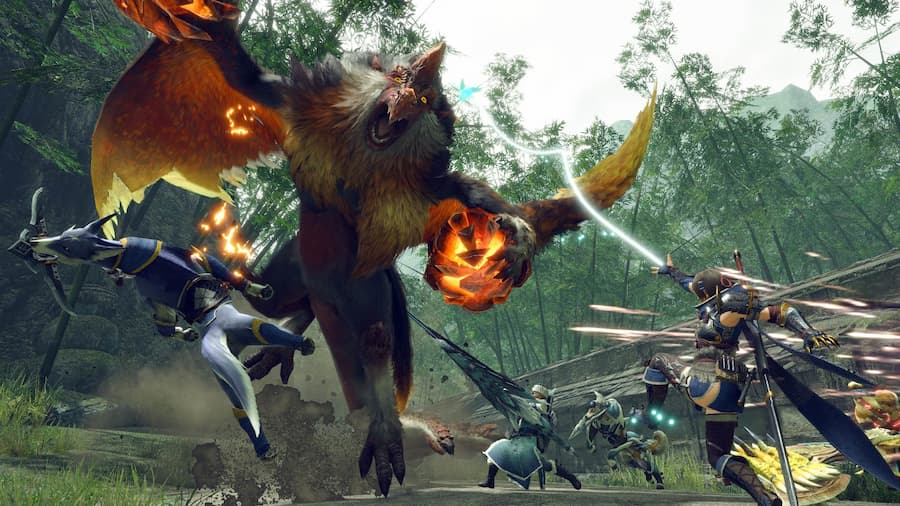 If you've invested so many hours into Monster Hunter Rise that it no longer provides a challenge, the Sunbreak expansion is for you.
Kamura village has been saved, and news of your victory has seemingly travelled. So, what do you do next? Heed the call of a stranger who has another monstrous problem for you to rectify, of course. And so begins Monster Hunter Rise: Sunbreak.
Operating from the new Elgado Outpost hub, Monster Hunter Rise: Sunbreak catapults players into Master Rank and presents a fresh story for them to battle their way through. Though while having a new tale to give meaning to your continued hunting activities is entertaining enough, the real draw here is the new monsters, locales, features and challenges that the expansion introduces. Let's put it this way: there's much, much more to do once you've finished the story, that's for sure.
It's a shame that you'll have to prove yourself, beating powered-up versions of foes you'll have already defeated countless times in the base game, before getting to go toe-to-toe with anything genuinely new, but it's worth the effort. The new monsters introduced here look fantastic, especially the Three Lords, a trio of bosses that need to be overcome. They, along with all the other monsters that have been introduced, tweaked or simply powered-up, provide a solid challenge. Thankfully new gear to acquire and upgrade somewhat settles the score. There's a more elaborate Rampage skill system to get to grips with when it comes to weapons, too.
New Switch Skills also level the playing field a little, though perhaps not quite as much as being able to equip multiple Switch Skills and easily switch between them during a hunt. Now your hunter is more versatile than ever; with two Switch Skills to use, you don't have to painstakingly choose one over another, missing out on the opportunity it provides. Simply equip both, and switch between them at will to more effectively bring down your targets.
One thing that's absent from Monster Hunter Rise: Sunbreak is new Rampage missions. Good riddance, we say; we were never fans of the ones in the base game. What have been added, however, are follower missions. In these, NPCs both old and new will accompany you on various hunts, allowing for more exposition and some help taking down foes. Max out your bond with a NPC and they can even accompany you on support surveys. Both are good for grinding materials solo thanks to the extra assistance. Especially as your Palico and Palamute are also welcome along.
There are a wealth of other additions and improvements to be found in Monster Hunter Rise: Sunbreak; in fact, there are way too many to mention. But things like additional wirebug types that make mounting monsters easier and more beneficial and an development of the Dango system may be small but are rather welcome. And there are many other changes and improvements here and there that just make Monster Hunter Rise deeper than ever before.
There's even a raft of new quality-of-life improvements that benefit everyone who plays Monster Hunter Rise, whether they purchase Sunbreak or not. It's now quicker to mount your Palamute, for example. And you no longer need to use a wirebug to initiate wall-running. For those playing on PC, a new filter and support for DLSS have also been added. The latter is particularly good for improving performance while upping the visual quality. Basically, Monster Hunter Rise has never looked, performed or played better.
Monster Hunter Rise: Sunbreak, then, is a very good expansion indeed. It improves the core mechanics, adds additional features and introduces a wealth of new content that will occupy players for tens of hours. But be warned: it's truly for skilled hunters.
If you've not yet jumped into Monster Hunter Rise or are still making your way through it, you might want to think twice before picking up this expansion until you're ready. Reaching the starting point for Sunbreak is no mean feat. Free high-level armour and weapons are available to give you a helping hand but they'll only get you so far. You'll also need a fair amount of skill and patience.
Still, it doesn't take away from the fact that for those up to task, Monster Hunter Rise: Sunbreak delivers. You could say it's just more of the same but that would be doing this expansion a disservice. Like Monster Hunter World's Iceborne expansion before it, this is essentially a full game served up as DLC. With its generous number of gameplay improvements and hunting opportunities, it's an absolute must-have for series veterans. And while it's still not the most accessible game on the whole, it's undoubtedly the best starting point for aspiring hunters.
---
Monster Hunter Rise: Sunbreak Review – GameSpew's Score
This review of Monster Hunter Rise: Sunbreak is based on the PC version of the game, via a code provided by the publisher. It's available on PC and Switch.