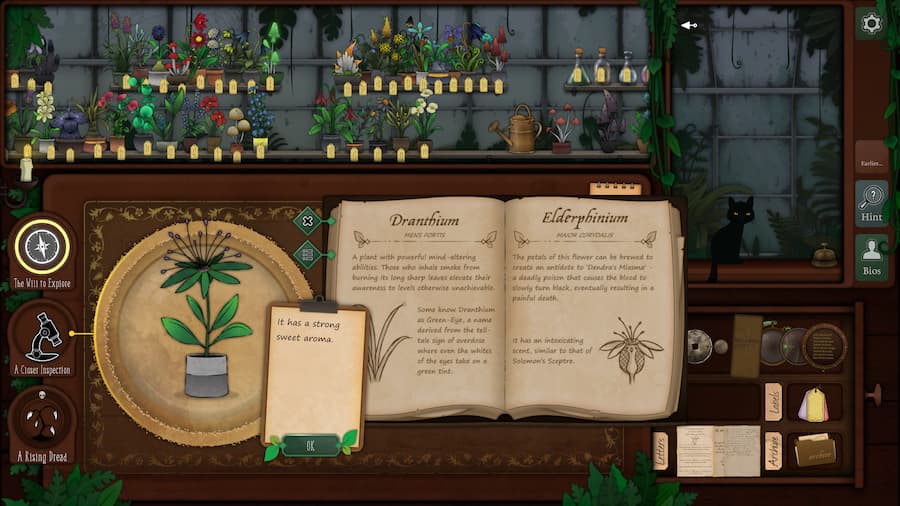 Strange Horticulture is, as the title suggests, an odd and somewhat sinister gardening game. And now it's coming to Nintendo Switch.
Strange Horticulture, which hit the PC back in January, sees you inheriting a flower shop in a town that makes Innsmouth look normal. Tasked with some very odd customer requests, it's your job to acquire and blend various ingredients, pausing only to pet the shop's resident cat.
But, as odd as it sounds, it's an awful lot of fun. In our review, we stated that "Something very special awaits for those curious enough to enter Strange Horticulture". The Nintendo Switch version should be every bit as compelling, with the added bonus that you'll be able to take the game on the go.
We certainly have to tip our hat to the deliciously over-the-top live-action trailer, which is very, very silly, and reminds us of early 90s SEGA adverts like the infamous Cyber Razor Cut ad. It's sent us down quite the rabbit hole, imagining which other games could benefit from a similarly hammy take.
For example, why not give Brian Blessed a pop at advertising God of War Ragnarök, complete with white body paint? Come on, Sony, he's only a phone call away. He punched a polar bear, you know.
If witchcraft, cults and grow-bags sound right up your street, you can pick up Strange Horticulture on Nintendo Switch this July 28th, priced at $14.99 on the Nintendo eShop.