Two's company, three's a crowd. Four's an epic gaming party.
If you've got a few friends or family members over, perhaps you want to find a game you can all play together. There aren't too many of them, but there are some great four-player multiplayer games out there. Whether you want to work together or all go head-to-head, we've scoured Xbox Game Pass to find the games for you.
We've rounded up the best local four-player multiplayer games below, each of them available to play on Xbox Game Pass. So providing you've got and Xbox console and an active Game Pass subscription, you're good to go. And if you don't have Xbox Game Pass, you can pick it up discounted by using our affiliate button below. It won't cost you anything extra, but you'll be supporting GameSpew in doing so. Happy playing!
1. As Dusk Falls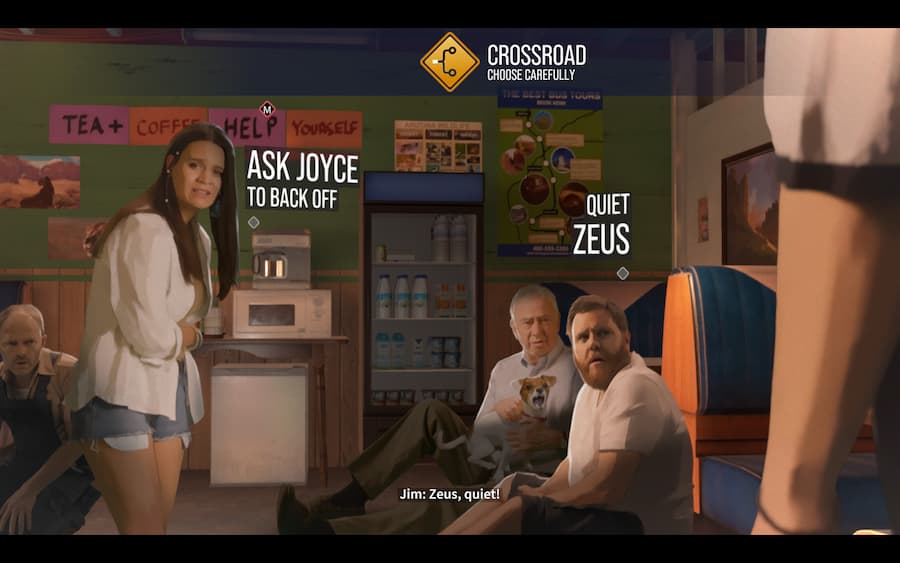 You'll want to avoid As Dusk Falls if you're having a party; this isn't exactly a happy-go-lucky multiplayer game. Rather, this is an interactive drama where you and up to seven friends get to decide what happens. It's a rather harrowing story, telling the tale of two families that centres around a hostage situation at a motel. So you're going to want to be in the right mood to tackle this.
If you are, though, you'll have a great time with As Dusk Falls. Its story is very well told, and its characters are brought to life brilliantly. It's one of the most original four-player multiplayer games you can play on Xbox Game Pass, that's for sure. Even better, you can play with a mobile phone so you don't need multiple controllers.
Read our review of As Dusk Falls
2. Gang Beasts
Ever wanted to slap one of your friends? You probably have, but you don't want to admit it. Well, Gang Beasts lets you do just that – with none of the guilt. This silly multiplayer party brawler is all about fighting with your friends in a range of dangerous environments, with the goal of coming out on top. You'll take control of a blobby, gelatinous character and engage in hilarious slapstick battles with your friends.
If you like to get a little competitive but still have plenty of fun, Gang Beasts makes for one of the four-player multiplayer games available on Xbox Game Pass. It's bright, it's colourful, it isn't to be taken seriously at all. But slapping and jumping on your friends, or throwing them into a vat of goo, has never been so much fun.
3. Goat Simulator
Goat Simulator isn't so much a game as it is a sandbox of mayhem. Sure, it gives you a few objectives to work towards, if you want to, but for the most part, this is a game about running around, doing crazy stuff, and having lots of fun. All while taking control of a goat. Yes, it absolutely is as silly as it sounds – but that's the joy of Goat Simulator.
Even better, Goat Simulator can be played with up to 4 local players thanks to split screen multiplayer. So you and your friends can all get together, take control of a goat each, and let yourselves loose on the world. Prepare for crazy jumps, glitching through objects, ultimate destruction, and more. If sheer craziness is your thing, then this is one of the best four-player multiplayer games you'll find on Xbox Game Pass.
Read our review of Goat Simulator
4. Golf With Your Friends
Golf With Your Friends is one of the most descriptive video game names we've ever come across. Because, well, golf with your friends is exactly what this game is. But it's not quite as dull as it sounds. This isn't regular 18-hole golfing; it's crazy golf, taking place in a multitude of fun courses. And even better, there are some zany extra games thrown in, like hockey golf (where the ball becomes a puck) and some modes involving bombs. All in all, a fun way to play golf, then.
This isn't just 4-player multiplayer; Golf With Your Friends supports up to twelve players thanks to its pass-the-controller hotseat mode. You'll all go against each other, all trying to get the best score. With simple controls and fun gameplay, it's the sort of thing that anyone can join in with, even if they're not well versed in gaming. Take it in turns to putt, and laugh at those who fail to make even the simplest shot. If you're looking for one of the four-player multiplayer games Xbox Game Pass that anyone can join in with, this is it.
Read more about Golf With Your Friends
5. Minecraft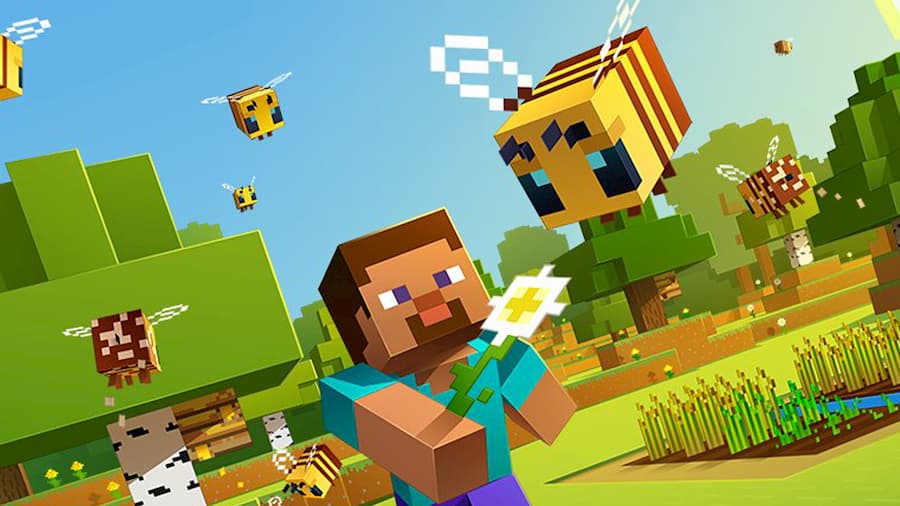 Yes, you can play Minecraft with up to four players in split-screen multiplayer. And it's available on Xbox Game Pass. Rejoice! If for some reason you've been living under a rock for the last decade, Minecraft is a sandbox survival game about creating, building and mining. Although it's mostly popular with children, this family-friendly game is welcoming to anyone – as long as you've got the patience it takes to create something wonderful.
While you can tackle Minecraft by yourself if you like, the game supports 4-player multiplayer, allowing you all to jump into the same game and join forces to survive and craft. It makes the proceedings much more fun if you ask us.
6. Overcooked! 2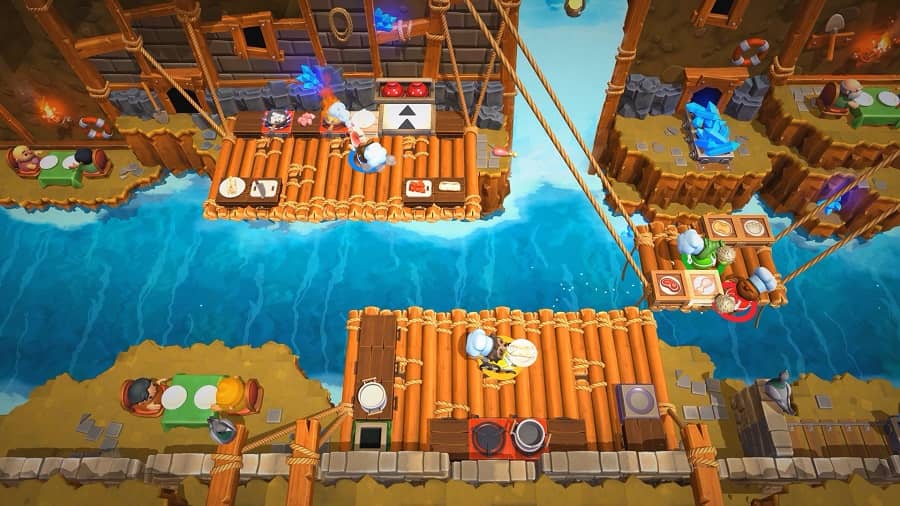 Imagine the chaos of a busy commercial kitchen – then put a volcano in the middle of it. That's essentially the elevator pitch for Overcooked! 2, one of the four-player multiplayer games available on Xbox Game Pass. Heck, one of the best multiplayer games full stop.
In Overcooked! 2, you and your friends must work together in order to prepare food for customers as quickly as possible. Sounds easy enough, right? Not when you consider your cooking environments. Maybe an earthquake will rip right through your kitchen. Or maybe you're working on the back of two lorries, speeding down the motorway. It's a game that sets out to make your life as difficult as possible – but the results are often hilarious. With two players, Overcooked! 2 gets hectic – but when you've got four players, all running around the same space, things get utterly crazy. And that's when the game's truly at its best.
Read our review of Overcooked! 2
7. Worms W.M.D
Remember Worms? Of course you do. Worms W.M.D is one of the best games in the series from recent years, for one simple reason: it apes the format and style of the original Worms games. It returns to its 2D side-scrolling roots, allowing groups of friends to engage in wormish warfare with a series of ridiculous weapons. Exploding sheep? Homing missiles? It's all here.
Worms W.M.D. is one of the best four-player multiplayer games on Xbox Game Pass for those who like to get a little bit competitive. You can each create your own team of worms, squaring up against each other and going in for all-out war. Even if you lose, it's still great fun though; seeing those poor worms get blown to smithereens will never not be funny. Sorry, worms.