Calling all achievement hunters!
Love them or hate them, achievements are a mainstay of all modern video games. Personally we love them – and since you're here, it probably means you do too. Yay! In this list we're wrapping up the Xbox games with the most achievements, and the most Gamerscore available.
While all games on Xbox offer at least 1,000 achievement points as standard, there's a growing number of games that offer way more than usual. Sometimes it's because of the addition of DLC, or maybe the game is a collection of multiple titles, all with their own achievement lists. Either way, we see a game having more than 1,000 achievement points as an added bonus.
We've gathered together the 25 games that offer the most achievement points, ranging from just shy of 3,000 points all the way to 10,000. Holy moly! So if you still like to hear that satisfying pop of an achievement unlocking, then you ought to seek out some of these titles. Without further ado, here are the Xbox games that offer the most achievements, and in turn, the most Gamerscore.
Need Xbox Game Pass? Check the latest prices here
25. Assassin's Creed: The Ezio Collection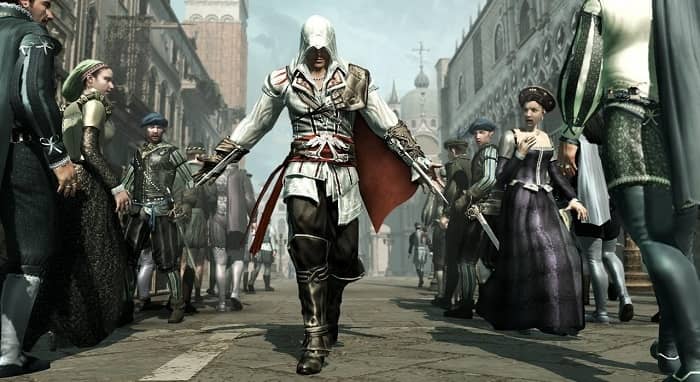 Gamerscore available: 3,000 points
Comprising remastered versions of Assassin's Creed 2, Assassin's Creed Brotherhood and Assassin's Creed Revelations, The Ezio Collection is a must for any Creed fan. And to sweeten the deal, each of the three titles has its own achievement list with 1,000 points each. That's 3,000 achievement points altogether.
Assassin's Creed 2 and its sequels are still considered some of the best Assassin's Creed games out there. And while the remastered versions aren't exactly perfect, it's probably still the best way to spend some time with Ezio Auditore da Firenze, arguably everyone's favourite assassin.
24. Baldur's Gate and Baldur's Gate II: Enhanced Edition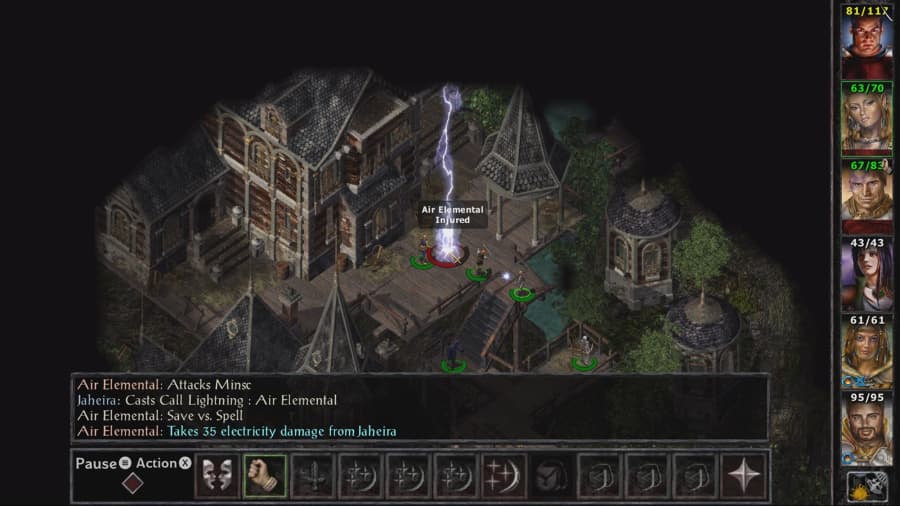 Gamerscore available: 3,000 points
These classic RPGs made their way back to Xbox in 2019, bringing 3,000 Gamerscore points with them in the process. Each game has 1,000 points of its own to collect, with the third 1,000 points coming from Baldur's Gate DLC Siege of Dragonspear. They may be a little old-fashioned now, but for those of us who love to sink our teeth into an epic adventure, the Baldur's Gate games are still incredible.
23. Call of Duty: World War II
Gamerscore available: 3,000 points
Thanks to four DLC packs, each adding an additional 500 points to the total, Call of Duty World War II is one of the most generous games on Xbox One when it comes to achievements. Providing you're willing to cough up for the DLC, that is.
Along with a breathtaking campaign set in WWII, the latest Call of Duty game also packs in numerous multiplayer modes and, of course, a zombie mode. Achievements are available in all modes, so however you prefer to play COD, there are achievements waiting to be unlocked.
22. Crash Bandicoot N. Sane Trilogy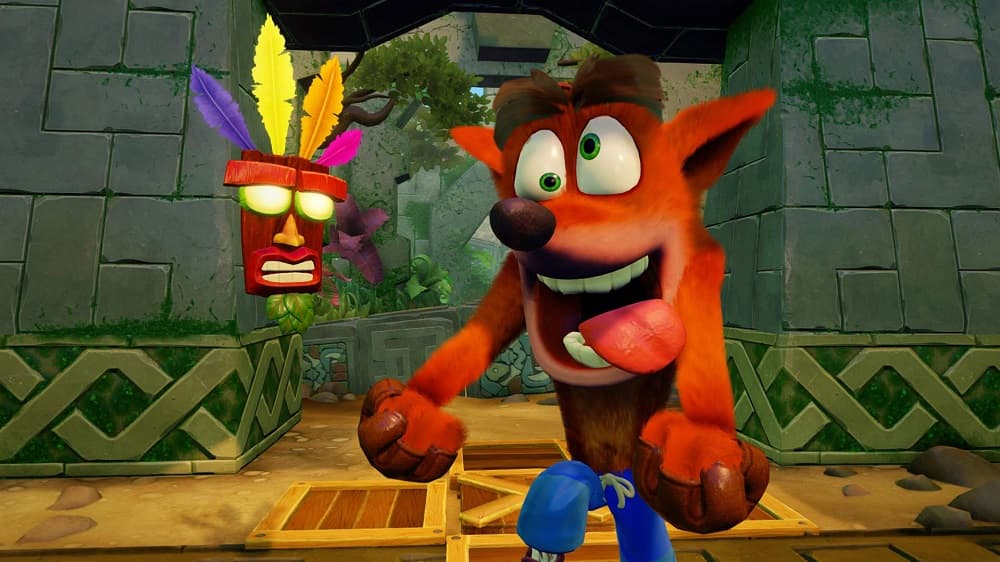 Gamerscore available: 3,000 points
It's only just made its way to other consoles after a year-long exclusivity period with Sony, but Crash Bandicoot N. Sane Trilogy is a must-buy for anyone who likes value for money in terms of their achievements.
The trilogy includes Crash Bandicoot, Crash Bandicoot 2: Cortex Strikes Back and Crash Bandicoot: Warped. And each of the three titles has its own 1,000 achievement list, making 3,000 points up for grabs altogether. Be warned though; it's a lot harder than you remember it being from your childhood. But Crash is still just as lovable as ever.
21. Dead Rising Triple Bundle Pack
Gamerscore available: 3,000 points
The Dead Rising Triple Pack contains Dead Rising, Dead Rising 2 and Dead Rising 2: Off the Record. And you guessed it; each one has its own achievement list with 1,000 points each. With 3,000 achievement points in total up for grabs, that makes this bundle worth grabbing. Especially if you enjoy beating the undead to a bloody pulp. (Who doesn't?)
The first three zombie-infested outings of Frank West have been remastered for this collection, making this the best way to play the games. And considering the original Xbox 360 versions of the games are also backwards compatible, if you feel like playing them through twice, that's double the achievements up for grabs.
20. Forza Horizon 3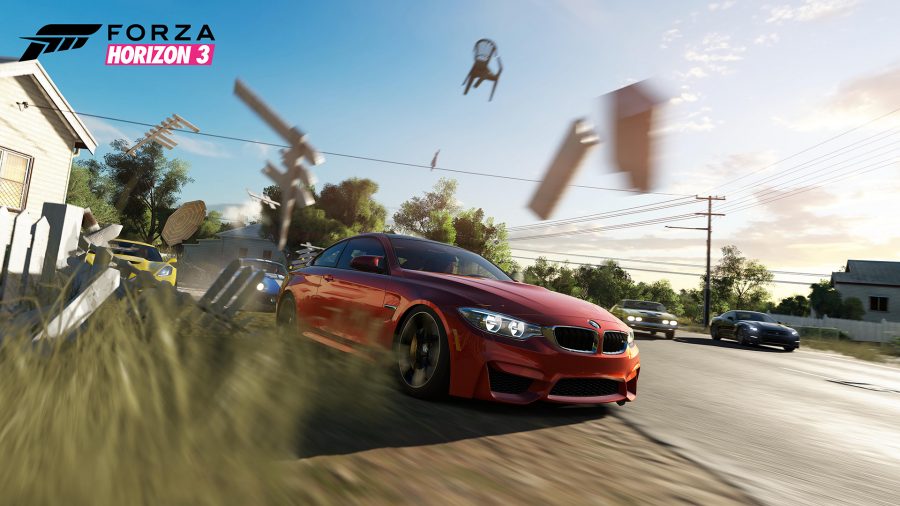 Gamerscore available: 3,000 points
Get ready to run the streets of Australia in Forza Horizon 3 – and if you have all the game's DLC, you're set to earn yourself up to 3,000 Gamerscore points, too.
With the Blizzard Mountain, Hotwheels and Hoonigan car pack DLCs each adding 500 points, and a free #Forzathon update adding 500 more, Forza Horizon 3 has a lot of achievements for players to unlock. There's a heck of a lot of fun to be had as you do so, too. The streets of Australia make a wonderful backdrop for races, head to head challenges, skill challenges and more. If you're a fan of arcade racing, you can't get much better than this. Well, except for maybe Forza Horizon 4 further down the page.
19. Overcooked 2
Gamerscore available: 3,000 points
Thanks to a swathe of DLC added after its release, chaotic multiplayer game Overcooked 2 now contains a whopping 3,000 points over 54 achievements. That's thanks to four separate DLC packs, each containing an additional 500 points.
If you're not familiar with Overcooked, it's a party game that sees you working with (or against) your friends in a variety of crazy kitchen situations. You'll need to cook up as many meals as you possibly can while battling against the clock. The environments get increasingly more hostile to work in – prepare to face against erupting volcanoes, earthquakes and busy traffic. But all that matters is you prepare the food!
18. Spyro Reignited Trilogy
Gamerscore Available: 3,000 points
Remember 90s classic Spyro The Dragon? Of course you do. In 2018, that little purple dragon made a comeback, with Spyro Reignited Trilogy bringing three games from the series back to life, completely remade with beautiful, modern visuals. 3D platforming games don't get much better than this, particularly not when it's also one of the Xbox games with the most achievements to earn. A win-win, if you ask us.
17. Stellaris: Console Edition
Gamerscore available: 3,100 points
The epic space strategy game Stellaris started out life on PC, but came to Xbox in the form of Stellaris: Console Edition. Since its original launch in 2019, it's been bolstered with various DLC packs and upgrades. It now means that there's a total of 99 achievements to be collected in the game, adding up to a rather impressive 3,100 Gamerscore points.
18. Forza Horizon 4
Gamerscore available: 3,610 points
Taking the race to Great Britain, Forza Horizon 4 is breathtaking. And better yet, if you're an achievement hunter, it packs in a whopping 3,610 Gamerscore points across the base game and DLC for you to unlock.
The Fortune Island and LEGO Speed Champions DLCs add 500 points each, but the other points come from free DLC. Forza Horizon 4 packs in a ridiculous amount of content. Whether you enjoy racing or simply taking in the sights and perhaps trying your skills in the odd challenge, there's something for everyone here. And you'll be unlocking achievements left, right and centre before you know it. If you want to unlock everything, though, be prepared to put in a lot of hours. You'll enjoy every minute of it, though.
17. Gems of War
Gamerscore available: 3,660 points
Free-to-play match-three puzzler Gems of War is a serious contender in the Xbox games with most achievements space. We tend not to take match-three games seriously, but this one is surprisingly fun, combining RPG-style combat with bubble matching. It's hard many updates since it first launched in 2015, and so has amassed a lot of extra achievements, now totalling 3,660 Gamerscore. Since it's free, there's nothing stopping you jumping in and earning a few achievements.
16. Dead by Daylight
Gamerscore available: 3,680 points
If you're a fan of asymmetric multiplayer games, chances are you'll have played – or at least heard of – Dead by Daylight. They don't come much better than this. With one player taking on the role of a killer, and others playing survivors, you've either got to hunt players down, or escape from the killer and survive. It's a lot of fun – particularly when you add the massive number of licensed DLCs that Dead by Daylight has had over the years. Think Silent Hill, Nightmare on Elm Street, Saw, Evil Dead and more. Each one brings its own achievements to the game, and there's now a whopping 3,680 points up for grabs for players.
15. Warframe
Gamerscore available: 3,725 points
Another popular free-to-play game, Warframe is a co-operative third-person shooter. Thrown into a war against different factions, Warframe offers its players up to 3,725 achievement points to collect. For free. Like all free-to-play games, don't expect to get many of the achievements without dedicating a significant amount of time to playing the game. But with a strong community and frequent updates, despite its age, Warframe is still worth putting your time into.
14. theHunter: Call of the Wild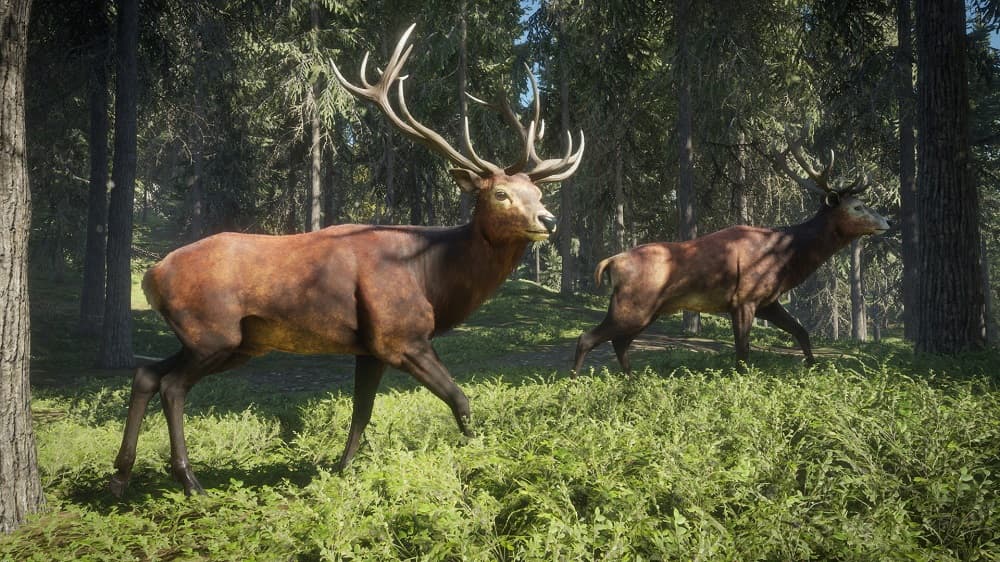 Gamerscore available: 3,730 points
If you're into hunting simulator games, then theHunter: Call of the Wild is well worth checking out. Even better, it packs in a tonne of achievement points: 3,730 to be exact. You'll need a few paid DLC packs to be able to unlock all the achievements, though.
theHunter: Call of the Wild sees you traverse luscious environments, stalking wildlife and hunting them. You'll need to use all your skills and equipment in order to become the best hunter there is; give your position away, and the animals will flee, leaving you going home empty-handed.
13. Sea of Thieves
Gamerscore available: 3,800 points
Xbox keeps supporting its first-party multiplayer pirate adventure, Sea of Thieves, and as a result it's had a lot of updates and expansions. Each new update brings new achievements to earn, and it now has a total of 3,800 Gamerscore points to be earned. Not to be sniffed at. Particularly when being a captain of your own pirate ship, on the hunt for treasure, is a lot of fun.
Sea of Thieves is also available to play on Game Pass – along with a number of other games on this list of Xbox games with the most achievements – so you can try it out (and bag some Gamerscore) at no extra cost.
12. Elite: Dangerous
Gamerscore available: 3,810 points
From being out at sea to deep in space now: Elite: Dangerous is a huge open world adventure that sees you pilot your own space ship. Although first released way back in 2015, it's been expanded and updated regularly since then. Each update brings with it a sprinking of new achievements, and there's now a total of 225 to be earned. That adds up to an eye-watering 3,810 points. But you'll have to travel across the whole galaxy to earn them all.
11. Bioshock: The Collection
Gamerscore available: 3,905 points
Comprising all three Bioshock games and all their DLCs in one handy package, Bioshock: The Collection contains a sizeable 3,905 achievement points. It's a random number, but it's not to be sniffed at. Bioshock offers up 1,200 points, Bioshock 2 has 1,035 and Bioshock Infinite has an impressive 1,670.
The Bioshock games are still considered to be some of the best first person shooter games out there, despite the first now being 11 years old(!). The Xbox One collection is certainly the best way to play the games, and the captivating story and freaky imagery is just as enjoyable today as it ever was. The fact that this is one of the Xbox games with the most achievements is nothing but a welcome bonus.
10. Gears of War 4
Gamerscore available: 4,000 points
Yeah, 4,000 points in a single game – we had to double check too. Although Gears of War 4 did have a paid season pass, all of the achievements tied to each pack of DLC are attainable without any additional purchases. That's a lot of points.
Those achievements are spread out over single player and multiplayer, so if you want to get the maximum amount of achievements, you'll have to dip into both modes. But no matter your preference, all modes offer plenty of fun. And since the game is available on Xbox Game Pass if you're a member, there's no reason not to dip in.
9. Hasbro Family Fun Pack
Gamerscore available: 4,000 points
Containing Boggle (or Scrabble in America), Trivial Pursuit Live, Monopoly Plus and RISK, Hasbro Family Fun Pack has something for everyone. Even more so for achievement hunters: as each game launches as its own title, each has a full 1,000 point achievement list adding up to a mega 4,000 achievement points.
You'll easily grab 1,000 points in an hour or two on Monopoly, but the other titles may take a bit more of your time. Still, these classic board games are great fun for all ages, so playing through to unlock more achievements isn't exactly an arduous task. Well, unless you hate board games. Then, er, don't bother.
8. The Walking Dead Collection
Gamerscore available: 4,000 points
Telltale games have long since been lauded as some of the easiest titles to rack up a lot of points on. Most of them simply require you to complete the games before being rewarded with a full list of achievements. But that's only part of why we love them. With excellent stories and unforgettable characters, the interactive adventures offer up many reasons to play.
The Walking Dead Collection contains all three mainline Walking Dead games as well as the Michonne miniseries. Each game has 1,000 achievement points each, mounting up to 4,000 points in total. And since each game is still available separately in its original form, if you feel like playing them through twice, you can get even more easy achievements on Xbox.
7. Kingdom Hearts HD 1.5 + 2.5 Remix
Gamerscore available: 4,000 points
Combining the first two mainline Kingdom Hearts games and several spin-off titles, Kingdom Hearts HD 1.5 + 2.5 Remix packs in a whopping 4,000 points. If you're a fan of the Disney-meets-Final Fantasy RPG series and a fan of achievements, buying the collection is a no-brainer.
The points are distributed evenly between the games, and as you'd expect, some are much easier to obtain than others. Many you'll unlock simply by playing through each title, but for some you'll need to beat the games on certain difficulties, or achieve 100% completion. Get ready to sink some long hours in – but they're great games, worth your time.
6. Smite
Gamerscore available: 4,657 points
It seems free-to-play games like to throw endless achievements at their players. MOBA Smite is no different, offering a grand total of 4,657 points to Xbox players thanks to continued support and additions made to the game. In an Overwatch and Fortnite-saturated world, Smite might not be as popular as it once was, but it's still very much alive, with its own eSports scene. If you enjoy battling others online in an arena setting, it's certainly worth giving a go.
5. Killer Instinct: Definitive Edition
Gamerscore available: 4,935 points
If you're into fighting games and are an Xbox player, chances are you'll have Killer Instinct in your collection in some form. New seasons have been released for the game over time, with plenty of new characters added to the roster. Thankfully, there's been a Definitive Edition released which includes everything. And in that everything is a whopping 4,935 achievement points.
Killer Instinct: Definitive Edition contains 26 characters from seasons one, two and three, along with Killer Instinct Classic 1 and 2. There are online modes, cinematic story modes and an extensive tutorial mode, so no matter how you prefer to play there's plenty to sink your fisticuffs into.
4. Train Sim World 2
Gamerscore available: 5,220 points
Thanks to a shedload of DLC, the long-running Train Sim World 2 has a massive 5,220 points available to collect on Xbox. They're spread over an eye-watering 431 achievements. Don't expect them to be easy to obtain, either; this is a serious sim about building and managing your own, real-world rail networks. So be prepared to put in the man-hours to earn that Gamerscore.
3. The Elder Scrolls Online
Gamerscore available: 5,660 points
Providing you're playing the most up-to-date version of The Elder Scrolls Online with all the latest DLC, there's a whopping 5,660 achievement points waiting to be unlocked. There's a lot of content to tread through to get all those points, though, but if you're up for a challenge and a huge online RPG to sink your teeth into, it doesn't get much better than this.
You can play The Elder Scrolls Online by yourself if you wish, but it's much better if you have online friends to buddy up with. Exploring the legendary landscapes of Tamriel is much more rewarding with company by your side.
2. Halo Master Chief Collection
Gamerscore available: 7,000 points
Ah, Halo. The Xbox staple first person shooter. What's not to love? Especially when it's throwing seven thousand points at you. 7,000! Yup, the Master Chief Collection, containing gorgeously remastered versions of Halo, Halo 2, Halo 3 and Halo 4, has 700 achievements to unlock, earning it a high place on our list of Xbox games with the most achievements.
Even if you're not a fan of Halo, it's still worth checking out the collection, which can be picked up for as little as £20. If you value your Gamerscore, that's some bloody good return on your investment.
1. Rare Replay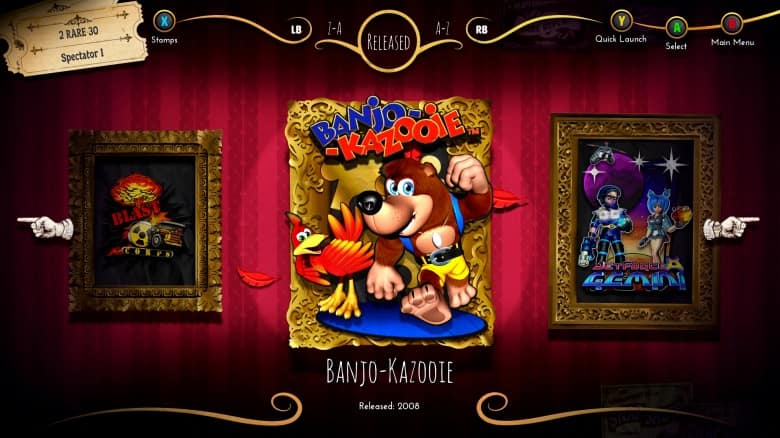 Gamerscore available: 10,000 points
Yes you did read that right, and no, it's not a typo: Rare Replay yields an incredible 10,000 achievement points to bulk up your gamerscore with. Well, sort of. The disc itself will grant you 4,000 points, but it also includes a bunch of Xbox 360 games with their own trophy lists of 1,000 points each. Technically there are less points on offer if you already played some of the Xbox 360 titles, but this is still a collection not to be sniffed at.
Containing 30 games from Rare's back catalogue, from the retro Battletoads to everybody's favourite Conkers' Bad Fur Day and the more recent Viva Pinata, Rare Replay is perhaps the best value collection we've ever seen, and having the most achievements of all Xbox games only sweetens that deal even more.
Bonus Games With The Most Gamerscore
All of the above games have more Gamerscore points than usual because of either DLC or the fact they're collections of multiple games in one. But a recent trend amongst low-priced indie games is to artificially inflate the amount of achievements available in a game. A handful of developers seem to have found a loophole in Xbox that allows them to have way more than 1,000 points in a single game.
While none of these games are worth us talking about individually, we've listed them below to help your hunt for the games with the most achievements and/or Gamerscore. We can't comment on whether any of them will actually be fun to play; we presume they exist solely to boost your Gamerscore.
2 Synchro Hedgehogs – 3,000 points (Xitilon/Grin Robot)
50 Years – 5,000 points (Aleksandr Golovkin/Xitilon)
Blind Postman – 3,000 points (DillyFrameGames)
Bullet Beat – 5,000 points (Ternox/Xitilon)
Bunny Factory – 3,000 points (DillyFrameGames)
Bunny Parking – 3,000 points (DillyFrameGames)
Butterfly – 4,000 points (Xitilon/Grin Robot)
Butterfly 2 – 3,000 points (Xitilon/Grin Robot)
Castle of No Escape – 4,000 points (D. E. X Team/Xitilon)
Castle of No Escape 2 – 5,000 points (D. E. X Team/Xitilon)
Colorful Colore – 3,000 points (Gagonfe/Phoenix Reborn Games)
Cruz Brothers – 4,000 points (DCF Studios)
Dark Grim Mariupolis – 4,000 points (Team Mariupolis/Xitilon)
Drawngeon: Dungeons of Ink and Paper – 5,000 points (DarkDes Labs)
Flaskoman – 3,000 points (Flying Islands Team)
Kick It, Bunny – 4,000 points (DillyFrameGames)
My Maite – 3,000 points (Urantia Games/Phoenix Reborn Games)
Mushroom Savior – 3,000 points (Flying Islands Team)
Nexoria: Dungeon Rogue Heroes – 5,000 points (Ternox)
ReactorX – 5,000 points (Lovixsama/Xitilon)
Sig.Null – 4,000 points (Half-Face Games)
Smart Moves – 5,000 points (Xitilon/Grin Robot)
Smart Moves 2 – 3,000 points (Xitilon/Grin Robot)
Sokobunny – 4,000 points (DillyFrameGames)
Synchro Hedgehogs – 3,000 points (Xitilon/Grin Robot)
Vzerthos: The Heir of Thunder – 3,000 points (DarkDes Labs)