Since Sony launched its new, tiered system of PlayStation Plus, we've been making our way through the catalogue to see what treasures it holds.
When looking through PS Plus Extra's game catalogue, it's easy to be distracted by the big, flashy titles. Ghost of Tsushima, Death Stranding, Returnal and Stray are all brilliant games, but look closer, a little deeper – even waaaay down at the bottom of the hundreds-strong list – and you'll find some real hidden gems. Not so much diamonds in the rough as diamonds in a stack of diamonds.
From mini golf to motocross, strategy to slapstick, we've compiled 10 of the best hidden games on PS Plus Extra for your consideration. If you've got a subscription, give them a download: you might just find your new favourite game.
Need PS Plus? Consider using our affiliate link to grab a discounted subscription. It won't cost you anything extra, but we'll get a small slice of the retailer's profits. Your support means a lot!
More PS Plus Extra content that you might like:
1. Outer Wilds
Outer Wilds, a time-looping puzzler from Mobius Digital and Annapurna, launched back in 2019. Not to be confused with Obsidian's The Outer Worlds, this is a finely-crafted and very well-received indie that sees players snooping around an untamed solar system in a rickety rocket ship. You'll find yourself entrenched in an enchanting mystery, with plenty of little details to keep you hooked on exploration. This rewarding exploration keeps you hooked, with a sense of real joy the prize for sniffing out each carefully crafted encounter. There's even a hidden Terminator reference, for those of us old enough to have seen T2.
Read our review of Outer Wilds
2. Dangerous Golf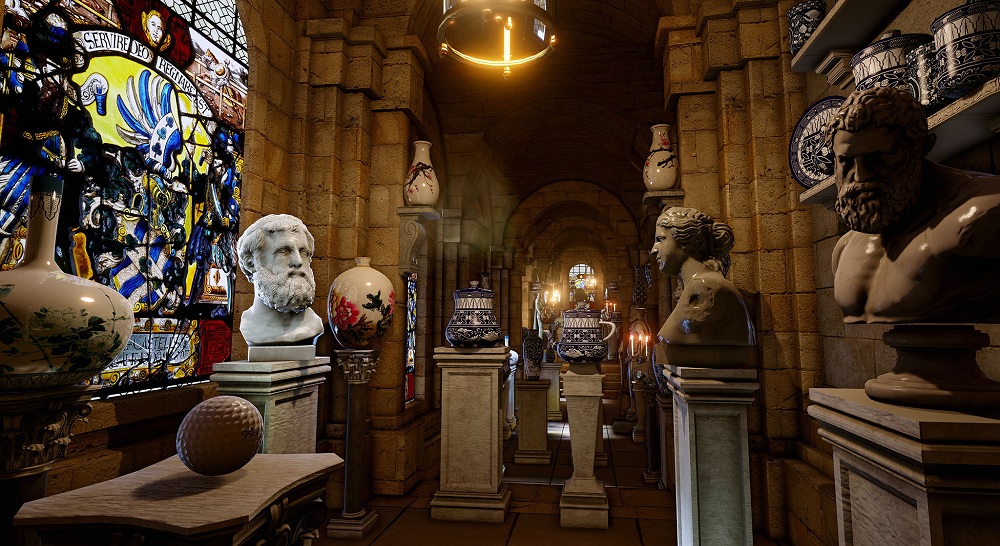 It's impossible to talk about Dangerous Golf without drawing comparisons to one of gaming's all-time best series: Burnout. Specifically, those peak-Burnout Crash Junctions, where you'd slam your car into a busy intersection or traffic jam and just cause as much carnage as possible. That's a good reason for that: its developer, Three Fields Entertainment, is made up of ex-Burnout developers. Except here, cars have been left behind, and instead, you're causing damage with a golf ball.
In Dangerous Golf, you tee off into the most valuable items you can find (think glassware, fancy bottles of champagne and Ming vases). The goal is to cause as much damage as possible – you'll want to aim for chain-reactions to really rack up the points. You can play by yourself, but it's in multiplayer and party mode is where this really shines. It's a little long in the tooth now, but there's a lot of fun to be had here, making it well worth a spot on our list of hidden gems on PS Plus Extra.
Read our review of Dangerous Golf
3. Surviving Mars
And now for something completely different. A deeply layered experience, Surviving Mars is a Sim City-style world builder, with a unique, red planet-y twist. Be sure to build oxygen generators and meteoroid defence systems, otherwise a strike will leak your precious O2 out into the void, along with the souls of all your brave explorers. Forgotten to fuel up your rover? That's an expensive write-off, unless you choose to mount a daring recovery.
Starting out, there are several different factions to choose from, each offering different goals, funds and abilities – and you can choose (or randomise) a mystery each time you play. From long lost missions to contact with alien civilizations, there's a good variety of stories to experience in Surviving Mars, with each one requiring a different resolution and therefore a different management style, often forcing you out of your comfort zone. In an admittedly small pool of applicants, this is easily one of the best interplanetary terraforming and colonisation by city-building strategy games out there.
4. Human Fall Flat
Perhaps best simplified as "if Gang Beasts had a campaign mode", Human Fall Flat is a nonsense game which sees rubbery, loosely-controlled beings asked to do simple tasks, like raise or lower a bridge, open a door, move a step. Tackle each level either alone or with a friend in online co-op and help each other struggle across the self-contained levels as you figure out how to climb, jump or fall to and through the exit. If zany games filled with clumsy fun are your cup of tea, then Human Fall Flat is undoubtedly one of the best hidden games on PS Plus for you.
Read our review of Human: Fall Flat Review
5. This Is The Police (1 and 2)
This is the Police and its equally impressive sequel are perhaps the most "indie" titles on this list of hidden gems on PS Plus. But make no mistake, their 2D worlds will enthral you just as deeply as any other. You take the mantle of Police Commissioner Jack Boyd (voiced by Jon St. Jon, better known as Duke Nukem). With equal parts strategy and RPG, you need to choose your officers for each shift very carefully. Have the best officers work too often and they'll become fatigued and sloppy. Replace them with the new kids and the lack of experience will show through when innocent people get shot and criminals get away. It's a constant tightrope act, which will sometimes require Boyd's direct intervention, whether helping solve crimes or actively attending the myriad of jobs coming in.
Read our review of This Is The Police | Read our review of This Is The Police 2
6. Trials Rising
Since the early days of online Flash games, tilting a motocross bike along tracks of increasing difficulty has been big business. Now, with Trials Rising, that means big budget, too, as we're treated to the pinnacle of the genre. Beautiful visuals, big, well thought out levels and tight, responsive controls make this easily the best, most enjoyable Trials title yet.
It's challenging, but Trials Rising does a grand job of avoiding frustrating difficulty spikes by ramping up at a more gradual pace, and each new element is carefully introduced as you go. As always, there are a huge number of levels and environments to enjoy alone, with friends in co-op, or in larger online multiplayer lobbies. Trust us: once you get started in Trials Rising, you'll not be able to stop.
Read our review of Trials Rising
7. Prison Architect
The oldest title on our list of hidden gems on PS Plus Extra, Prison Architect released way back in 2015. But thanks to regular updates and new content, it's just as good now as it ever was. Overseeing your very own prison, you can choose your management style. Will you be fair, frugal and friendly, or will you rule with an iron fist? Whether you offer your inmates a comfortable life or you authorise executions without a second thought, Prison Architect lets you do it all.
You'll oversee the whole process from new arrivals arriving to rehabilitated members of society leaving and everything in between. Choose how to lay out, manage and keep control of your facility, with a variety of guards and prisoners to match together. Keep on top with CCTV cameras, guard dogs and patrol routes and ensure kitchen and laundry services are running effectively, or you'll end up with escapees and riots.
Read our review of Prison Architect
8. Golf With Your Friends
Fancy a round of golf, but you're too scared to try Dangerous Golf? How about a relaxing game of mini golf instead? The simply titled Golf With Your Friends has you covered with a tremendous variety of courses. There are boost tiles, pop-up hazards and plenty more to negotiate and the assortment of obstacles and environments keep things interesting as you knock the ball around. There's only so much you can say about mini golf so we'll summarise thusly: go play it!
Read our review of Golf With Your Friends
9. Moving Out
Moving Out isn't exactly original. It takes a couch co-op formula replicated by many games like Overcooked and Totally Reliable Delivery Service and gives it a house-moving twist. But if you are in the market for a frenetic multiplayer game, Moving Out is one of the best.
It boasts an easy pick-up-and-play vibe thanks to its short and snappy levels. There are various medals on offer for completing different objectives, which helps keep things fresh. Whether you're carrying a TV with one hand or tossing a bed out of a window, shenanigans are frequently hilarious and always a blast. You can play alone, but naturally, Moving Out is more fun with other people on board too.
10. Tetris Effect Connected
Last but not least, hidden right at the very bottom of the PS Plus Extra games catalogue, comes Tetris Effect. Tetris Effect updates the decades-old formula by not just bringing it to the present day, but by catapulting it into the future. Every frame of the game makes the most of the particle effects not possible until the dawn of recent technology. And with dozens of visualisation types to choose from – not to mention its pumping, reactive soundtrack – Tetris Effect is like taking a break in a sensory room for the soul. Add in various co-op and multiplayer modes, and you have Tetris like you've never seen before.