While the genre was at its peak in the 1990s, there are still plenty of excellent point and click games made today.
Some adventure games are heavily inspired by the point and click genre – like Telltale's The Walking Dead series, for example. There might not be much literal pointing and clicking, but the games' approach to puzzle solving is very much based on the genre's roots. But in this list of best point and click games on PS4, we've tried to focus on the games that have a more traditional view of the genre.
Point and click games on PS4 take a number of shapes and sizes. We're lucky to have some excellent remasters of LucasArts classics, and there are plenty that have been directly inspired by those games, too. But if you enjoy an excellent narrative adventure and like to solve puzzles by scouring around environments, this is the list for you. Read on to see our picks of the best point and click games on PS4.
Want to support GameSpew? If you decide to buy any of the games on this list, please consider using our Amazon affiliate links, included below each entry. It won't cost you anything extra, but we'll get a small slice of the purchase. Thank you.
1. The Book of Unwritten Tales 2
Beautiful, captivating, and hilarious. Those are just a few words which can be used to describe the classic point and click adventure The Book of Unwritten Tales 2. Unfortunately its predecessor was only ever released on PC, but this perfectly standalone sequel is without a doubt one of the best point and click games on PS4.
With around 20 hours of solid gameplay spanning across several locations, each as fascinating as the next, The Book of Unwritten Tales 2 is a tale of magic and mystery, and is the closest to the classic 90's point and click adventures as we're ever going to get. King Art Games has done a stand-up job of bringing a magical world to life: it's packed with wizards, princes and elf princesses as believable as any human being. Filled with puzzles and humour from start to finish, there's so much to love here. It should be an essential title for any point and click adventure fan.
Read our review of The Book of Unwritten Tales 2
Check latest prices of The Book of Unwritten Tales 2
2. Broken Age
Considering it was founded by ex-LucasArts designed Tim Schafer, it's no wonder that studio Double Fine has become synonymous with excellent modern point and click games. One of the best is 2014's Broken Age.
Telling two initially separate stories – of Vella, a beautiful tropical island dweller, and Shay, a young boy who's lived his life on a spaceship – Broken Age puts you in the shoes of both of them, as they each have their own struggles to work through. Broken Age's art style is second to none, but it's the characters and locations that bring the game to life.
As with any discerning point and click game, some of the puzzles are a little on the obtuse side, but don't let that put you off diving into this glorious adventure. It's one of the best examples of the genre in recent years, and is undoubtedly one of the best point and click games on PS4.
Check latest prices of Broken Age
3. Broken Sword 5: The Serpent's Curse
We can't have a list of the best point and click games on PS4 without including Broken Sword. The series has been a genre staple since it began back in 1996, with the release of the ground-breaking Shadow of the Templars. In Broken Sword 5, the unforgettable duo George Stobbart and Nico Collard are back with yet another deep-seated mystery to get themselves involved with. It's as captivating and engaging as ever. And like every other Broken Sword game before it, it's George and Nico that make this game. George's innate Americanisms contrast beautifully against Nico's sarcastic French demeanour.
It's impossible not to get completely engulfed into their relationship and the story that plays out on screen. So The Serpent's Curse might not be quite as memorable as the classics from the 90s, but for any Broken Sword fan, it's a no-brainer to check this one out.
Read our review of Broken Sword 5: The Serpent's Curse
Check latest prices of Broken Sword 5 
4. Guard Duty
Developed by small indie studio Sick Chicken, Guard Duty is a fine example of a 90s point and click adventure game. Except it wasn't made in the 90s: it was made in 2019. Only the game's excellently on-point humour sets it firmly in the present day.
In it, you play as hapless guard Tondbert. He's got one very simple job: to guard the gates of his hometown of Wrinklewood. Sadly, he's not very good at that: after getting drunk on the job, he accidentally let a mysterious stranger into town. When he comes to, he realises his uniform is gone, but that's far from the biggest tragedy he'll have to deal with: the kingdom's princess has gone missing. Uh-oh.
Guard Duty's irreverent humour, wonderful pixelated graphics and excellent writing set it apart from the crowd. Fans of the likes of Discworld will get a kick out of this one. If you grew up with the genre in the 90s, you'll feel right at home here. It's one of the best point and click games on PS4.
5. Grim Fandango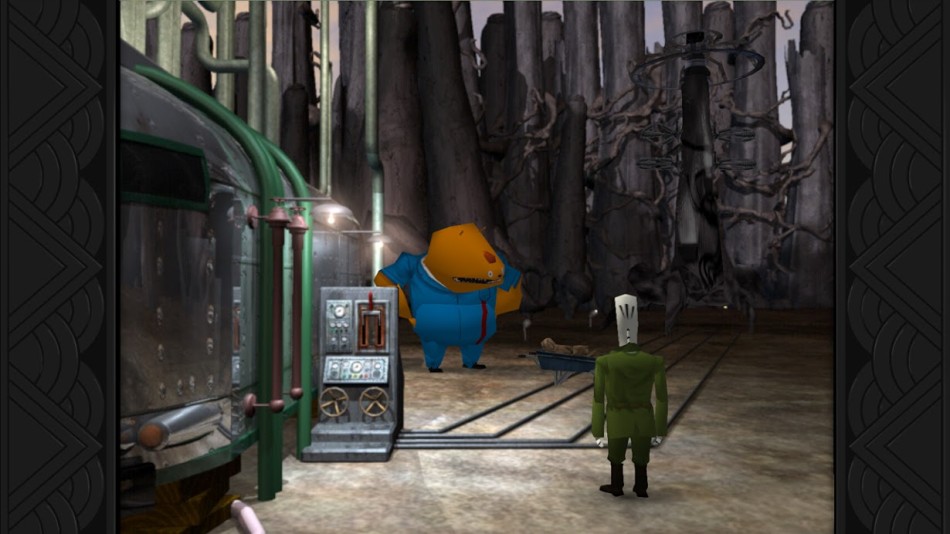 Originally brought to us on PC in 1998, Grim Fandango has since been remastered and ported to PlayStation 4. It may be over 20 years old now, but it's still just as delightful as the first time we played it – even if the visuals are a little rough around the edges.
In Grim Fandango, you take on the role of Manny, a grim reaper working for the Department of Death. It's his job to sell recently departed souls their ticket to the afterlife; he's a travel agent, basically. But after discovering his bosses may have been tampering with the system, denying the luxurious 'Number Nine' ticket to those who deserve it, Manny decides to take matters into his own hands. With the assistance of his meaty friend Glottis, he sets out on an adventure that you won't forget in a hurry.
Puzzles are at the forefront of Manny's journey – and although they can be tricky at times, the fantastic characters, witty dialogue and original locations keep you wanting to come back for more. No matter how many times we've played it in the last 20 years, we'll always come back for more. Not only is Grim Fandango one of the best point and click games on PS4, it's one of the best games of all time.
Read our review of Grim Fandango
6. Darkestville Castle
The Curse of Monkey Island may not be available on PS4, but that doesn't matter; the next best thing is. Well, sort of. Darkestville Castle, a point and click adventure game that casts you as lovable (yet formidable) Cid, replaces pirates for demons, but it wears its Monkey Island influence proudly on its sleeve.
The demonic Cid may like to torture his townsfolk in his spare time, but he's a lot of fun to control. His dialogue will keep you chuckling from start to finish, as will every one of the game's excellently-voiced characters. You'll be solving a lot of puzzles in Darkestville Castle, ranging from the straightforward to the obscure. But even when you're scratching your head you'll be having a good time doing so. In other words, it's hard not to fall in love with the game's beautiful visuals and well-realised world.
Read our review of Darkestville Castle
7. The Inner World
Telling the story of clueless Robert who somehow ends up on a mission to save the world, The Inner World is a wonderful example of one of the best point and click games on PS4. Set in a strange land called Asposia, an unknown evil has started turning people to stone left, right and centre. It's up to Robert, and his more knowledgeable companion Laura to figure out what's causing it and bring normality back to Asposia. To do so, Robert needs to fix the Wind fountains that supply air to the world. And as you can imagine, it's no easy task.
The Inner World isn't the longest point and click game; you'll likely complete it in around six hours. But every one of those hours will have you glued to your screen, thanks to the game's charming visuals, wonderful soundtrack and captivating story.
Read our review of The Inner World
Check latest prices of The Inner World 
8. Ken Follett's The Pillars of the Earth
The Pillars of the Earth might not be as jam-packed full of puzzles and action as some of the more traditional games on this list, but it's a worthy contender that deserves its place among the best point and click games on PS4.
Telling several concurrent stories that centre around the building of a monastery in medieval England, The Pillars of the Earth focuses on three main characters. Philip the Monk is concerned with shady goings-on between leaders in his monastery. Tom Builder has just lost his wife and his home, and is trying to survive a harsh winter with his children. And Jack, growing up in the forest with his mother, has a lot of questions about the rest of the world.
The characters are incredibly well-written and while the subject matter may not seem as interesting or as fantastical as other games in the genre, it'll grip you from start to finish thanks to its brilliantly crafted world.
Read our review of Ken Follett's The Pillars of the Earth
Check latest prices of The Pillars of the Earth
9. The Little Acre
The Little Acre may be a fairly short game, but it's one well worth experiencing. Following Aidan and his young daughter Lily, it's an adventure that'll have you interacting with strange contraptions and travelling from rural Ireland to mysterious new locations in order to find Aidan's father, Arthur. It's a true homage to point and click games of the 90s, with plenty of puzzles to find, items to collect and an engaging story to boot.
If its wonderful story isn't enough to grab you though, maybe The Little Acre's beautiful, Disney-like animations will. It's simply a joy to look at; every scene in the game is brought to life with so much love and care. The game only takes three or four hours to complete, but you'll struggle to put it down. Without a doubt, it's one of the best point and click games on PS4.
Read our review of The Little Acre
10. The Raven Remastered
If crime thrillers are your thing, then you should definitely acquaint yourself with The Raven Remastered. Developed by King Art Games, The Raven Remastered casts you as Anton Jakob Zellner, a middle-aged Swiss police constable who's out to prove himself. Finding yourself on a case spearheaded by the young and popular inspector Legrand, you must seek out evidence and converse with those around you, uncovering clues as to whether the world famous thief called Raven is back on the scene again. The mysterious thing, however, is that it is believed that inspector Legrand shot him dead years ago.
So begins a mystery that will have you searching beautiful environments, interacting with interesting characters and trying to figure out what on earth is going on. It's a must for any fan of point and click games; if its puzzles don't grab you, its excellent narrative certainly will.
Read our review of The Raven Remastered
Check latest prices of The Raven Remastered
11. Thimbleweed Park
Written and designed by Ron Gilbert and Gary Winnick, Thimbleweed Park was always destined to be a winner. The pair pretty much created the point and click genre with their 1987 game Maniac Mansion, after all. And it was Ron Gilbert who delivered us the classic The Secret of Monkey Island.
Unsurprisingly, Thimbleweed Park doesn't try to do anything to break the classic point and click mould. This is a game made to please fans of the genre, and please it does. It has puzzles – bucketloads of them in fact – as well as an entertaining story. Not to mention that it's absolutely packed full of jokes. Some of them may not always hit the mark, but Thimbleweed Park will definitely have you guffawing. If you're a PS4 owner and a fan of point and click games, Thimbleweed Park is essential.
Read our review of Thimbleweed Park
Buy Thimbleweed Park on Amazon
12. Yesterday Origins
Yesterday Origins takes classic tropes of point and click games and mixes them up in new and exciting ways. It's a welcome addition to the ever-growing roster of adventure titles on PlayStation 4.
Its gorgeous hand-drawn art style sets the tone for a dark and fascinating adventure. It's also laden with challenging puzzles to chew over, a wealth of worldly locations and an intriguing story. The level of detail in the history of the game is to be applauded, too. A massive amount of research has gone into its historic Spanish settings and the use of real Latin passages. There's a great deal to get immersed in for any long-time point and click fan.
Read our review of Yesterday Origins