The Monster Hunter series is brilliant, and Monster Hunter: World is undoubtedly the best of the bunch.
It's been out for quite a while now though, and while its Iceborne expansion adds some longevity, if you've been playing it since day one you might be possibly growing tired of it. The good news is, however, that there are some other games on PS4 that offer a similar experience to Monster Hunter but are also fun in their own way.
We've put together a short list of games that should appeal to you if you love Monster Hunter. Some of them are directly inspired by Capcom's much-loved series, while others just share gameplay elements. Either way, they're a hell of a lot of fun to play.
Want to support GameSpew? If you want to purchase any of the games featured in this list, consider doing so by clicking our included Amazon affiliate links. It won't cost you anything extra, but we'll get a small slice of the purchase.
1. Dauntless
Developed by Phoenix Labs, Dauntless takes the Monster Hunter format and streamlines it somewhat. Thanks to its smaller environments you'll spend less time foraging and more time actually in combat, keeping you entertained as you battle a wide variety of monstrous creatures.
Free-to-play, Dauntless is a great game to play with friends. Just download it, sign in with your Epic account and off you go. Of course, there are lots of things you can spend money on if you like, including seasonal Hunt Passes, but you don't have to buy anything to have a good time with Dauntless. Give it a try and see for yourself, it's probably the best game like Monster Hunter available on PS4 at this time.
2. Toukiden 2
If you love Monster Hunter, you'll definitely love Toukiden 2. It has the same gameplay loop of battling gargantuan monsters, breaking their parts, and then using the materials you've gathered to upgrade your equipment. The monsters are more fantastical in Toukiden 2, though, allowing for more outlandish designs.
The thing that really lets Toukiden 2 down, like its predecessor, is that its story mode has to be played in single player. If you want to play the game in co-op, you'll be stuck completing a range of missions that won't advance you through the game. Still, it's worth playing if that's not an issue for you. Toukiden: Kiwami, an enhanced version of the original game, is also available on PS4 if find yourself wanting more.
Check the price of Toukiden 2 on Amazon
3. God Eater 3
If you like your monster slaying to be a little more anime-inspired, give God Eater 3 a try. Once again, God Eater 3 is a game all about defeating gargantuan beasts and then using the materials you've acquired to develop your character. Power yourself up and you'll be able to partake in even more challenging battles.
God Eater 3 has full co-op support, so you can play it online with a friend if you like. It's also very enjoyable solo though, so if no one is willing to play it with you don't let it put you off. It's a sizeable game, too, so it will keep you occupied for quite a while. And if you like it, the original God Eater and its sequel are also available on PS4.
Read our review of God Eater 3
Check the price of God Eater 3 on Amazon
4. Dark Souls: Remastered
The core gameplay of Monster Hunter has a lot in common with Dark Souls. While the Monster Hunter games surely aren't as hard as the Dark Souls series, their fights have similar mechanics: observe the enemy, spot openings, and then move in to cause some damage. Factor in elements and status ailments, and it's not hard to see that those who like the challenge that the Monster Hunter games provide will also probably love Dark Souls if they haven't already given it a chance.
Get stuck on a boss in Dark Souls Remastered and you can invite someone in to help you if you like. PvP is also a possibility. And once you're done with Dark Souls Remastered why not pick up Dark Souls 2 or 3 if you enjoyed it? Also consider giving Bloodborne a try, and Code Vein. They're not all that different from Monster Hunter really.
Read our review of Dark Souls Remastered
Check the price of Dark Souls Remastered on Amazon
5. Dragon's Dogma: Dark Arisen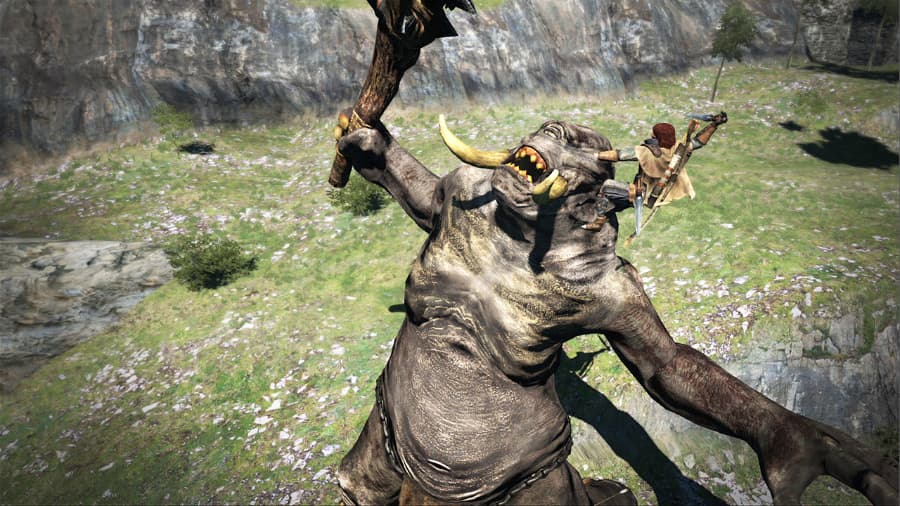 Is it that surprising that a game developed by Capcom has many similarities to another game developed by Capcom? Dragon's Dogma: Dark Arisen is like an open world Monster Hunter game really. You get to go around completing quests, and while the majority of the enemies you face will be human or small in stature, every once in a while you face off a monstrous creature that requires more effort to take down.
While Dragon's Dogma: Dark Arisen is a single player game, the pawn system means you can have backup if you need it, which you probably will. Definitely consider picking it up if you're a fan of Monster Hunter and want to sink your teeth into an epic action RPG.
Read our review of Dragon's Dogma: Dark Arisen
Check the price of Dragon's Dogma: Dark Arisen on Amazon
6. Devil May Cry V
Devil May Cry V is an all-out action game. But again, developed by Capcom, like Monster Hunter, it'll probably appeal to fans of the monster-slaying series.
Featuring truly epic boss fights, Devil May Cry V has all the action of a Monster Hunter game without any of the downtime. It's challenging and fun, keeping you entertained and on your toes, and when playing as Nero you'll find that his arm operates similar to the clutch claw added to Monster Hunter World via its Iceborne expansion. It's surely the game most distant from Monster Hunter on this list, be we think it'll definitely still appeal thanks to its slick gameplay.
Read our review of Devil May Cry V