Love Tetris and need something similar to scratch that block-dropping itch? We've got you covered.
Who doesn't love Tetris? Dating back to the early 1980s, this simple puzzle game about arranging shapes is just as relevant today as it's ever been. With the likes of Tetris Effect and Puyo Puyo vs Tetris, one might argue that it's more popular than ever. We certainly can't get enough of it, anyway.
Thankfully, Tetris isn't the only game out there to offer a simple yet utterly engaging puzzle experience. We've rounded up some of the best games like Tetris on PS4, all offering easy-to-learn but hard-to-master gameplay that we're pretty confident you're not going to be able to put down.
Every game on this list has been played (and loved) by us, and so each and every one of them comes highly recommended. So: if you're looking for something new to play like Tetris, look no further.
1. Tricky Towers
As an elevator pitch, Tricky Towers would be described as "party mode Tetris without walls". It sums it up pretty succinctly, actually. This is basically just Tetris, except you don't have a grid to work with. And it's designed to be played competitively. You see, the joy of Tricky Towers comes in laying your tetronimos in a way that they don't all. That means getting creative with your shapes rather than trying ot make nice, clean lines. You want to build the sturdiest, or the tallest tower possible in order to win. You can play by yourself too if you have no friends over – there is online play, but sadly it's pretty dead. It's a shame too, because this is one of our favourites.
Read our review of Tricky Towers
2. Treasure Stack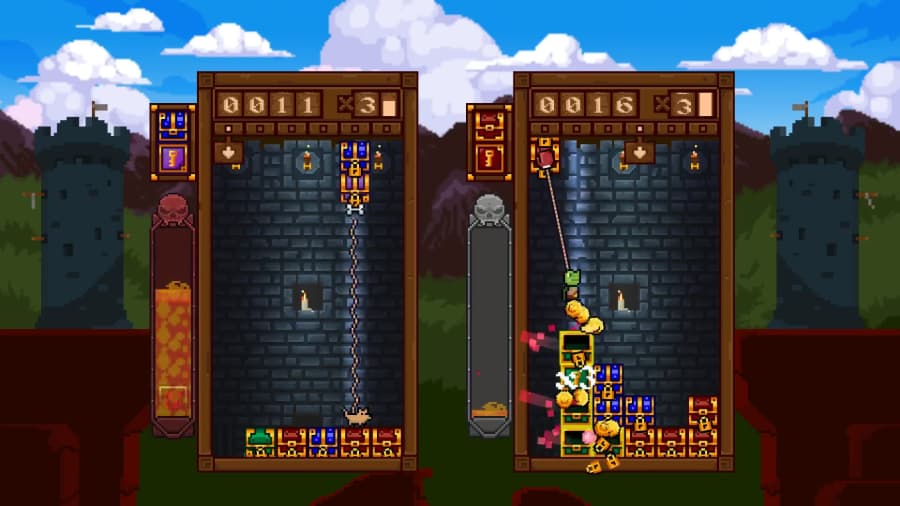 In Treasure Stack, you don't directly take control of the blocks. Instead, you control a character who needs to catch and manage the blocks as they fall. And they're not just any blocks, either: they're treasure chests. It's your job to to successfully group chests of the same colour together before placing a key on or next to them to open them up and make them disappear. Making things harder, however, are the black bricks that drop that prohibit access to the chests already on the screen. It's tough as nails, and like Tricky Towers, it's best when played against another player. If you're looking for the best games like Tetris on PS4, be sure to put this on your list.
Read our review of Treasure Stack
3. Blockchain (in Arcade Paradise)
We're cheating a little bit here. Blockchain isn't actually a game in its own right. It's a game within a game: you'll find it in Arcade Paradise. But it's so damn good that it deserves a place all of its own in this list of best games like Tetris on PS4. We've already racked up so many hours in Arcade Paradise just playing this and can't get enough of it. It's like Tetris, but instead of placing blocks, you're placing numbers. From one to seven, it's you job to arrange them strategically in order to clear rows or columns. Place a seven on top of a row of six numbers – in turn making it become seven numbers high – and you'll clear that seven. It's tricky to get your head around, but once you've figured it out, you won't be able to put it down.
Read our review of Arcade Paradise
4. Lumines Remastered
Want the gameplay of Tetris with the energy of an all-night dance party? Lumines Remastered is your guy. This block-dropping puzzle game tasks you with connecting blocks together in order to form bigger blocks. Match four or more, and they'll merge together, eventually clearing from your screen. Blocks only clear when a line, moving in time to the music, hits them – so you'll always need to work faster than the beat. It's tricky, but a heck of a lot of fun – and the killer soundtrack will keep you coming back for more.
Read our review of Lumines Remastered
5. Tumblestone
Here's another game that's best played with others. Tumblestone feels a little bit like an upside-down Tetris at times, with blocks being fired in from the bottom rather than dropping in from the top. But the goal remains the same: keep clearing blocks as fast as you can. You'll need to match colours rather than make lines, with groups of three disappearing once you've matched them together. You'll need to work fast, clearing them before your opponents in order to win. It's fast-paced and a lot of fun, and well worth your time if you're looking for the best games like Tetris on PS4.