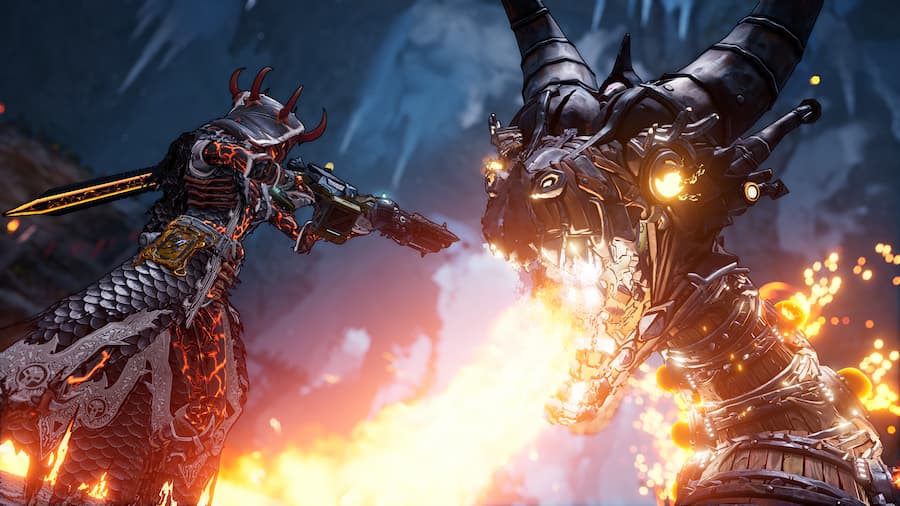 We're not going to lie, we love loot here at GameSpew. And so when it comes to the best loot-based games on Xbox, we've played them all.
If a game has loot, chances are we're going to end up playing the hell out of it. We just can't enough of fun gameplay loops with loot provided as reward for our efforts. As a result, we've spent more time playing loot-based games than we care to think about. But what are the best loot-based games on Xbox, we hear you ask?
Hopefully we can help you with that. We've put together a list of what we believe are ten of the best loot-based games available on Xbox platforms. So, whether you have an Xbox One or Xbox Series X/S, there's something for you here. We've tried to cover a range of loot-based games, too. All of the Borderlands games are good, for example, but the older releases don't really offer anything that the latest doesn't.
So, if you're after loot-based games to play on your Xbox console, read on. Chances are you'll find a new obsession somewhere on this list.
Want to support GameSpew? If you decide to buy any of the games on this list, please consider using our Amazon affiliate links, included below each entry. It won't cost you anything extra, but we'll get a small slice of the purchase.
1. Diablo 3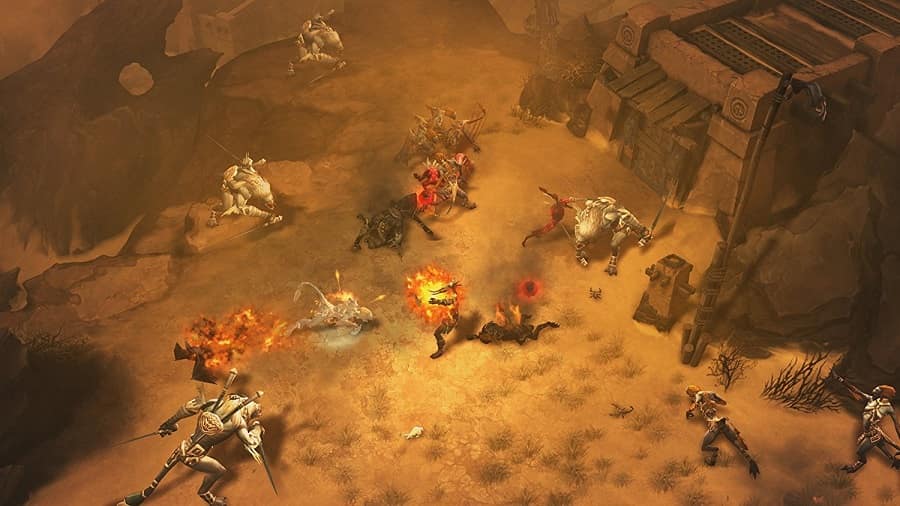 In our opinion, Diablo 3 is the best loot-based game currently available. For most people, anyway.
We've spent thousand of hours slicing demons with swords and casting spells in their direction, and we still go back for more on a regular basis. There's always better loot to be obtained, you see. You can get it by killing enemies, opening chests, completing bounties, crafting, and more. The higher you raise the difficulty, the greater the chances of receiving something epic, too. And there are a lot of difficulties.
Needless to say, if you like loot, Diablo 3 is a must whether you own an Xbox One or Xbox Series X/S. For the best experience, pick up the Eternal Collection which also includes the Necromancer DLC if you can. And get involved with the game's seasons – they're a great excuse to return to it on a regular basis.
2. Tiny Tina's Wonderlands
For its latest game, Gearbox took inspiration from one of its best expansions for Borderlands 2. The result is Tiny Tina's Wonderlands.
A spin-off from the Borderlands series, Tiny Tina's Wonderlands invites you to engage in a game of Bunkers and Badasses. Featuring a largely new cast and a whole new story, this is great fun for Borderlands veterans and newcomers alike, which is why it's made its way onto our list.
Ultimately, this is a Borderlands game through and through. There are a few key changes to make the experience feel fresh, however. There are melee weapons, for example, and grenades are replaced with spells. Perhaps the biggest difference is that there's an actual overworld you can explore, complete with quests to complete and random battles to survive. At the end of the day though, it's the loot-based gameplay here that's the real draw. It's never been better, so if you're after the best loot-based games on Xbox, consider this a must-have.
Read our review of Tiny Tina's Wonderlands
Buy Tiny Tina's Wonderlands on Amazon
3. Outriders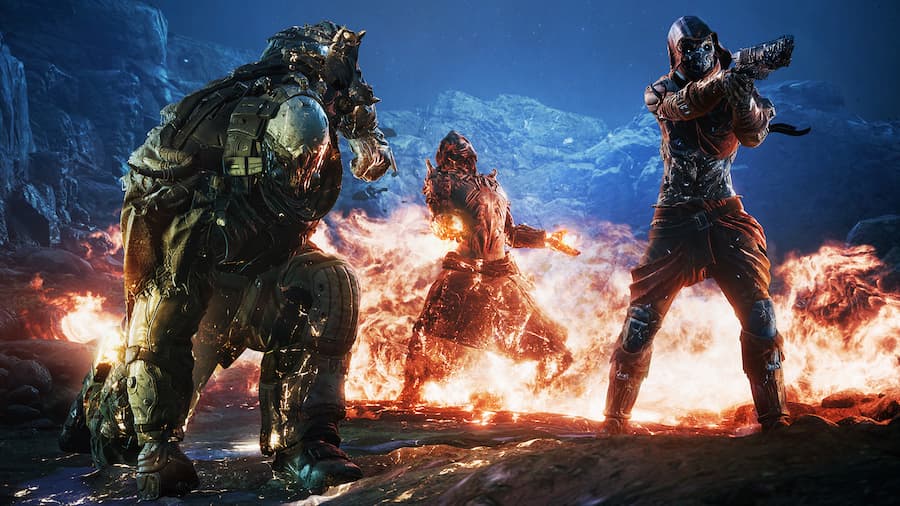 Developed by People Can Fly, Outriders is a looter-shooter that combines Gears of War with Diablo. As a result, it's one of the best loot-based games on Xbox.
After coming into contact with an anomaly on an alien planet, Outriders casts you as an Altered; a being with supernatural abilities. The abilities available to you are dependent on the class that you choose at the start of the game; though thanks to online co-op for up to three players, you won't have to rely on just your own. But that's not to say that Outriders isn't enjoyable when played solo. The truth is, it's a blast however you play.
While it may look like a cover shooter, Outriders demands that you go on the offensive to stay alive. You need to stay on the move, and use abilities that leech the lifeforce from your enemies to stay in the game until the battle is over. Needless to say, how you build your character is very important. That means you'll want to hunt down the best loot and invest your skill points effectively. For the best Outriders experience you should pick it up with its expansion, Worldslayer. Not only does it add an additional campaign, but also a brilliant end game activity and a whole lot more.
4. Diablo 2: Resurrected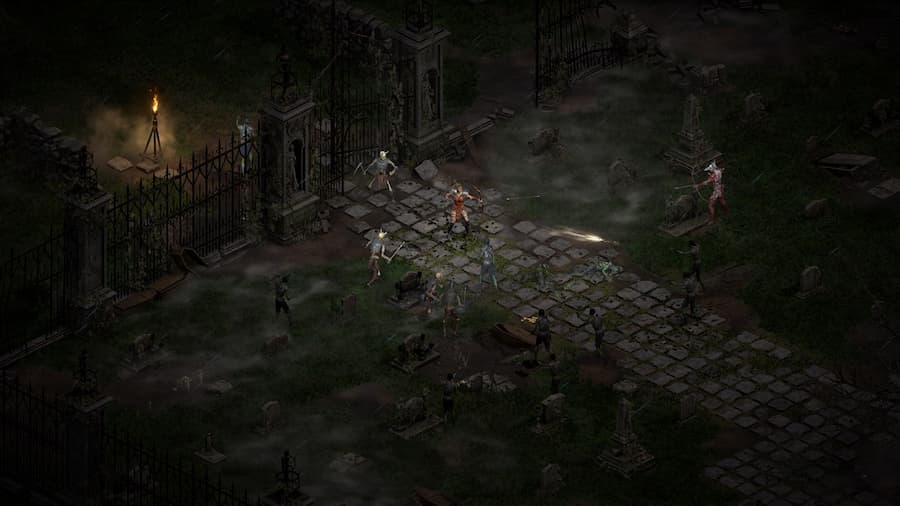 There's already a Diablo game on this list, we hear you say. Why another? The answer is, while it may be over 20 years old, Diablo 2 is still one of the best loot-based games available.
Being darker, tougher, and overall a deeper game, Diablo 2: Resurrected is a very different beast from Diablo 3. While Diablo 3 that lets you easily experiment with new skills and has a wealth of quality of life features, Diablo 2 requires you to think long and hard about the development of your character. Some will like the fact that it's more "hardcore", while newcomers will appreciate that there are now ways to respec your character if you do mess up.
Brilliantly remastered by Vicarious Visions, Diablo 2 is a classic that's now better than ever before. It's still being supported, too. It may be a little bit clunky in numerous ways, but if you're after the best loot-based games on Xbox, it seriously requires your attention.
Read our review of Diablo II: Resurrected
5. The Division 2
It's a strange combination, but military-themed third-person shooter action and loot seemingly work together rather well.
The Division 2 may have a story that seems rather serious, but it doesn't get in the way of providing you with colour-coded loot that makes you feel like a kid at Christmas. The terrorists attacking Washington D.C. can wait, comparing your current assault rifle with the fancy exotic one you've just found takes precedent.
There's so much loot in The Division 2 that you'll be in loot heaven. Armour, mods, weapons, materials – you name it, it's got it. And if you do decide to jump in, you'll be amazed at the amount of content that's now available too. Get drawn into it, and you'll find yourself spending hundreds of hours playing The Division 2. It's one of the best loot-based games on Xbox, no doubt about it.
Read our review of The Division 2
6. Minecraft Dungeons
We like to think of Minecraft Dungeons as a 'My First Diablo' type of game. And we don't mean that disrespectfully.
We simply mean that this is an easy-to-get-to-grips-with take on the dungeon crawling RPG genre. And one which is excellent. The fact that it's something you can play with all the family is simply the cherry on top. Of course, what we're most interested in, though, is how much loot it has. We're pleased to say that Minecraft Dungeons doesn't skimp in this regard. While you can't deck out your character with quite as much gear as other games, you'll find plenty of weapons and armour to equip your character with. And just when you think you've found the perfect item, it won't be long until something better comes along.
Minecraft Dungeons obviously takes Minecraft's voxel art style and places it in a dungeon-crawling game. Even if you don't like Minecraft, though, don't let that put you off. It may have more playful visuals than most, but it's still filled with enemies to kill, dungeons to explore, secrets to find and, most importantly, loot to pick up. It's definitely worthy of its place on our list of best loot-based games on Xbox, that's for sure.
Read our review of Minecraft Dungeons
Buy Minecraft Dungeons on Amazon
7. Grim Dawn
With critics hailing it as the spiritual successor to Diablo 2 you've been waiting for, you know you're onto something good with Grim Dawn.
Developed by Crate Entertainment, Grim Dawn transports players to an apocalyptic fantasy world. If you're familiar with Diablo you know what to expect: quests, monsters, lots of skills, and more importantly, loot. What's perhaps a little unusual about the title, however, is that there are tough choices to be made, and you'll have to live with the consequences of them. Helping rebuild the world won't be easy, then, but there's always the option to share the burden by playing with others in co-op.
It's taken a while for Grim Dawn to make its way to Xbox consoles, but it's been worth the wait. This is an excellent action RPG, and being the definitive edition, all of its three expansions are included as standard. That's a lot of bang for your buck.
8. Stranger of Paradise: Final Fantasy Origin
Who would've thought there'd be a Final Fantasy game on a list of best loot-based games on Xbox? Stranger of Paradise: Final Fantasy Origins is unlike any other Final Fantasy game ever made, however.
Developed by Koei Tecmo's Team Ninja, Stranger of Paradise: Final Fantasy Origin takes the gameplay of Nioh (also a loot-based game worth playing) and tweaks it into something new. While on its default difficulty the action is brutal at times, there's a story difficulty setting for those who want a more laid-back experience, and some harder settings for those who like to be truly tested.
Ultimately though, this is an action RPG where having the best loot is the key to success. Though what you can wear is hugely dependent on your job, of which there are many to choose from in Stranger of Paradise: Final Fantasy Origin. Find a job that suits you (a couple of them, in fact), get the loot that boosts them, and you can engage in fast-paced combat that's immensely satisfying. The only thing you might not like is the story, which is an acquired taste thanks to its edgy protagonist.
Read our review of Stranger of Paradise: Final Fantasy Origin
Buy Stranger of Paradise: Final Fantasy Origin on Amazon
9. Path of Exile
Want to play a great loot-based game but don't want to spend any money? Get Path of Exile installed.
Path of Exile is one of the best free-to-play games there is. In fact, you could perhaps say it was a trailblazer, setting an example for others to follow with its monetisation model focussed on convenience and cosmetics. Also, as far as loot-based action-RPGs go, it honestly rivals the brilliant Diablo 3. The fact that you don't have to pay a penny to play it or the numerous expansions it has received is astonishing.
It's not quite as accessible as Diablo 3 though – it may take you a while to get your head around all of its systems. But put in the effort, and you'll find yourself rewarded with a deep and engrossing gaming experience.
10. Destiny 2
It's probably not quite as popular as it once was, but Destiny 2 still offers a great loot-based experience.
Best enjoyed with a group of like-minded players, Destiny 2 offers intense first-person shooter action. It doesn't shower you with loot like many other games on this list, but getting the best gear is still pivotal to moving forward. As such, you'll find yourself replaying missions, completing challenges and taking part in Raids on a regular basis to make yourself stronger.
It's just a shame that jumping into Destiny 2 is a bit of a minefield thanks to all the expansions and passes released for it. Just give it a try and then fork out for the latest expansion or pass if you like it, yeah? You might be a bit lost initially, but you'll soon get the hang of things.