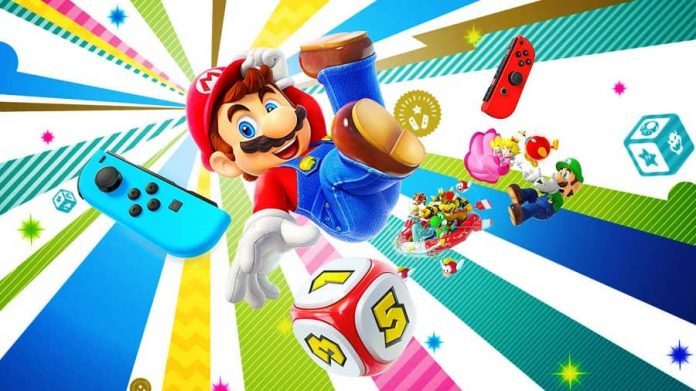 What's better than getting your family and friends together for a good, old-fashioned night of party games?
Parties just aren't as fun unless there are some games to play. Sure, you can pull out a card or board game, but that takes time setting up and explaining the rules to everyone. There's nothing easier than pulling out your Nintendo Switch, loading up a game and passing around the Joy-Cons for everyone to have some fun.
The portability of the Switch means it's the perfect console to play party games on. No matter where the party's at, the Switch can go with you. You and your friends can crowd round the tiny screen, or you can plug the dock into a TV for full-sized party fun. There's a massive range of party games on Switch to choose from, so whatever type of games you fancy playing with your nearest and dearest, there's bound to be something to suit.
We've picked out the best of the bunch right here, so read on to see the best party games on Switch. Happy partying, everyone!
Want to support GameSpew? If you decide to try any of the games on this list, please consider buying them through our Amazon links, included below each entry. It won't cost you anything extra, but we'll get a small slice of the purchase.
This list was first published in October 2019 and has been regularly updated to include more recent titles.
1. Super Smash Bros. Ultimate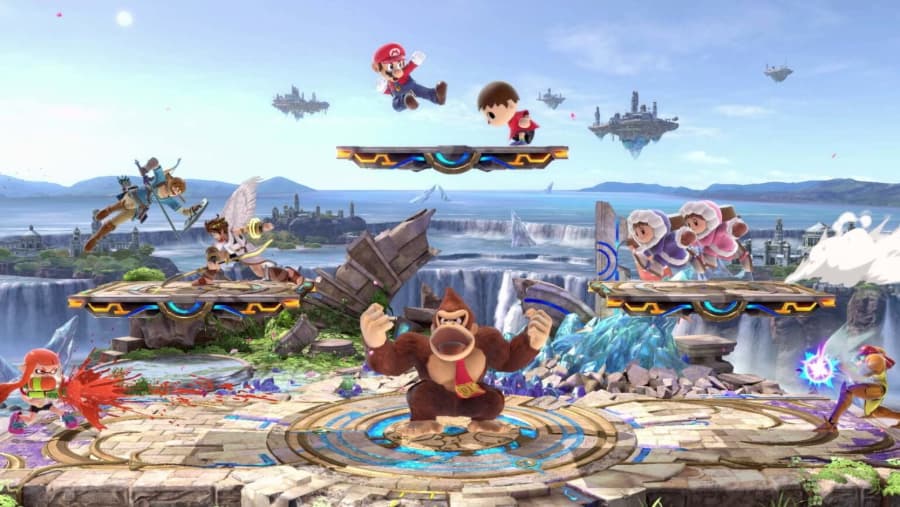 If you want to battle your friends and family in the name of fun, you can't do better than Super Smash Bros. Ultimate. Well, as long as someone has unlocked all the characters first.
Super Smash Bros. Ultimate has a ridiculously large roster of fighters and stages to unlock, and the more you have available, the more fun you can have. Avid gamers will chose their favourite characters from across multiple franchises, while those less familiar with video games will just choose whoever they think looks coolest. Either way, they're sure to have fun trying to knock other players out of the varied arena.
Of course, those who have put some time into the game will have an advantage, but Super Smash Bros. Ultimate is easy to pick up and is fun to play whether you win or lose. If you  are looking for something to play with friends, this is one of the best party games on Switch, hands down.
Read our review of Super Smash Bros. Ultimate
Check latest prices of Super Smash Bros. Ultimate
2. WarioWare: Get It Together!
The WarioWare series has been entertaining players with its madcap antics for multiple console generations now. WarioWare: Get It Together! isn't considered the best, but it's the only one available on Switch. And it's still rather good.
Providing crazy party action for one to four players, WarioWare: Get It Together! challenges players to compete in zany microgames. It's fast-paced, colourful, and simple enough that it's fun for all. Even those who aren't playing will have fun just watching the ridiculous antics play out on screen.
With a demo available, you can even try WarioWare: Get It Together! before you buy. Simply go the eShop on your Switch console and download the free demo. You can then see if it might be the heart and soul or your party, or if it might perhaps be a little too daft. Either way, if you're after the best party games on Switch, WarioWare: Get It Together! is worth checking out.
Check latest prices of WarioWare: Get it Together!
3. Cake Bash
Cake Bash is not only one of the best party games on Switch, it's also one of the most adorable. Battling it out? With cake? Count us in.
It's made up of several minigames, with the overall challenge of being the tastiest, most desirable cake in the cake stand. Some games will have you literally battling it out against other cakes, trying to push them out of the way so you can reign victorious. Other minigames will see you trying to roast the perfect marshmallow (harder than it sounds), or avoiding getting hit by a fork while standing on a cake.
It's incredibly random, but that's what makes Cake Bash so much fun. Up to four players can join it at once, and it's so easy to pick up that anyone can play. It's almost as fun as actually eating cake. And we love eating cake, so that's high praise.
4. Taiko no Tatsujin: Drum 'n' Fun!
Taiko no Tatsujin: Drum 'n' Fun! is like two games in one, and each is great for providing some fun at parties.
One the one side there's Taiko no Tatsujin: Drum 'n' Fun! the music-rhythm game. Featuring a heck of a lot of songs, you can impress your friends with your drumming skills or even compete to be the best. Even more fun, however, is the party games side of Taiko no Tatsujin: Drum 'n' Fun!
There are many party games available, each catering for up to four players. They're still rhythm based, but they also test your memory and reflexes, and are presented in comical ways. You might have to chop items being thrown at you, for example, or remember and repeat sushi orders. Needless to say, Taiko no Tatsujin: Drum 'n' Fun! is a bit mental, but also one of the best party games on Switch. It lives up to its name and then some, making it a Switch game you should definitely own.
Read our review of Taiko no Tatsujin Drum 'n' Fun!
Check latest prices of Drum 'n' Fun on Amazon
5. Mario Kart 8 Deluxe
Everyone loves a kart racer, don't they? As the ultimate version of Mario Kart 8, Mario Kart 8 Deluxe is one of the best party games on Switch to boot up when you have friends and/or family around for any gathering.
Blast around a wide range of tracks as Mario, Luigi or any of their acquaintances. And while you're at it, pick up any of the countless power ups or weapons and use them to your advantage. Mario Kart 8 Deluxe doesn't feel fair at times; it not unusual to go from first to last in the blink of an eye. But when you're playing with friends and family it doesn't really matter. It's all just about having fun.
Check latest prices of Mario Kart 8 Deluxe
6. Overcooked! 2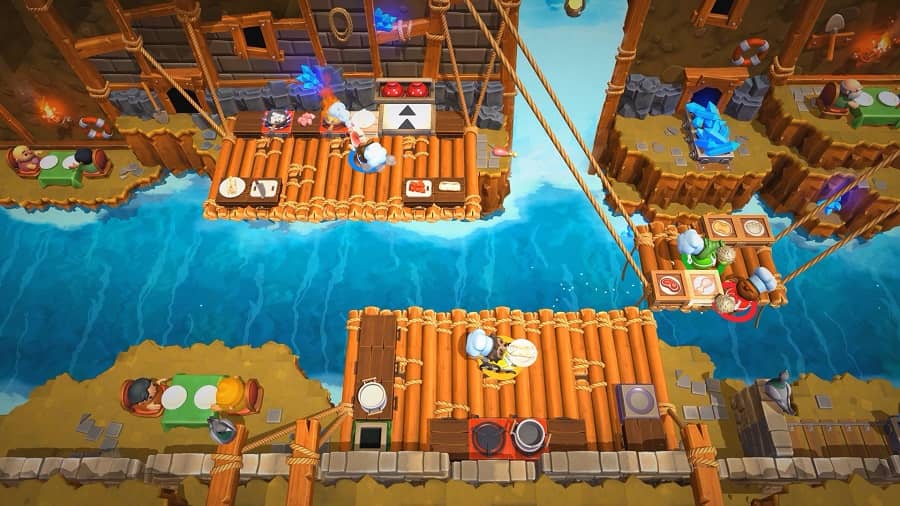 Mad-cap cooking action game Overcooked! 2 is frantic fun that's best enjoyed with your closest friends. The aim of the game is to serve up a selection of dishes, but this isn't your usual kitchen sim; you'll be preparing food in some pretty precarious situations. While an earthquake splits your kitchen in two, perhaps, or with river rapids running right through the centre.
It's all about keeping calm under pressure, and depending which mode you select you'll either be working as a team with your friends or trying to best them. Either way, it's easy to crack under pressure when playing Overcooked! 2 – and that's part of what makes it one of the best party games on Switch.
Read our review of Overcooked! 2
Check latest prices of Overcooked! 2
7. Super Mario Party
The Mario Party games have long been a staple of party fun on Nintendo consoles, and the latest addition to the series, Super Mario Party, is no exception. If you like playing games with your friends and family, this is one of the best party games on Switch you can buy.
Packed with more party games than you can shake a stick at, Super Mario Party sees players move around a digital board game. A roll of the dice will decide where to move to, and what mini game you'll find yourself taking part in. There are 80 altogether, and many of them use the Joy-Con's rumble and motion features, meaning there's no complicated controls for anyone to learn. It really is a game that absolutely anyone can join in with and have fun.
Read our review of Super Mario Party
Check latest prices of Super Mario Party
8. Jackbox Party Pack
The Jackbox Party Pack games are brilliant. Each and every one of them. Bundling up multiple party games into packages, they're great to whip out when you have friends and family around. And the best thing is, none of them require you to have loads of Joy-Cons or Pro Controllers; you can simply use tablets or phones.
From dastardly quizzes to more inventive games in which you need to design T-shirts or bid on art, the Jackbox Party Packs have it all. Just try not to be too rude when playing the many games they contain. We just can't help ourselves, though it does make playing them much more amusing.
There are now seven Jackbox Party Pack games available, each with five different games in. Whichever one you choose, you're bound to have a great time. Though personally, we think Jackbox Party Pack 5 is one of the best party games on Switch.
Read our review of Jackbox Party Pack 5
9. Super Bomberman R
Bomb your friends, family and even your loved ones. Bomb them until they can't take any more bombing. Then you really know you've won.
The classic Bomberman series returns with Super Bomberman R. Allowing up to eight players to battle it out in small blocky arenas, only the most tactical of bomb placers will emerge victorious. But win or lose, it's fun to simply compete.
Super Bomberman R is up there with the best party games on Switch. It's competitive and cooperative. You can opt for classic rules or make use of new features that spice up the action. And it's simple to pick up yet hard to put down. It's not too expensive on Switch now, either. Whether you have fond memories of playing the old Bomberman games or not, Super Bomberman R is worth adding to your Switch library to crack out during parties.
Read our review of Super Bomberman R
Check latest prices of Super Bomberman R
10. Tricky Towers
If you like Tetris, you'll love Tricky Towers. Essentially a game of Tetris but without walls, Tricky Towers challenges up to four players to build the tallest, or most stable tower. It might not sound like much fun, but with friends it soon becomes riotous as towers topple at the last second and blocks go tumbling to the floor.
There are three main game modes: a race mode which sees players attempt to build a stable tower up to a set height; a puzzle mode, where you need to fit as many blocks as possible into a small area; and a final mode which gives you only three lives and tasks you with placing the most amount of blocks without dropping any. Whichever mode you choose to play, Tricky Towers is a whole lot of fun at parties or with friends.
Read our review of Tricky Towers
11. Nidhogg 2
If Nidhogg 2 doesn't have you shouting at the screen, you're playing it wrong. Pitting two players against each other, Nidhogg 2 is all about running left or right until you're devoured by a giant Wurm. The trouble is, that requires getting past the other player numerous times.
Combat is tense and decisive; one hit is all it takes for someone to be downed. As soon as the victor makes a step close to victory and emerges on a new screen, however, the other player is respawned to try and halt their progress once more. Each bout in Nidhogg 2 is a bit like a tug of war as a result.
Only two players may compete at once, but that doesn't stop Nidhogg 2 being one of the best party games on Switch. Simply make up your own tournament, taking it in turns until you've found the ultimate victor.
12. Let's Sing
Want to deafen the neighbours and shatter some glass? How about a singing game? The Let's Sing series is the modern-day answer to karaoke, challenging you and your friends to sing a range of popular songs to the best of your ability.
Using your smartphone as a microphone, you'll rack up a score depending on how many notes you hit of a song. Each game contains about 30 songs; the mainline entries have a mixture of current pop hits and old classics. There's also a Queen edition if you'd rather stick to rock classics. Even if you're not the best singer in the world, who cares? Belting out a banger is the ultimate way to get the party started, and since you don't need microphones to sing along, it's easy to get everyone involved.
Read our review of Let's Sing Queen
Check latest prices of Let's Sing
13. Scribblenauts Showdown
Previous Scribblenauts games had you creating things from a magic notebook. Scribblenauts Showdown doesn't have any of that, but what it does have is a load of fun minigames. It's similar to Super Mario Party in its style; players move around a gameboard of sorts, playing through a selection of minigames at regular intervals.
Like Super Mario Party, the minigames are easy to pick up, requiring little videogame skill or knowledge, so even gran can give it a go. You can customise the length of a game, with a short one only lasting about 20 minutes and long ones lasting over an hour, and you can even cherry-pick the minigames if you just want to blast through your favourites. It's relatively cheap to pick up, and while it's not the most complex game in the world, Scribblenauts Showdown proves to one of the best party games on Switch if you have a few friends around to enjoy it with.
Read our review of Scribblenauts Showdown