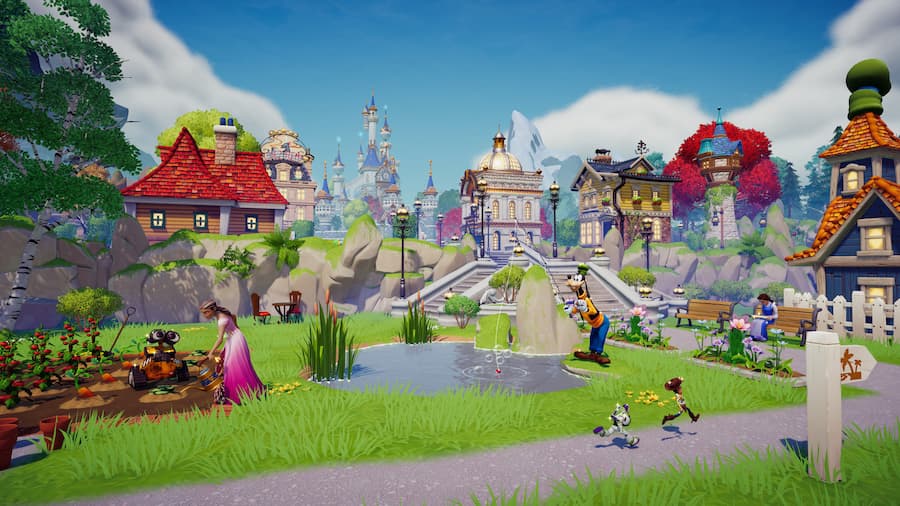 Wondering where to find each type of flower in Disney Dreamlight Valley? Our handy guide will tell you what location you'll find every flower in.
You'll need flowers fairly often when playing Disney Dreamlight Valley. Perhaps you'll need them as a crafting resource. Or maybe one of the friendly villagers might request one from you. But knowing where to find a particular flower can be tough. Luckily, we're here to help.
Below we've listed every type of flower, and the region of Disney Dreamlight Valley where they'll spawn. Head to the relevant area, and look around. The flower isn't guaranteed to be there, but you're likely to find at least one. Wait a while before visiting, and more might have grown. Good luck in gathering the flowers you need.
More Disney Dreamlight Valley item guides
Flowers location in Disney Dreamlight Valley
Purple Bell Flower: Forest of Valor
Red Bell Flower: Forest of Valor
White Bell Flower: Forest of Valor
Pink Bromeliad: Sunlit Plateau
Red Bromeliad: Sunlit Plateau
Yellow Bromeliad: Sunlit Plateau
Red Daisy: Peaceful Meadow
White Daisy: Peaceful Meadow
Yellow Daisy: Peaceful Meadow
Dandelion: Plaza
Blue Falling Penstemon: Plaza
Purple Falling Penstemon: Plaza
Red Falling Penstemon: Plaza
White & Pink Falling Penstemon: Plaza
Orange Houseleek: Sunlit Plateau
Pink Houseleek: Sunlit Plateau
Blue Hydrangea: Dazzle Beach
Pink Hydrangea: Dazzle Beach
White & Red Hydrangea: Dazzle Beach
Purple Hydrangea: Dazzle Beach
Purple Impatiens: Forgotten Lands
White Impatiens: Forgotten Lands
Blue Marsh Milkweed: Glade of Trust
Orange Marsh Milkweed: Glade of Trust
Orange & Red Marsh Milkweed: Glade of Trust
Purple Marsh Milkweed: Glade of Trust
White Marsh Milkweed: Glade of Trust
Orange Nasturtium: Forgotten Lands
Red Nasturtium: Forgotten Lands
Yellow Nasturtium: Forgotten Lands
Black Passion Lily: Frosted Heights
Blue Passion Lily: Frosted Heights
Green Passion Lily: Frosted Heights
Red Passion Lily: Frosted Heights
White Passion Lily: Frosted Heights
Green Rising Penstemon: Peaceful Meadow
Purple Rising Penstemon: Peaceful Meadow
Blue Star Lily: Forest of Valor
Orange Star Lily: Forest of Valor
Sunflower: Dazzle Beach