Even after the dozen or so hours we've sunk into Disney Dreamlight Valley over the weekend, we feel like we've barely scratched the surface of what it has to offer. And so this is a review in progress, which we'll revisit once we've spent more time with the game.
What we can say about Disney Dreamlight Valley, though, is that it's shaping up to be something rather special. We always enter free-to-play games with more than a healthy dose of scepticism, but Dreamlight Valley has surprised us in all the right ways. This doesn't feel like a "free" game and we've yet to have a taste of any unsavoury "play to win" style mechanics. Rather, it feels like an incredibly well-crafted adventure life sim, taking the best elements of games like Animal Crossing and Stardew Valley and mixing them up with plenty of Disney magic.
Disney Dreamlight Valley is being developed by Gameloft, a studio who is no stranger to Disney. Its remit has mostly been mobile, however, creating Disney Getaway Blast and Magic Kingdoms alongside a huge catalogue of other titles. This might be one of Gameloft's most ambitious titles to date, and we have a feeling that ambition might just pay off.
Starting Dreamlight Valley, you can create your own character using a robust character creator. Facial features, body type, hair colour – the usual options are here. There's no choice of outfit, though: that comes later. Finding and gathering a wardrobe of clothing is a part of the game, and it won't be long before you have something more exciting to change into.
But chances are you'll be so immersed in Disney Dreamlight Valley's gameplay loop that you won't really care about what you're dressed in. This is part life simulator, part adventure game. And so while you'll spend quite a lot of time farming, cooking, crafting, designing your town, gathering fruits from trees and generally keeping it tidy, you'll also have a huge selection of missions to undertake.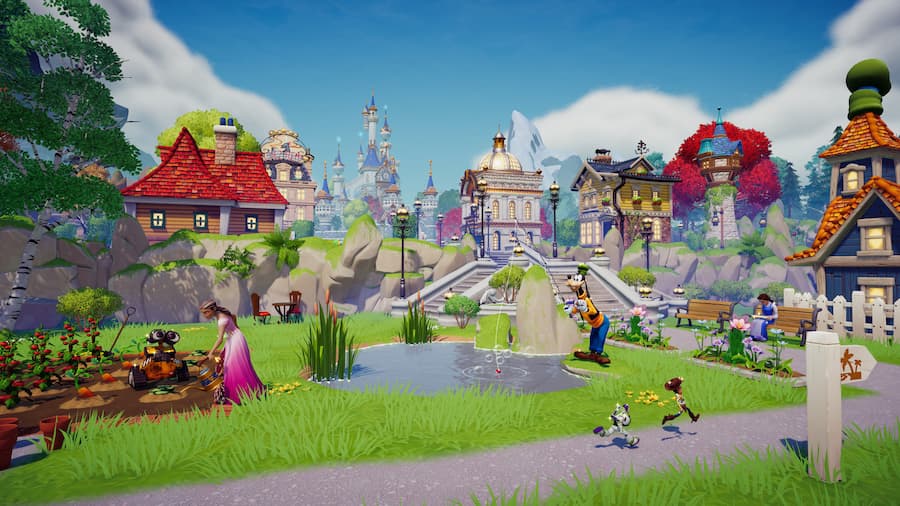 Every character you meet – all plucked from various Disney franchises – will have something for you to do. And as you build up a friendship with a character, they'll offer you new quests over time. Some of them might be fairly basic, like gathering easy-to-find items. Others are more involved and multi-stage, requiring you to solve some puzzles, wander into new locations or collect items that require more effort and thought.
Related: The Best Life Sim Games to Play in 2022
What does stand out to us is that, despite being a free-to-play game, we've yet to come up against any barriers of play. Dreamlight Valley plays out in real time, and so the time of day in-game is dictated by the time of day in your timezone. But you're still free to complete any task in-game; the characters don't seem to go to sleep, even if you're playing after midnight. Everything you do takes up energy, but that's easily refilled by eating fruit – which replenishes very quickly on trees and shrubs.
That's not to say that barriers of play won't come into the game later on. We still have a lot more to experience in Disney Dreamlight Valley, and we fully expect the game to change and evolve over time during its time in Early Access. But as it is, we can jump in whenever we want and know that there'll be plenty for us to do.
Sometimes that's only busy work: we might have to work on improving a friendship, for example, before a character will give us a new quest. Or perhaps we'll need to earn several thousand more coins before we can afford the next upgrade (of a house, or shop, for example) that we need to progress. There's also Dreamlight to be earned, which is important to unlock new areas and to head into new Realms – perhaps the most exciting part of the whole Dreamlight Valley experience.
Dreamlight is accumulated by doing various tasks, all of which can be tracked in your in-game menu. You'll complete many of these without even trying as they'll overlap with your regular in-game activities: collecting fruit, talking to characters, upgrading your house, crafting items. But when it comes to needing to focus on collecting Dreamlight, you may need to put your nose to the grindstone and concentrate on certain menial tasks. That's if you're wanting to progress through quickly, of course. Dreamlight gates off new areas of the world, and by unlocking them you'll find new characters and new quests. It also gates off Realms – and we've only jumped into one of these so far: that of Remy, from Ratatouille.
Realms are separate from the main busywork of Disney Dreamlight Valley. In the Ratatouille realm, we had to help Remy create a range of menu items from his kitchen. Our inventory items from outside the Realm were useless: instead, we had to use only what Remy had in his kitchen. Once we'd completed his quests – which got tougher as they progressed, requiring us to eventually use our noggin to figure out the correct ingredients for the perfect ratatouille dish – Remy then joined us in Dreamlight Valley. Well, once we'd built him a house, of course.
Elsewhere, you can find Ursula from The Little Mermaid, and other Realms contain Moana and Wall-E. It looks like many more will be added over time, but they're not all available yet. Already in the Valley is Sword in the Stone's Merlin, Mickey and Goofy. And explore a little further and you'll find Sven from Frozen and Donald Duck. Even if you haven't met their characters yet, you'll be constantly reminded of other Disney properties thanks to items and outfits based on the likes of Coco, Toy Story, Beauty and the Beast and more. There's a tea tray featuring Mrs Potts and Chip standing proudly in our Dreamlight Valley living room.
All of this goes to say that if you enjoy the likes of Animal Crossing: New Horizons and its ilk and you're a fan of Disney, you're going to absolutely love Disney Dreamlight Valley. Yes, we remain slightly cautious about how its free to play mechanics will evolve over time – it may not always be so easy to progress, for example – but our early impressions are very positive. We've had a great deal of fun with the game so far, and have plenty more to do. We foresee it being quite the timesink over the next few months, and so we'll be keeping you updated on our Disney-flavoured escapades.
Disney Dreamlight Valley is available on PC, PS4, PS5, Xbox One, Xbox Series X/S and Switch now. While it's in Early Access, you'll be required to buy a Founder's Pack to play, although it will eventually be free. Xbox Game Pass users can play as part of their subscription.