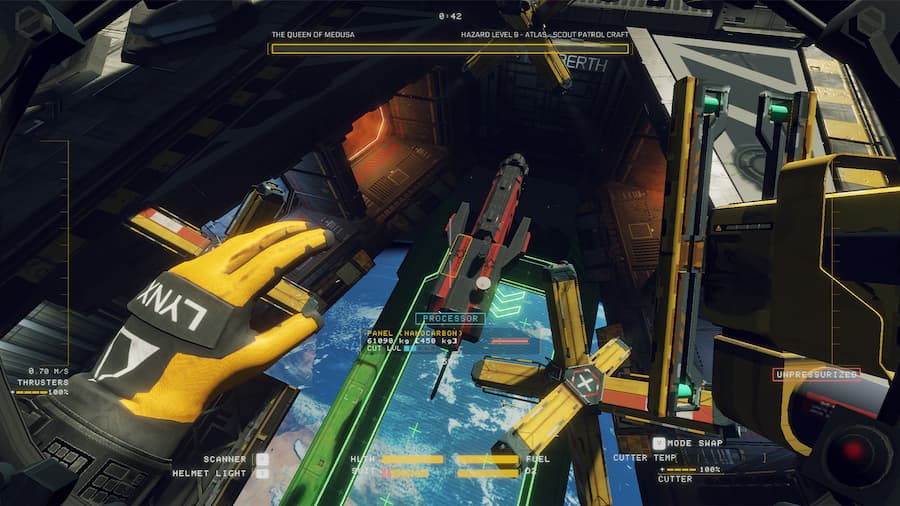 Hardspace: Shipbreaker is a lot of fun but if you don't depressurize the vessel you're working on things can come to an end quickly. Here's what to do.
Hardspace: Shipbreaker, as the name suggests, sees you breaking ships. However, you're not just smashing up old cruise ships; the game takes place in space. So, aside from regular work injuries you've also got to depressurize any medium to high-level Hardspace: Shipbreaker ships or risk injury.
The quick and dirty method is just to cut a hole in the ship but you'll lose salvage and/or end up being fired into space. But here's how to properly depressurize one of these vessels.
Firstly, bring up your scanner to check the ship (up on the d-pad).
You should see multiple boxes – for example CMPT, CABIN, CKPT (compartment, cabin and cockpit).
If any of these are green, you need to depressurize them first. Not all ships are pressurized, particularly if you're just starting out in career mode.
Move round the ship and find a door (not a cargo door).
Activate the airlock control panel next to it (square, or X on an Xbox controller). Once inside, activate the control panel on the inner airlock and head further in.
Look for the Atmospheric Regulator.
Turn it off and the ship should be depressurised to match the space outside. Use your scanner to check.
Sounds simple, right? It is, providing that's the basic situation you encounter. The snag is that there's a roguelike element to Hardspace: Shipbreaker. The ships you encounter could already be partially depressurized. Or they may have multiple Atmospheric Regulators, which makes things a little more complicated.
So, if you turn off an Atmospheric Regulator and your scanner reveals that there are parts of the ship still green on the scanner, you need to think again. Turn the regulator back on. Then, check how many functioning regulators there are.
Next, if behind them are green, open the internal doors but not the airlocks. Then, use your grappling tool to pull all but one regulator off the wall. Finally, activate the last regulator to depressurise the whole ship. Now, you should be ready to hack the ship to pieces. And that's how to depressurize ships in Hardspace: Shipbreaker.