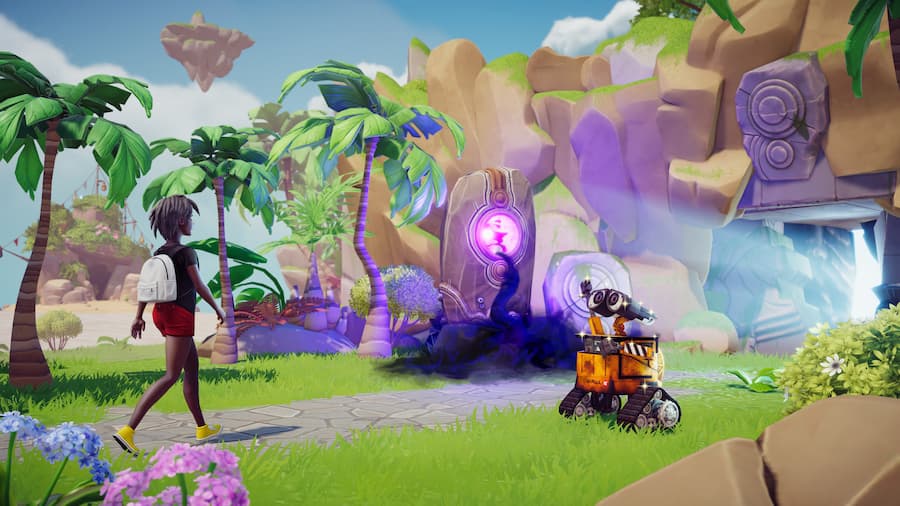 Disney Dreamlight Valley from Gameloft is out now, combining Disney characters with an Animal Crossing-like life sim.
We've spent a fair bit of time with Dreamlight Valley so far and, along with having an absolute blast, we've picked up some helpful tips that might be useful for those only just getting started. This isn't a challenging game by any means, but it can be tricky to know where best to put your efforts. And so hopefully our guide will help point you in the right direction.
1. Make friends with the townsfolk
Dreamlight Valley is packed with lots of familiar faces, and you can make friends with all of them. You really should make the effort, too, because as your friendship level goes up, you'll be given new quests. Increasing your friendship level is easily done by talking to characters, spending time with them and giving them gifts.
You can read more about improving your friendship level in Disney Dreamlight Valley here.
2. Collect Dreamlight
You have two main forms of currency in Disney Dreamlight Valley: coins and Dreamlight. While you'll find coins by foraging or selling items you don't need, you'll earn Dreamlight by completing various tasks. Head into the menu, and you'll find a huge list of activities that will reward you with Dreamlight. Every day, new daily tasks are added – many of them very simple to complete, like talking to a friend or picking fruit. Make sure you do them, and make sure you head into the menu often to redeem your Dreamlight. It's used for unlocking new areas, amongst other things, so you'll need plenty of it.
3. Pick plenty of fruit
The fruit on trees and bushes in Disney Dreamlight Valley replenishes very quickly. You should pick it often, because it's always handy: you see, you need to eat to replenish energy, and fruit does a good job of that. You can cook a fancy meal, sure, but fruit works just as well – and it's free and plentiful.
4. Decorate your house
When you're in your house, you can press triangle (or Y) to bring up your inventory. And, from there, you can select 'furniture' to enter furnish mode. You can customise your house by changing wallpaper, flooring, removing or adding furniture, or just simply moving around what's already in there. Make it yours!  You can also upgrade it if you have money, making it bigger and changing its external appearance.
5. Upgrade your inventory
It costs 5,000 coins for the first upgrade, but we'd recommend upgrading your inventory space in Disney Dreamlight Valley as soon as possible. There's always so much stuff to pick up, and having as much space as possible is very handy.
6. Sell the stuff you don't need – but with caution
Once you've unlocked Goofy's stall, you can sell most things in your inventory to him to raise extra coins. It's a great way to make money for other things, but be careful about what you sell. You might end up selling something that you're gong to need for a quest – and some items are rare.
Whatever you do, don't sell seaweed: you'll need a lot of it for quests, and it's very scarce!
7. Unpack clothing bundles (and play dress-up)
You'll often find clothing when you're out and about in Disney Dreamlight Valley. It appears in your inventory as a little bundle. Make sure you open them as soon as you get them to free up space in your inventory. And, head into the customisation menu often to play around with the new items you get. It's fun to express yourself through how your character looks. It's worth noting you can change your physical appearance (skin, hair, body shape, etc.) at any time too.
8. Craft yourself some storage chests
Once you've helped Scrooge McDuck out, you'll be introduced to a work bench, where you can craft items. One thing you can craft fairly easily is a storage chest. You'll benefit from several of these, and they can be placed in your house or anywhere around the village. You can store just about anything in them, and you'll be grateful for the extra space. We promise.
9. Unlock new areas as soon as you can
By collecting Dreamlight, you'll be able to unlock new areas of the valley to explore, and new Realms. New areas of the valley will usually reveal new items to forage along with a new character or two to meet. New Realms will also net you new characters, and new quests. It may take some time to earn enough Dreamlight but be sure to unlock new areas to visit as soon as you can.
10. Have fun!
This one goes without saying, but perhaps the best of all the tips we can give you is to simply have fun with Disney Dreamlight Valley. This is a game not designed to be rushed; rather you should play it at your own pace. And so, play however you want to, and enjoy your time with the game. Bored of a particular quest? No worries – go do something else. If you run out of things to do, talking to villagers may help, and levelling up friendships with them may reveal new quests. And be sure to check your Dreamlight menu as there'll always be something for you to do in there.