If you're a fan of The Legend of Zelda: A Link to the Past, Airoheart should probably pique your interest.
Calling Airoheart derivative is a little strong, perhaps, but this retro-styled adventure game from Pixel Heart Studio and Soedesco really does wear its inspirations on its sleeve. From the opening scene, where a disembodied voice calls out to you while you're at home, to its gameplay and progression, this is A Link to the Past through and through. Is that a bad thing? Not really: A Link to the Past is one of my favourite games, and I've always wanted the opportunity to play it through for the first time again. Now I can.
Jokes aside, Airoheart does have enough of its own personality to stand on its own two feet. Its story is very different from the classic Super Nintendo game, for example. You're the titular Airoheart and, as often is the case, it falls on your shoulders to attempt to save the world. This time, the threat you're up against is your own brother, leader of an evil sect, who has a plan to unleash an ancient evil upon the world. But by exploring the world, uncovering hidden relics and useful tools, you can bring him down. Hopefully, anyway.
It's also a bit tougher than A Link to the Past. If you played A Link to the Past as a kid, Airoheart feels like the tougher, adult version. Enemies are more relentless, and you're up against tougher adversaries more quickly. Even tiny enemies you'd assume to be harmless – like wasps, springing out from bushes you strike with your sword – can take a big chunk of your health from you. And so, with only three hearts to your name as you start out, it's very easy to get wiped out if you don't have your wits about you.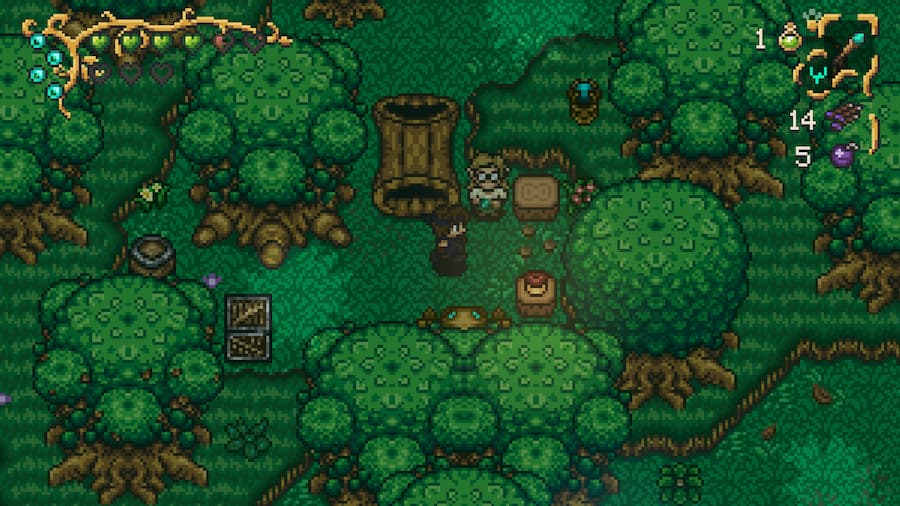 It's also easy to wander into an area you're not supposed to be in just yet. While the usual roadblocks are in place in some locations – stones you can't lift straight away until you get a new piece of equipment, for example – there's a great deal of open space, and trying to find your bearings on Airoheart's unhelpfully zoomed-in map can take some time. When you do find your way, though, you're back in familiar territory. You'll progress through Airoheart by completing a series of dungeons, filled with puzzles, chests and monsters. Oh, and there's a boss to defeat in each one, too.
And so, while Airoheart takes some small steps to be its own thing, there's nothing here that truly separates it from its inspirations. Is that such a bad thing? After all, A Link to the Past is over 30 years old now, but it's still a beloved classic. Playing something so similar that it invokes that warm feeling of nostalgia is rather nice, in all honesty. Airoheart might not reinvent the wheel, but it doesn't have to.
---
Airoheart Review – GameSpew's Score
This review of Airoheart is based on the PS5 version of the game, via a code provided by the publisher. It's available on PS4, PS5, Xbox One, Xbox Series X/S, Switch and PC.