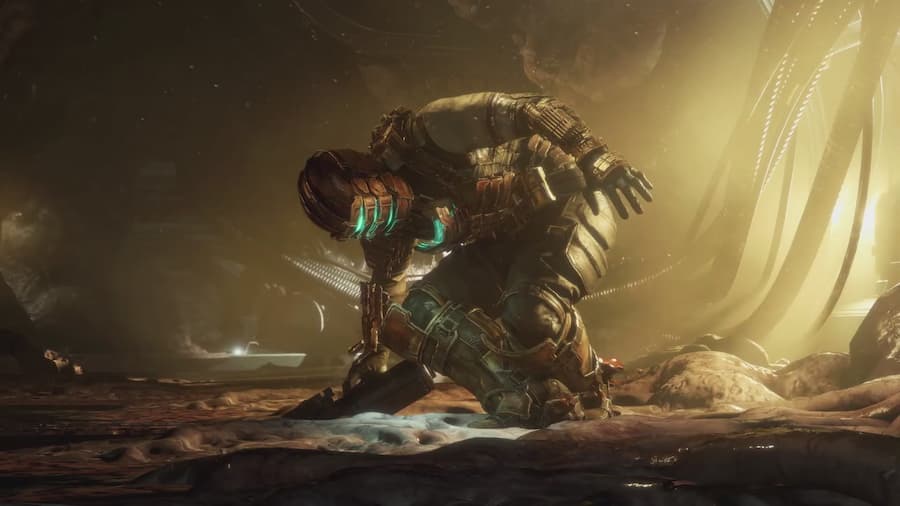 With Dead Space arriving this January, publisher EA and developer Motive Studio have revealed eight new minutes of gameplay footage.
At first glance, it looks near-identical to the original Dead Space, just with a graphical facelift. But, as explained by Philippe Ducharme, Senior Producer on the game, there's more to it than that.
The entry hangar of the USG Ishimura, for example, is much larger than in the original. You can take to the air using protagonist Isaac's jet pack and explore, heading over the walkway and into the hangar. It doesn't look like there's much to do there but it helps lend the planet-cracking spaceship a real sense of scale.
The video also highlights one of the game-changing decisions you can make – gam e-changing not in terms of the plot, but how things unfold for protagonist Isaac. There's a point where you can either turn the lights off, making it harder to spot necromorphs, or shut down oxygen, meaning you have to rely on O2 cannisters. Lurking monsters or possible asphyxiation? It's a tough call.
We won't spoil everything in the video; you can watch it for yourself above. However, we absolutely are going to get excited about one more feature – the Intensity Director. Not unlike Left 4 Dead, the game will manage how and when necromorphs appear, meaning no trip through the massive vessel should be the same. That also means you can't rely on memorising where the nasties will appear from, either.
Dead Space is out this January 27th, arriving on PC, Xbox Series X|S and PlayStation 5. It'll be available as a regular edition and a collector's edition with a copy of Isaac Clarke's helmet.