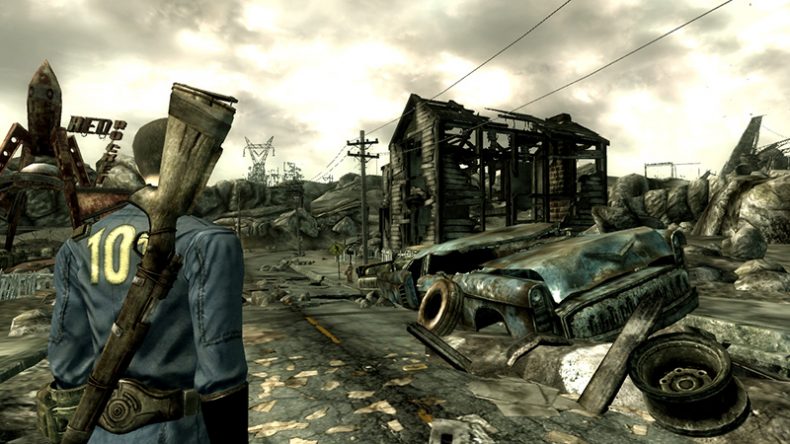 Next week, Epic is giving away Fallout 3 via the Epic Games Store
It's not just the vanilla version either, the one that has an NPC refusing to do something because it's your destiny. It's the full Fallout 3: Game of the Year edition, complete with all the expansions, absolutely free.
Aside from being free, as of October 20th, Fallout 3 is notable for being the first 3D entry in the post-apocalyptic franchise. It's also the first Fallout game produced by Bethesda who purchased the series rights from Interplay. It sees you leaving the comfort of your protective vault and venturing out to find your father, voiced by Liam Neeson.
At least, that's the general objective. The truth is we didn't much care about our virtual father's whereabouts when we last played it. The real fun comes from exploring the many, many locations, going on side quests and being the savour/scourge of the wasteland (delete as applicable).
The Game of the Year Edition features the following DLC:
Operation: Anchorage,
The Pitt,
Broken Steel
Point Lookout
Mothership Zeta.
Point Lookout and Broken Steel are the cream of the DLC crop. The former takes you to a foggy, swampy chunk of Maryland while the latter continues the story past the ending.
It's the PC version of Fallout 3 that Epic are giving away, though since it was released in 2003, you shouldn't need a powerful PC to play it. Plus, it features Dogmeat who, while he really came into his own in Fallout 4, made our list of Best Animal Companions in Video Games.
Fallout 3: Game of the Year Edition will be free on the Epic Games Store from the 20th to the 27th of October.