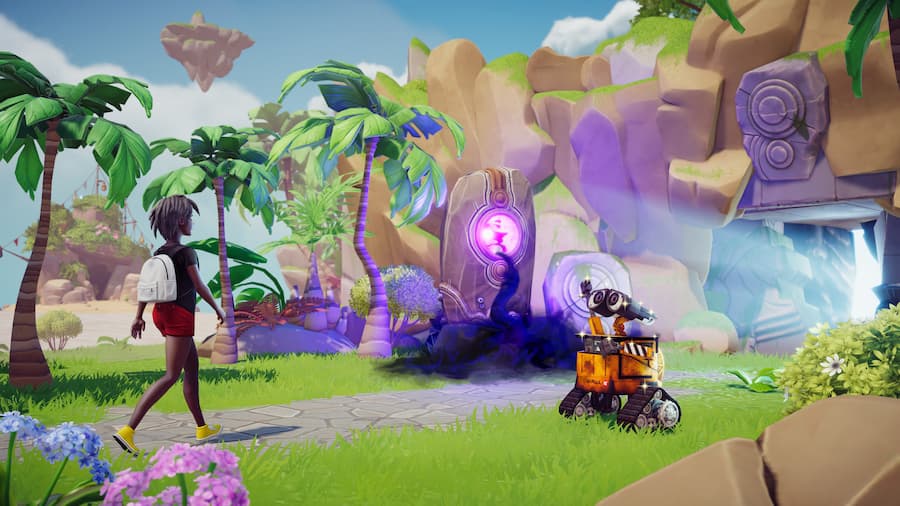 Do you need some help completing the Nature & Nurture quest in Disney Dreamlight Valley? Let us guide you through it.
Nature & Nurture is the first quest that Scar gives you now that he's available in Disney Dreamlight Valley. And so, to start the quest you'll need to talk to him. You'll find Scar in his home – the huge skull in the Elephant Graveyard section of the Sunlit Plateau. He'll ask you to help him restore the river in Sunlit Plateau, which has been dried up for some time.
Explore the Vitalys Mines
Of course, you'll agree. And so, to help Scar, you'll need to go to a brand new area: The Vitalys Mines. You'll find the entrance in Sunlit Plateau just to the right of the bridge. This is quite a big area, and it's worth exploring around, as there are plenty of rocks to mine and night thorns to remove, all giving you valuable items. To the right of the entrance and across a rock bridge you'll find a pathway leading up to a barrel and a notice board. Read the note and you'll learn that night thorns are blocking the flow of the river – but root beer can get rid of them.
Your next task in completing Nature & Nurture in Disney Dreamlight Valley is to find the camp within the Vitalys Mines. It's just down from the barrel – head back towards the entrance. Your quest will update, and now you'll need to go talk to Merlin to tell him what you've found.
Merlin will ask you to make the root beer mentioned – but it has to be an extra fizzy variety. You can read more about making Extra Fizzy Root Beer here, but essentially you need to combine sugarcane, vanilla and dried ginger – not regular ginger! You need to now head back to the Vitalys Mines, and back to the barrel. In your inventory you should have your Extra Fizzy Root Beer, and also some crackling candy. Add them both to the barrel and voila: the river will be flowing again!
The Forgotten
But the quest isn't over just yet. Head out to check the river, and you'll see a dark creature – a 'Forgotten' – travel through a portal. Follow it by interacting with the portal. Follow the path around to pick up a glowing orb – you'll need to equip your pickaxe to break the rocks blocking your way.
To finish Nature & Nurture, head back into Dreamlight Valley through the portal and go talk to Merlin. Give him the orb, and he'll tell you more about The Forgotten: it seems to be a splinter of you. That doesn't sound good. But let's worry about that another time. For now: the orb! It needs powering up, and you'll need to make an elixir to help it do so.
How to Make Miracle Growth Elixir in Disney Dreamlight Valley
After talking to Merlin, you'll be tasked with making a 'Miracle Growth Elixir'. For this, you need three items:
10x Vitalys Crystals
10 x Rich Soil
1,000 Dreamlight
Dreamlight is the easiest. Chances are, you'll already have 1,000 Dreamlight. If not, head into the game's main menu and toggle to the 'Dreamlight' tab. Take a look at your daily Dreamlight Duties, or other tasks that you've nearly completed, and get to work on racking up enough points.
For Vitalys Crystals, you'll need to head back into the Vitalys Mines and get mining with your pickaxe. Crystals drop randomly from mining points, but there are enough of the dotted around the mines that it shouldn't take too long to get all 10.
Finally, Rich Soil is found by harvesting crops. It's a random drop, and so you might have to harvest a lot of crops before you find any. We recommend buying plenty of wheat seeds from Goofy: they're only one coin, and grow in just one minute. Read more about finding Rich Soil in Disney Dreamlight Valley here.
Once you've got all the items, head to a workbench to craft Miracle Growth Elixir. You'll find it in 'Potions and Enchantments'. When it's crafted, go into your inventory and use it: it'll improve your watering can.
The Orb of Nurturing
The next part of completing Nature & Nurture in Disney Dreamlight Valley is going to speak to Merlin. He'll now ask you to go plant the Orb of Nurturing and take care of it until it's fully restored.
Head to the purple glowing pillar in Sunlit Plateau: it's in the south, at the edge of the river. Dig a hole right in front of it and plant the Orb of Nurturing in it. Give it a water. That's it: it might take a few days to be ready, so continue playing and progressing other quest lines. Keep checking on it, and ensure it's watered regularly.