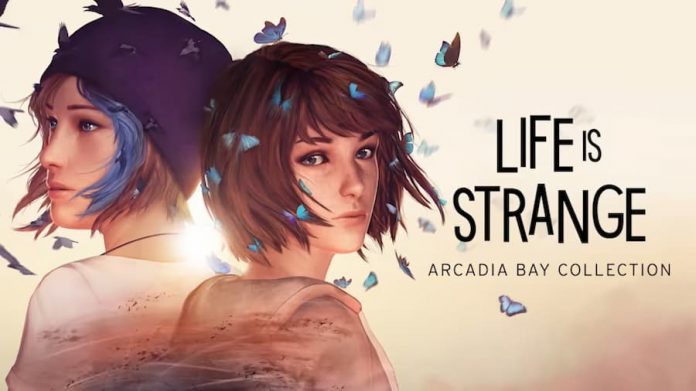 It doesn't matter how many times we've played Life is Strange, we're always eager to jump back in. And with the Arcadia Bay Collection finally becoming available on Switch, we can now do so no matter where we are.
Life is Strange: Arcadia Bay Collection bundles up the first Life is Strange and its prequel, Life is Strange: Before the Storm. In other words, the two games that take place in Arcadia Bay, centring around characters Max Caulfield, Chloe Price and Rachel Amber. You're getting the remastered versions of the games, first released on PlayStation, Xbox and PC earlier this year. That means you're getting the best versions, complete with a cleaned-up visual style and improved lip-syncing.
Of course, that new visual style loses some of its flair on Switch. This is still a pair of good-looking games, but of course compromises have to be made to get it running on the Switch hardware. Lower resolutions mean blurrier textures, and some of the beauty of Arcadia Bay is lost. But it does at least run silky smooth, which is perhaps the most important thing.
The first Life is Strange tells the story of Max Caulfield, and her best friend Chloe. As the game opens, Max discovers she has the power to reverse time: a useful and powerful ability that she can use (and potentially abuse) to change the fate of those around her. But with turbulent times happening in Arcadia Bay – which may or may not be related to Max's powers – it's not all plain sailing and fun and games. Over the course of five chapters, players must use Max's powers for the greater good (or at least try to), dealing with the consequences of their choices as they go.
The second game in the Arcadia Bay Collection, Life is Strange: Before the Storm instead focuses on Chloe and her former best friend Rachel Amber in a time before Max arrived in Arcadia Bay. Unlike the other games in the Life is Strange series, this isn't a game that deals with supernatural powers. Rather, it's a game superpowered by teenage emotions, focusing on the girls' relationships with each other, their parents and other friends.
If you're an exclusive Switch gamer and haven't experienced either of these Life is Strange titles yet: what are you waiting for? For fans of narrative adventures loaded with real emotion, excellent characterisation and unparalleled storytelling, games don't get much better than this. And being able to play them in handheld format, finally, is a real joy.
It's perhaps not the best way to play: after all, the PC/console versions of Life is Strange and Life is Strange: Before the Storm Remastered do look much better. But on the Switch's screen, the resolution hit hardly matters, and exploring Arcadia Bay is just as enjoyable as it ever has been. And so, if you're wanting an excuse to play through Max and Chloe's stories one more time: this is it. Get yourself cosy under the duvet, pour a mug of cocoa, and dive on in.