We're not sure the world needs three Nickelodeon Kart Racers games, and yet here we are.
Nickelodeon Kart Racers 3: Slime Speedway, available now on all major platforms, is indeed the third game in the Nickelodeon Kart Racers series, and all released in the last four years. Granted, each new iteration has been a little better than the one before it, expanding on the same ideas and franchises in a number of different ways. And so, Nickelodeon Kart Racers 3: Slime Speedway is the best of the series so far. Whether it's enough of a jump from the last game, though, is questionable.
Slime Speedway packs in plenty of content that players can jump in right from the start. For lone players there are grand prix events – here renamed to 'Slime Scramble', free races, time trials, free-for-all arena battles and a series of challenges to work through. There's also online multiplayer and local splitscreen, allowing you to jump into grand prix events, free races or arena battles with other players.
We've not had much luck jumping into an online race: already, just a few days after Nickelodeon Kart Racers 3: Slime Speedway's launch, its servers seem scarcely populated. And so, unless you have friends to play with, don't expect to have much online fun with the game.
It's a shame but it shouldn't be a deal-breaker, because the single-player offerings here are surprisingly good. There are four levels of Slime Scramble events – Slow, Medium, Fast and Insane – each with ten events each. And there are over 40 challenges to work through, each one putting you in control of a set character on a chosen course and tasking you with a particular goal. Perhaps you simply need to win a one-lap race, or maybe you need to collect so many tokens, or perform so many stunts. They're nice and varied, and offer a nice break from straight-up racing.
The arena battle mode also makes a nice diversion, too. It's hardly the most developed of arena battles, but with four modes to choose from it's a welcome addition to the proceedings. Demolition simply tasks you with hitting 10 opponents with a power-up to take the win; in Control the Golden Spatula you'll need to keep hold of the prized spatula to be crowned winner; Slime Trails is all about covering the most ground with slime; and Jellyspotters sees teams take it in turns to capture each other. Fairly generic modes, then, but they offer a bit of light entertainment – particularly if you're playing in local multiplayer.
Related: The Best Kart Racing Games on Switch
But of course, all of that is just a distraction from the core of Nickelodeon Kart Racers 3: Slime Speedway – the racing. We're happy to report that, for the most part, being in charge of one of Slime Speedway's many themed karts is entertaining. Drifting has been improved since the last game, with your kart no longer doing an annoying little jump before you lean into a corner. However, we've found that the drift button isn't always as responsive as it should be, and sometimes pressing it doesn't give us the desired result. When drifting rewards you with a boost charge, which can often make or break a race, it can be a little annoying.
It's an intermittent problem at worst, though, and so doesn't detract from the on-track fun too much. There's a huge range of characters here, with the usual suspects making a return: characters from Rugrats, Spongebob Squarepants, Avatar, Catdog, Ren and Stimpy, Rocko's Modern Life, Hey Arnold!, Teenage Mutant Ninja Turtles and more. Some main characters who have appeared in previous games are missing – like Rugrats' Tommy – but lesser characters (in this case, Chuckie and Susie) are given time to shine.
Each franchise also brings its own kart and locations into the mix, with 36 different tracks to drive around. They're all wonderfully designed and, playing on PS5 for the purposes of this review, the tracks look better than ever. It's a big step up from the last game, with everything vibrant, sharp, and beautiful to look at. It makes for a very pleasant experience, all told.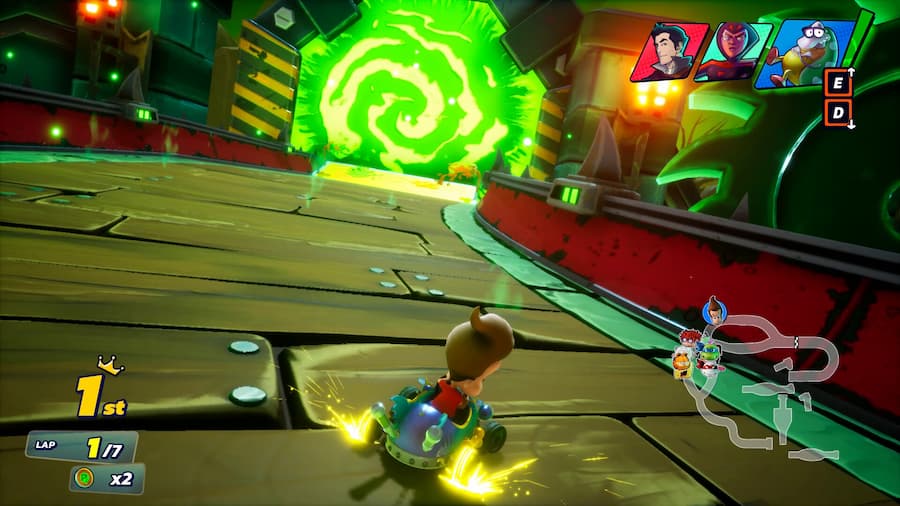 Differentiating Nickelodeon Kart Racers 3: Slime Speedway from other karting games on the market is its team set up. Your driver character is key, of course, but they're supported by a Chief, a Crew Engineer and a Crew Mechanic, all offering certain power-ups and buffs to assist you in your race. Your Chief's ability can be activated when a meter fills up, offering something useful like a boost, a shield or an attack on other players. Your Engineer and Mechanic, on the other hand, offer various passive abilities that get activated following certain events. Perhaps you might get a boost after getting hit, for example, or rough terrain might have no impact on you. It's not a genre-defining addition by any means, but it does make for a welcome variation.
Ultimately, Nickelodeon Kart Racers 3: Slime Speedway is a competent karting game. It looks nice, there's plenty of single player content, and it boasts a strong roster of characters and tracks. But did we need another game in the series? Could the new content and characters not simply be an expansion to the previous release? Questions we'll never know the answer to. If you already own Nickelodeon Kart Racers 2, you're not exactly getting a completely new experience. But if you're new to the franchise and enjoy easy-going karting games, you likely won't be disappointed with what is undoubtedly the best entry yet.
---
Nickelodeon Kart Racers  3: Slime Speedway Review – GameSpew's Score
This review of Nickelodeon Kart Racers 3: Slime Speedway is based on the PS5 version of the game, via a code provided by the publisher. It's available on PS4, PS5, Xbox One, Xbox Series X/S, Switch and PC.