Want to try your hand at some casual farming? These farming sim games on PS5 should have you covered.
The farming sim genre is more popular than ever. It ranges from the serious, realistic sims like Farming Simulator 22 to the cute and casual like Disney Dreamlight Valley, covering all manner of games in between. We've picked a handful of the best farming sim games on PS5 right here. And no matter what type of farming you feel like doing, hopefully we've got you covered.
Why has the farming sim genre become so popular? It's hard to say. We feel that the pandemic may have had something to do with it: with so many of us locked in our homes for months on end, open-ended farming sims let us live vicariously through them, exploring a digital version of the great outdoors. Or perhaps it's just a level of calm escapism we all need in an otherwise hectic world.
Whatever your reason for playing these games, jump on in. Here are five of the best farming sim games available on PS5 right now.
1. Farming Simulator 22
If you're more an Animal Crossing type, you likely won't get much joy out of Farming Simulator 22. This is serious farming, so serious in fact that you can buy a peripheral that replicates realistic tractor controls. This is a game for people that want to experience life on a real farm, from operating heavy machinery, to sowing fields and taking your animals to market. There's no cute picking flowers and putting them in a basket here.
Check latest prices of Farming Simulator 22
2. Disney Dreamlight Valley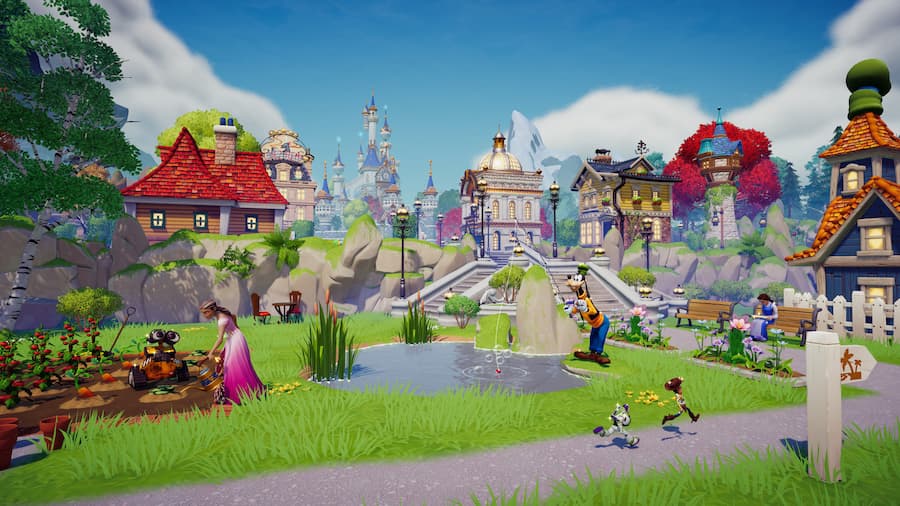 The newest game on this list of best farming sim games on PS5 has taken the world by storm. Disney Dreamlight Valley is much more than a farming sim, but that does make up a big part of it. Here, you set about life in a town occupied by a variety of Disney characters. Help Wall-E grow some flowers, or help Goofy take photos of the other residents. There are plenty of seeds to be bought, though, and harvesting your own gardens is all part of the fun. But you can go completely at your own pace, enjoying quests, gathering materials, or simply chatting with your neighbours. Bliss.
Read our Disney Dreamlight Valley review
3. Apico
Apico, whose PS5 version dropped recently, isn't your typical farming sim. You aren't so much farming flowers and crops here. Oh no: you're farming bees. That's right: this is a game about nurturing and developing colonies of bees. There's more to it than just breeding bees, of course, but that's a big part. You'll also be able to build a house, gather materials, craft useful items and more. There's a big Stardew Valley + bees vibe here, which we love.
4. Yonder: The Cloud Catcher Chronicles
Relaxing, beautiful farming sims don't get much better than Yonder: The Cloud Catcher Chronicles on PS5. It's perhaps better described as a laid-back RPG, with a short adventure and storyline to follow through. But outside of missions, there's plenty of farming to be done. You can set up in a number of farms dotted across Yonder's gorgeous world, and there you're able to raise animals and produce your own goods. There's plenty of gathering to be done too, all to be taken completely at your own pace.
Read our review of Yonder: The Cloud Catcher Chronicles
5. Stardew Valley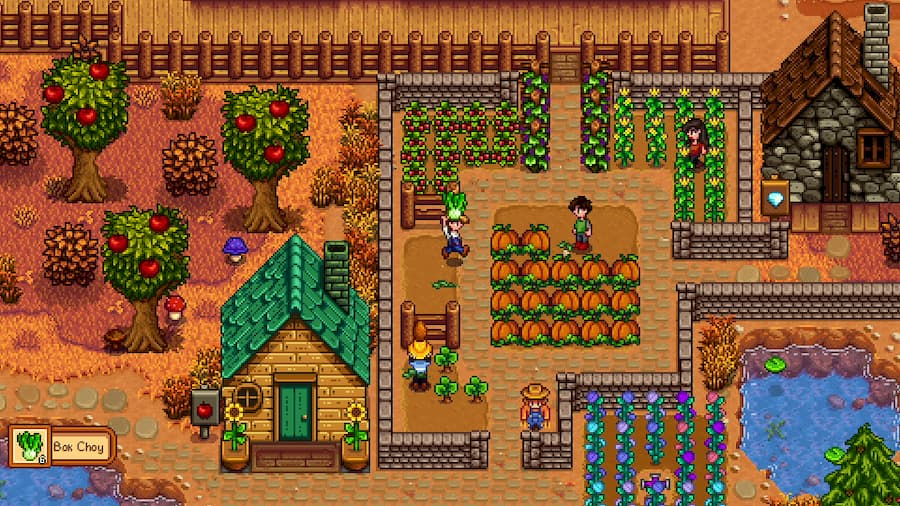 There isn't a native PS5 version of Stardew Valley (yet), but we'd be remiss to leave this off a list of best farming sim games on the platform. After all, the PS4 version is perfectly playable, so it'd be rude to miss it off. This is perhaps one of the games credited with kickstarting the love of the genre. Sure, Harvest Moon, Story of Seasons and Animal Crossing have all been around for years, but indie game Stardew Valley really captured gamers' imaginations. This open-ended game lets you grow your own farm as you see fit, while also exploring the town, getting to know your neighbours and, if you want, romancing and marrying one of them.
Read our review of Stardew Valley