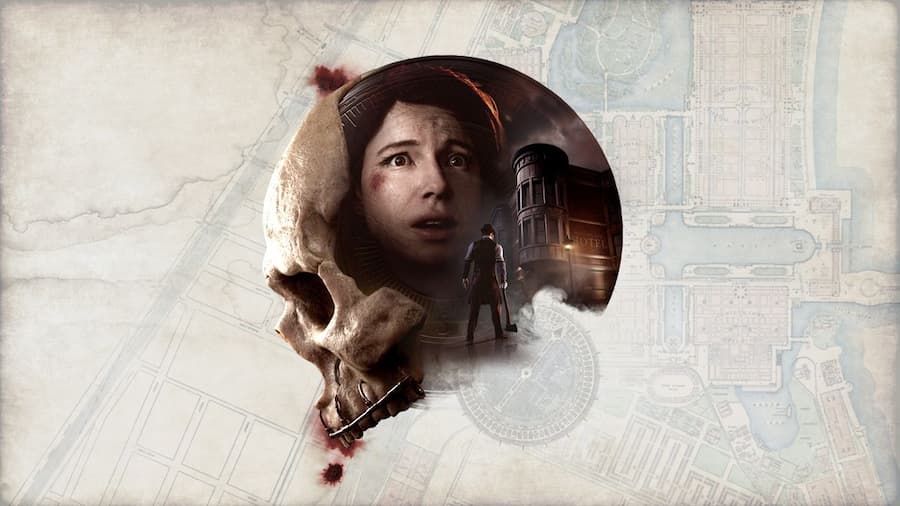 The next Dark Pictures Anthology game is almost upon us – and it also happens to be the last in the current season. It's fitting, then, that The Devil in Me seems to be taking the quadrilogy out with a bang.
Bigger and more ambitious than the three games that came before it, The Devil in Me tells the story of a group of filmmakers who are visiting a hotel modelled on a real murder hotel from the 1800s. It's a homage to 'America's First Serial Killer', HH Holmes – who, it turns out, is a very real person. The hotel the crew find themselves in, known as The World's Fair Hotel, is based perhaps on fictionalised accounts of Holmes' real 'Murder Castle', complete with long, winding corridors, unfinished rooms and hidden chambers. It doesn't need a grounding in reality to be utterly fascinating, but that tie to real American history certainly elevates things to the next level.
The filmmakers that you find yourself in control of are creating a documentary about HH Holmes. And so, learning that a hotel exists that is a replica of Holmes' real abode, it's decided that it would make the perfect setting. The crew is headed up by Charlie, the somewhat unhinged director, who is introduced to us on a mad tirade to get hold of a packet of cigarettes. His vice to keep him under control, it would seem. The crew below him – Erin, Jamie, Kate and Marc, all much younger than he, and clearly all looking for a break into the industry – clearly know him and his outbursts well, and it seems his behaviour is part and parcel of their job.
Unfortunately, on this latest production, it seems their boss' explosive behaviour is going to be the least of their problems.
The preview build of The Devil in Me that we've had our hands on allowed us access to around 70 minutes of the game. We were thrown in a little after the game's opening, with the crew arriving at The World's Fair Hotel. Just as, you could argue, the game really gets going. It was a good place to jump in as we've seen enough to become acquainted with each character and their motives, as well as being introduced to what is perhaps the most important character of the game: the hotel itself.
The setting of The Devil in Me is so well-crafted that it feels alive. It's dripping with atmosphere; a creepy, abandoned hotel that oozes dread and despair. There's certainly more than an air of The Shining here, that's for sure. The introduction to the hotel is a bit of a slow burn while the characters get acquainted to their surroundings – but the players are privy to more than the characters are. Brief shots of camera footage and a glimpse of the odd shadow lurking behind someone's back lets us know that our camera crew aren't alone. They're being watched. Stalked as prey, maybe.
Related: Supermassive Games' Horror Games, Ranked Worst to Best
It sets up a tense feeling that lasts the length of the preview – and, we're going to go out on a limb here, one that will probably last the entirety of the game. We already know that something isn't right, and so for the first 15 or so minutes, you're on the edge of your seat, waiting for the characters under your control to catch up with the knowledge you have. The moment things start going wrong – the power trips, strange noises can be heard – you know things are never going to be the same again.
Even in the light of day, wandering around the corridors of The World's Fair Hotel is eerie as their labyrinthine nature leaves you wondering what awaits you around every corner. Later, those corridors may actually move around you, causing you, the player, to wonder if you're imagining things. That sense of disorientation connects you with your characters more deeply and sets up a feeling of unease and dread that is not going to leave you until the credits roll. And when the lights go out? Let's just say your heartrate is going to go through the roof.
We didn't need to witness any actual violence for The Devil in Me to thoroughly unsettle us, but our preview segment ended with a real taste of what's in store: a brutal Saw-style killing room, where a victim lies in wait. As your character unwittingly steps on a pressure pad, a giant scythe moves into view, stopping just short of searing through the victim's neck. Step off the pad, and you know what's going to happen: blood is going to get shed. And as a dark, masked figure approaches, pointing a knife in your face, what do you do? Do you stay put, risk getting stabbed yourself to save the stranger? Or do you step back, saving yourself but dooming the victim to a grizzly painful death?
We stepped back, leading to a lot of bloodshed. Of course, like the other games in The Dark Pictures Anthology, key moments in the game allow you to make choices, and every decision you make will shape the outcome. As always, it's up to you who lives and who dies. All five crew members could succumb to a terrible, bloody end. Or all five could walk away with only mental scars. That's in your hands.
In terms of gameplay, The Devil in Me feels like a step above the other games in The Dark Pictures Anthology. We've already seen something of an evolution: the last game, House of Ashes, took things to another level with new camera angles, a larger story, and a bit more emphasis on exploration. The Devil in Me takes all of that and runs with it: this is undoubtedly the most accomplished game in the series yet. There's an air of classic survival horror here, with much more freedom to explore and environmental puzzles to be solved. Our preview may have been short, but it had us moving around obstacles to reach new areas, hunting down keys to unlock doors, and seeking out combination codes.
It's also the first time that you can access a character's inventory too, with each of them able to hold onto a few important items. Director Charlie, for example, can use his business card to jimmy locks, while cameraman Marc can use his monopod to prod at out-of-reach items.
The Devil in Me is also perhaps the best-looking of all of Supermassive Games' releases so far, at least on PC. We were blown away by the realism of the character models, with emotions and expressions feeling more believable than ever. Their tension and their terror is plain to see, and it really does help in bringing us closer to the action. When sound engineer Erin finds herself trapped in a dark room, gasping for breath as she needs her inhaler, we're right there with her, believing every moment of the terror that's unfolding for her.
Needless to say, the short time we've spent with The Devil in Me so far has made us hungry for more. We can't wait to wander more of The World's Fair Hotel, being confused and unsettled by its eerie, atmospheric corridors. And we can't wait to see what other grizzly, inventive deaths await. This is Supermassive Games at its best, and is shaping up to be a cut above everything else we've seen from The Dark Pictures Anthology. For fans of horror, gore and classic survival horror games like Silent Hill, you really need to jump on The Devil in Me. It's just a shame it's not quite out in time for Halloween.
The Dark Pictures Anthology: The Devil in Me is coming to PS4, PS5, Xbox One, Xbox Series X/S and PC on 18th November.