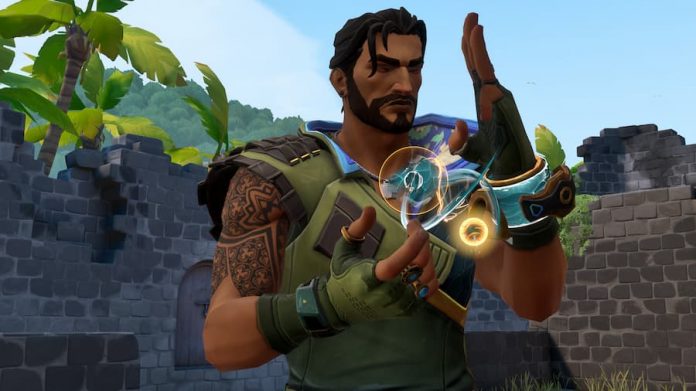 Joining Valorant this October, Harbor is the game's new, non-Halloween themed agent.
Instead, Harbor's powers revolve around controlling water, which he uses to deliver some extremely striking moves, both defensive and offensive. Born on the Indian coast, this Valorant agent "storms the field wielding ancient technology with dominion over water". As you do.
Developer Riot hasn't explained how he acquired the technology. However, his teaser video certainly proves just how useful his abilities are. His ability to summon waves is particularly impressive and apart from doing damage, you can use them to conceal friendly agents.
As explained by Riot, his full abilities are:
"High Tide (E)
EQUIP a wall of water. FIRE to send the water forward along the ground. HOLD FIRE to guide the water in the direction of your crosshair, passing through the world, spawning a wall along the water's path. ALT FIRE while bending to stop the water early. Players hit are SLOWED.
Cove (Q)
EQUIP a sphere of shielding water. FIRE to throw. ALT FIRE to underhand throw. Upon impacting the ground, spawn a water shield that blocks bullets.
Cascade (C)
EQUIP a wave of water. FIRE to send the wave rolling forward and through walls. RE-USE to stop the wave from moving further. Players hit are SLOWED.
Reckoning (X)
EQUIP the full power of your Artifact. FIRE to summon a geyser pool on the ground. Enemy players in the area are targeted by successive geyser strikes. Players caught within a strike are CONCUSSED."
According to Riot, their writers "..worked hand in hand with Indian Rioters both in Riot's MENA office and the Los Angeles office to help shape Harbor's voice and demeanour and use of Hindi language." So, hopefully, Harbor will be halfway authentic and not some kind of clunky, purely western interpretation.
However, that may well be a moot point. Why? Because ever since Amazon's The Boys introduced us to The Deep, we've never been able to take aquatic superheroes seriously. At the same time that DC was trying to turn Aquaman into a respectable character, Amazon's series was accomplishing the opposite. We have our fingers crossed that Sea World hasn't barred Harbor because of .. certain incidents.
Harbor joins Valorant this October 18th, as part of Episode Act 5. The free-to-play team shooter launched in 2020 and regularly receives patches, new content and other tweaks. So if you've yet to dive in, you can download it via the official Valorant website. And, when Harbor joins the fight next Tuesday, prepare to unleash some watery vengeance.