Planning a get-together with friends and family over the holidays? You're going to want some party games to get the fun going.
If you've got PlayStation Plus Extra or Premium, there's a wealth of excellent party games available to you at no extra cost. We've rounded up the best of them right here, and so no matter what sort of party or gathering you're having, we've got the games for you.
These games are all playable on PS4 and PS5, and they're all included as part of your PS Plus Extra or Premium membership. Simply head to the PS Plus section on your console, download them, and get the party started.
Need PS Plus? Use our affiliate link to pick up a discounted membership.
1. AVICII Invector
A great party needs great music, and that's where AVICII Invector comes in. This colourful, entrancing rhythm game celebrates the music of AVICII, allowing players to play along to his songs by controlling a speeding ship along a path. What makes this one of the best party games on PS Plus is not only its excellent music, but also the fact that it can be played with up to four people in split screen. So everyone can get involved in chasing the beat.
Read our review of AVICII Invector
2. Golf With Your Friends
Golf With Your Friends pretty much does what the title says: it lets you play golf. With your friends. This isn't any ordinary, boring round of golf, though. You'll battle your way through various, fun stages set in a variety of environments. You've got crazy golf-style obstacles and more, with you and all your friends all taking it in turns to achieve golfing glory.
Read more about Golf With Your Friends
3. Hotshot Racing
Hotshot Racing is one of our favourite arcade racing games of recent years. Sure, it's great fun in single player, but it's one of the few games that supports up to four-player split screen, making this one of the best party games on PS Plus Extra or Premium. Sporting fun, colourful visuals and easy to learn mechanics, it's the sort of game that anyone can pick up and play, even if they're not a racing game expert. Give it a try: it's great fun.
Read our review of Hotshot Racing
4. Human: Fall Flat
Do you like the idea of taking control of a squidgy little human daredevil who needs to make their way through a weird and wonderful world filled with challenges? Human: Fall Flat sees you throw, fling and dive your way through levels where chaos and mishaps are guaranteed. The fun only gets greater when you play in local co-op: with multiple of your friends all on the same screen, things are going to get raucous.
Read our review of Human: Fall Flat
5. Monopoly Madness
We all remember family gatherings where a game of Monopoly would end up getting a bit heated to the point that someone would definitely storm out of the room. Thankfully, Monopoly Madness leaves the traditional board game politics behind. Instead, this is a free-for-all multiplayer game that sees player avatars running around the screen, trying to gobble up as many properties as possible. The goal's the same as the board game: own as much as you can and be as rich as you can. But getting this is much more fun. You can even stun your opponents on the way to victory. Mwahaha.
Read our review of Monopoly Madness
6. Moving Out
Moving Out is a game about, well, moving out. You take control of a removals company employee, except you probably don't take your job quite as seriously as you should. Cue throwing TVs out of windows, lugging sofas across busy roads and generally being rather destructive. Designed to be played in multiplayer, you and your friends will work together to load up a van filled with someone else's furniture. Co-ordinating as you try to get an L-shaped sofa down a flight of stairs if just as tricky as you'd imagine. (PIVOT!)
7. Overcooked! 2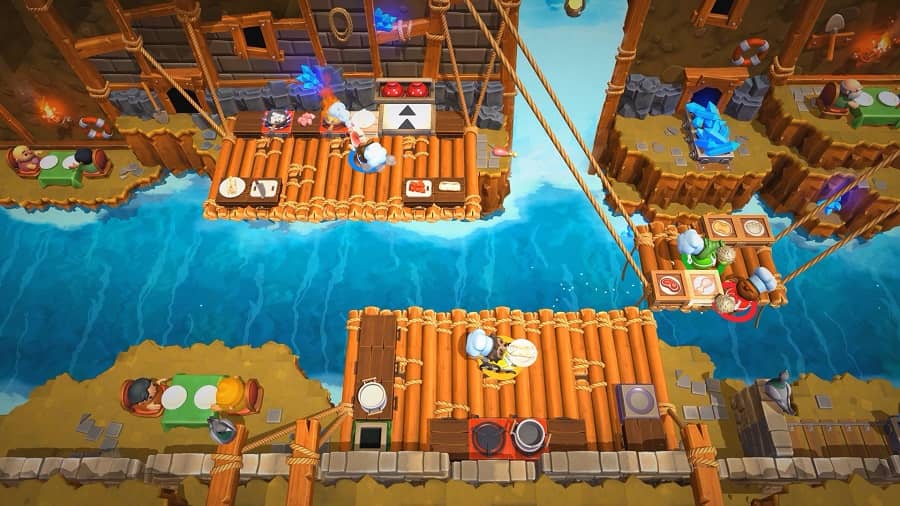 We've long been recommending Overcooked! 2 as one of the best party games, and since it's included on PS Plus Extra, you've no excuse not to jump in. Don't be put off by the fact that this is a cooking game; it's no ordinary cooking game. Up to four players can work together to aim for a smooth-running kitchen – but chaos is the main ingredient in Overcooked! 2. You'll need to deal with earthquakes, kitchens in the back of moving vans, volcano eruptions and more. Keep calm, work together, and have some chaotic fun.
Read our review of Overcooked! 2
8. Tetris Effect: Connected
If you fancy playing something a bit more serene at your party, may we suggest Tetris Effect: Connected? Everyone knows Tetris, and this version of the classic puzzle game allows up to four players to either compete or work together. There are multiple game modes to try, but our favourite is the titular Connected mode, which sees four players work together to clear a giant, full screen-sized grid. Teamwork makes the dream work, etc.
Read our review of Tetris Effect: Connected
9. The Dark Pictures Anthology: Man of Medan
Whether you'll consider Man of Medan to be one of the best party games on PlayStation Plus ultimately depends on what type of party you're having. If you and your friends are horror movie lovers, then this is one for you. A narrative adventure, Man of Medan lets up to five people play together, making decisions for the five characters in the game. A diving trip to the open ocean goes awry when the group stumbles across a ghost ship. The choices you make while playing will dictate who lives and who dies – and there are plenty of scares along the way.
Read our review of Man of Medan
10. Tricky Towers
If you like Tetris, you're going to love Tricky Towers. Best described as "Tetris without walls", the goal here is build a tower out of blocks. But you can't just place those blocks willy-nilly: you have to think carefully, otherwise your tower is just going to tumble. Tricky Towers can be played with up to four local players, where you'll all race to build the sturdiest, tallest tower there is. It sounds simple, and it is. But that doesn't mean it's not ridiculously good fun.
Read our review of Tricky Towers
---
More great games on PS Plus